Concert Pharmaceuticals Inc (NASDAQ:CNCE), a clinical stage biopharmaceutical firm, engaged in the discovery and development of novel small molecule drugs, plans to raise $75 million in its upcoming IPO on Thursday.
The company will offer 5.0 million shares at an expected price range of $14-$16 per share. If the IPO can find the midpoint of that range at $15 per share, CNCE will command a market value of $243 million.
CNCE filed on January 13, 2014.
Lead Underwriters: UBS Investment Bank, Wells Fargo Securities LLC
Underwriters: JMP Securities LLC, Roth Capital Partners Inc.
Summary
CNCE is a clinical stage biopharm, seeking to discover and develop novel small molecule drugs, through the improvement of existing drugs and clinical candidates, via deuterium substitution. Deuterium substitution can lead to drugs with superior pharacokinetic or metabolic properties, improved clinical safety, tolerability and/or efficacy. Deuterated analogs of approved drugs may also be able to enjoy expedited pathways to FDA approval.
The firm currently has a trio of clinical-stage product candidates, including CTP-354, for spasticity associated with multiple sclerosis; CTP-499 for diabetic kidney disease; and AVP-786 for neurologic and psychiatric disorders, through a collaboration with Avanir Pharmaceuticals Inc (NASDAQ:AVNR). (See product pipeline below.) The firm is also in ongoing collaborations with Celgene Corporation (NASDAQ:CELG) for deuterated compounds, including CTP-730 for inflammatory diseases, and with Jazz Pharmaceuticals plc (NASDAQ:JAZZ) for JZP-386, the active ingredient in Xyrem, which is in preclinical development for narcolepsy.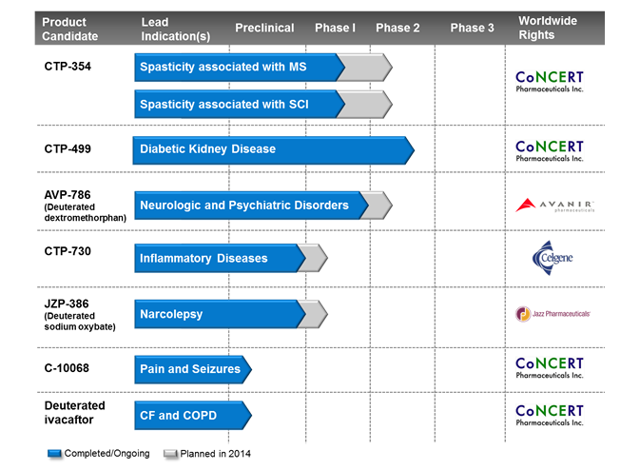 Valuation
CNCE offers the following figures in its S-1 balance sheet for the nine months ending September 30, 2013:
Revenue: $23,995,000.00
Net Loss: ($141,000.00)
Total Assets: $48,969,000.00
Total Liabilities: $43,133,000.00
Stockholders' Equity: ($106,308,000.00)
Through September 30, 2013, CNCE had received $105.4 million in upfront and milestone payments, equity investments, and research and development funding from current and former collaborations. Under the firm's current collaborations, it could potentially receive up to $1.6 billion in future milestone payments, as well as royalties on any future net product sales.
Existing Competition
CNCE will face competition from marketers of other treatments for the indications that CNCE seeks to develop drugs for, including major pharmaceutical firms and biotech firms. The firm's products will also have to compete with existing treatments that have already become generically available-for instance, CTP-354 will have to compete with other spasticity drugs, such as baclofen, tizanidine, diazepam, and dantrolene. GW Pharmaceuticals plc and Osmotica Pharmaceuticals Corp, among others, currently have potentially competitive products in Phase 3 clinical development.
Management
Co-founder Roger D. Tung, Ph.D. has served as CNCE's President and CEO since April 2006. Dr. Tung previously was a founding scientist at Vertex, where he was employed from 1989 to 2005, most recently as its Vice President of Drug Discovery. Prior to Vertex, he held various positions at Merck, Sharp & Dohme Research Laboratories, and The Squibb Institute for Medicinal Chemistry. He holds a B.A. in Chemistry from Reed College and a Ph.D. in Medicinal Chemistry at the University of Wisconsin-Madison.
Conclusion
We rate this IPO a buy in the proposed price range of $14 to $16 for aggressive oriented investors.
CNCE's use of deuterium replacement presents a far more stable path commercialization than traditional small-molecule drug development. The firm has already proven its ability to generate revenues through collaborations; and as its candidates continue to progress to approval and the firm accrues royalties, it should be able to attain profitability. While there is always risk in purchasing clinical-stage biopharmaceuticals, CNCE's proven development capabilities and business acumen merit investor consideration.
Disclosure: I have no positions in any stocks mentioned, but may initiate a long position in CNCE over the next 72 hours. I wrote this article myself, and it expresses my own opinions. I am not receiving compensation for it (other than from Seeking Alpha). I have no business relationship with any company whose stock is mentioned in this article.