By David Russell
Celanese reversed lower after a good earnings report this week, but call buyers are looking for upside.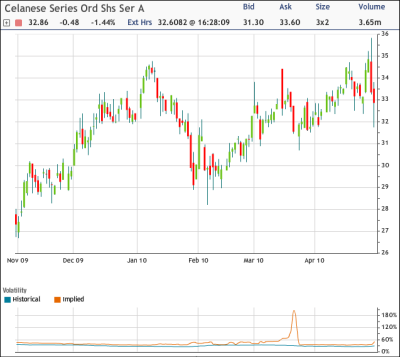 optionMONSTER's Heat Seeker tracking system detected the purchase of 2,344 June 35 calls for $0.70 to $1.25 against open interest of 500 contracts. Overall options volume in the thinly traded chemical name surged to 53 times greater than average, with calls representing a bullish 90 percent of the activity.
CE fell 1.44 percent to $32.86 yesterday. The stock is only up about 2 percent this year as it struggles to break through the key $35 level that provided support before the stock market crashed in 2008.
The company, whose acetyl intermediaries are used in products including paint, adhesives, and medicines, reported better-than-expected revenue and earnings on Tuesday. CE, which also makes polymers and cellulose products, had announced a series of price increases in March and raised its dividend on Monday.
Yesterday's call buyers need the stock to rally at least 10 percent by June 18 for their trades to turn a profit. The June 40 calls were also bought, mostly for $0.20 to $0.35.
(Chart courtesy of tradeMONSTER)