McDonald's (NYSE:MCD) had a decidedly mediocre 2013. Despite the excellent year for the market as a whole, McDonald's share price barely budged since the start of spring.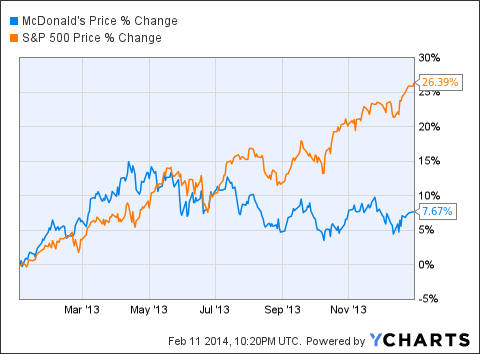 Financials
McDonald's 4th quarter was very much a continuation of the year as a whole, as revenue grew 2.0%, comparable same-store sale growth came in at 0.1% and operating income was flat. For the full year 2013, revenue grew 2.0%, comparable same-store sale growth came in at 0.2% and operating income was up 2.0%. EPS grew 4%, thanks in part to the $4.9 billion which was spent on dividends and share buybacks by the company.
Problems are more prevalent in certain geographical areas than others. In the 4th quarter, Europe had comparable sales growth of 1.0%, the U.S. was at -1.4% and Asia Pacific, Middle East and Africa was at -2.4%.
Japan is really bad news for the company. Recently, McDonald's Japan reported profits for 2013, and they were abysmal, dropping nearly 50% for the year. Same-store sales fell 6.2%. 74 stores (or 2.3% of MCD Japan's total) are planned to be closed in 2014. They forecast another year of falling revenues in 2014, although profits are expected to increase 1.5%.
Looking Ahead
For 2014-2016, McDonald's still plans on focusing on coffee related visits as a top priority. This is a strange strategic point for them. On one hand, McDonald's can choose to target companies such as Dunkin' Brands (NASDAQ:DNKN) and Starbucks (NASDAQ:SBUX) to compete with, or they can choose more traditional competitors such as Burger King (BKW) and Wendy's (NYSE:WEN).
The phrase, "If it ain't broke, don't fix it!" applies here. Only very recently, McDonald's was putting up very attractive comparable same-store growth, including during the recession. It was one of the better performing stocks of that era, and was a godsend for many people's portfolios.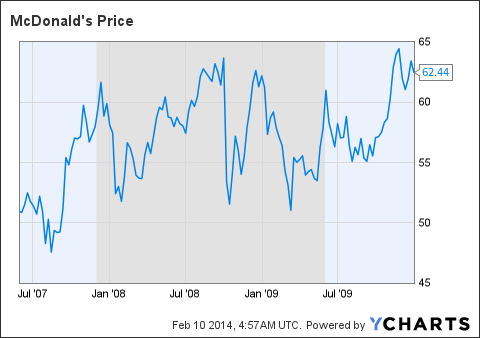 MCD data by YCharts
Same-Store Sales Growth:
| | |
| --- | --- |
| 2008 | 6.9% |
| 2009 | 3.8% |
| 2010 | 5.0% |
| 2011 | 5.6% |
| 2012 | 3.1% |
| 2013 | 0.2% |
Back in 2009, McDonald's talked about how their coffee related initiatives were going to be the company's biggest since the introduction of the Egg McMuffin. It hasn't panned out. Much of the success has come outside of the U.S., where McDonald's established itself before Starbucks got a foothold. There are about 1,600 McCafe locations in Europe. In the U.S. McDonald's drip coffee is seen as fairly good, but their hot espresso and other specialty drinks are not catching on.
On the surface, McDonald's strategy appears to be for a good reason. Reports point to coffee sales outpacing those of fast-food chains in the U.S. in the future. Fast-food revenue is expected to grow 2.1% in 2014, and 2.2% in 2015. Coffee related sales are expected to grow 4.1% in 2014 and 2.9% in 2015.
Many franchisees in the U.S. have been hesitant to engage in remodeling costs involved with the McCafe strategies, which include buying expensive, $13,000 espresso machines. In addition, making some of these beverages slows down wait time for everyone else, decreasing customer satisfaction.
Meanwhile, McDonald's now falls behind both Burger King and Wendy's when it comes to consumer opinions on taste and quality. According to data by Technomic, a researcher of the food industry, these results were found:
| | |
| --- | --- |
| Company | Rated Excellent by Consumers for Food Quality |
| Wendy's | 50.9% |
| Burger King | 44.2% |
| McDonald's | 37.4% |
| | |
| --- | --- |
| Company | Rated Excellent by Consumers for Taste |
| Wendy's | 56.5% |
| Burger King | 49.4% |
| McDonald's | 40.7% |
McDonald's was well ahead of both companies for same-store sales growth from 2006-2012, and has about 7 times the sales of both, combined. But numbers like these are a recipe for eventually losing market share.
Conclusion
I'm just not a big fan of McDonald's coffee escapades. When people think of McDonald's, they think of burgers and fries first. It's too deeply ingrained in everyone's minds to change it. Is engaging in coffee related business really doing anything to widen McDonald's all important moat? I don't think so. McDonald's competitive advantage lies in food, not beverages.
Despite this, McDonald's response is to essentially double down on their efforts with coffee, despite recent sales number stagnation in the face of what has been done already. They need to play to their own strengths, not strengths they see in outside areas which they wish to duplicate. If too much time is spent trying to duplicate Starbucks, their core business itself could slip.
Still, it's important to remember that as recently as 2012 McDonald's was putting up monthly comparable same-store sales numbers that were over 5%. They did solidly all throughout the recession. Coffee ambitions are certainly not going to be their death knell, even if I don't think it will be very beneficial. McDonald's has made forays into other areas which didn't yield positive results before. The stock isn't expensive on either an absolute or relative basis. With a 3.4% dividend and strong buyback activity, shares are worth holding onto during this rough patch of activity.
Disclosure: I am long MCD. I wrote this article myself, and it expresses my own opinions. I am not receiving compensation for it (other than from Seeking Alpha). I have no business relationship with any company whose stock is mentioned in this article.