Executive summary:
Realty Income's property portfolio record shows that the company grows in high and low interest rate environments.
Short-term interest rate changes are unlikely to impact Realty Income's long-term profitability.
The REIT has outstanding credibility in terms of dividends and is a great vehicle for long-term investors to build wealth.
_________________________________
Realty Income (NYSE:O) is one of my high conviction ideas in the real estate investment trust space over the next decade and I have repeatedly endorsed the REIT as a cornerstone investment for long-term investors who want to build wealth. Consistent portfolio- and dividend growth, a savvy acquisition record and a high-quality tenant base all support an investment in Realty Income. The company has an outstanding shareholder remuneration policy and seems to be an anchor of stability in an increasingly short-term and volatile investment world.
Explosive portfolio growth
I think Realty Income embodies the characteristics of a true dividend champion and has much more potential in the future. The company has grown steadily (as has its share price) since Realty Income became a publicly traded company in 1994. Since the company became public it has paid 522 dividends (and declared two more) and raised dividends 74 times. Realty Income was originally founded in 1969 ,so its performance record is actually much longer than its 20-year public existence.
Even though the company has an impressive track record, especially with regard to its dividend stream, Realty Income's true long-term growth is spectacular. The following graph depicts Realty Income's portfolio growth since the company started its operations in 1969.
(Source: Shareholder meeting 2013 presentation)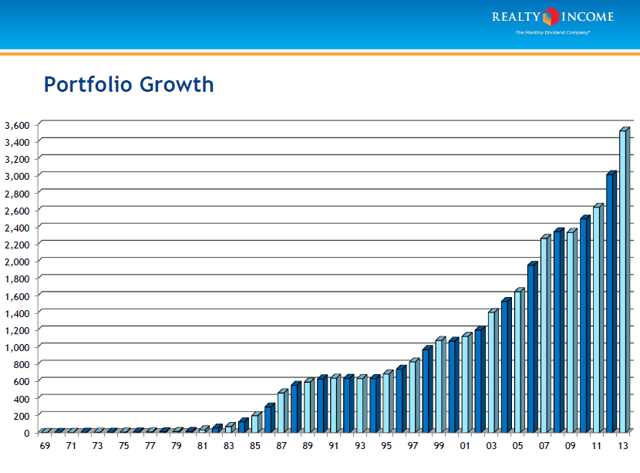 Click to enlarge
When Realty Income went public in 1994, it owned 630 properties and I expect the company will exceed the 4,000 unit mark in 2014. It now has more than 3,800 units under long-term leases. Just last December Realty Income announced another acquisition worth $503 million to acquire 84 single-tenant, 100% net-lease properties from Inland Diversified Real Estate Trust. So far, there are no signs that growth will come to a halt and I have previously asserted that population growth in the US could provide substantial, secular boosts for both residential and commercial real estate. Realty Income will finance its latest acquisition with about $349 million in cash and assume $154 million in debt. Realty Income has extensive acquisition experience, a demonstrated ability to integrate purchased real estate portfolios and it conducts acquisitions prudently.
Portfolio growth translating into dividend growth
High portfolio growth has translated into a one-of-a-kind dividend stream. Realty Income paid an annualized dividend of $0.90 per share in 1994, which has now increased to $2.18217 - an increase of 143%. Realty Income currently presents investors with a forward annualized dividend yield of 5.34%, which is a very attractive entry yield and investors can expect that the real estate investment trust continues to remunerate shareholders well.
Realty Income's compound average annual total return not only shows that the REIT outperformed major indices by a wide margin, but that it did so over a very long time period (performance data ranges from 10/1994-9/30/2013). Of course, past performance is no guarantee of future performance, but it is a strong indicator nonetheless.
(Source: Realty Income Investor Relations website)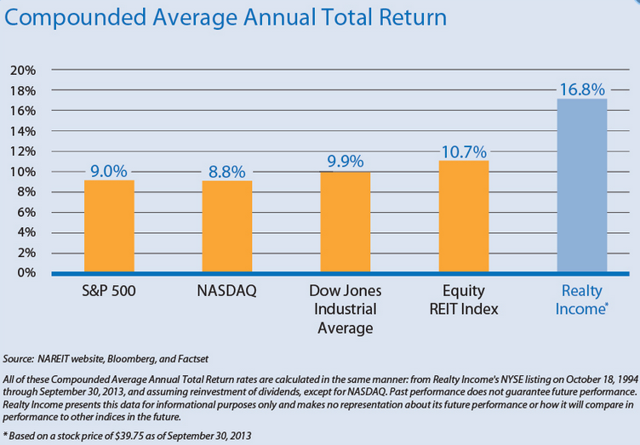 Click to enlarge
Rate increases won't matter
A lot of the discussion about Realty Income centers around how increasing or decreasing interest rates will affect the company. This is a question only short-term investors could ask. First off, I think Realty Income's performance record shows that the REIT performs well in all interest rate environments. Whether the real estate sector was hot (2004-2007) or not in the years after, Realty Income has consistently achieved portfolio, FFO and dividend growth. It is also noteworthy that Realty Income has grown particularly strongly during the real estate crisis from 2008-2012 (see chart above). Strong portfolio growth in one of the worst economic climates for the real estate business shows that management is on top of the situation and knows how to create shareholder value via opportunistic acquisitions.
Secondly, rising interest rates are unlikely to affect the underlying profitability of Realty Income. While rising interest rates (which are present in an environment of inflation) may affect Realty Income's funding costs, gross rents and portfolio values are also set to increase. After all, when interest rates and inflation go up, which asset class does economics tell us to own? Real estate.
Given Realty Income's performance record, I would assert that its long-term profitability and dividend outlook will absolutely not be affected by short-term changes in interest rates.
Bottom line
Realty Income has shown in a variety of interest rate environments that it can deliver value for shareholders. Its long-lasting dividend record carries the implicit promise of further dividend increases down the road. I consider Realty Income to be an outstanding dividend value, especially for long-term oriented investors who don't mind occasional setbacks and are serious about building wealth.
Realty Income also has consistently high occupancy rates, first-class rated tenants (many of them publicly listed companies) and a very diversified geographic property footprint in the Unites States. I think that a commercial real estate company that grows aggressively during one of the most devastating real estate periods in recent history is doing something fundamentally right for its shareholders. Long-term shareholders should not be worried about interest rate increases at all and instead let Realty Income's investment record speaks for itself. Long-term BUY.
Disclosure: I am long O. I wrote this article myself, and it expresses my own opinions. I am not receiving compensation for it (other than from Seeking Alpha). I have no business relationship with any company whose stock is mentioned in this article.