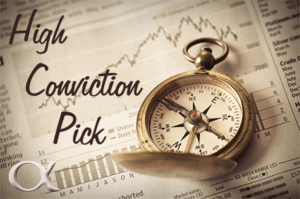 Brad McFadden of the Daily Trading Report manages a global macro proprietary fund that's essentially "looking for beta rather than alpha." They're looking to ride primary trends of major asset classes with about half of their capital, and look for deep value or overvalued situations in global sectors or themes (not individual stocks) with the other half - with exposure gained primarily through ETFs and LEAPS options.
Without third-party investors, he says, "we're not bound by the unspoken requirement to produce positive returns on a quarterly or even semiannual basis. Perhaps this is why we are not scared to look to sectors/markets that are completely out of favor."
Seeking Alpha recently got the chance to ask about Brad's highest-conviction position.
What is your highest conviction trade in your portfolio at the moment?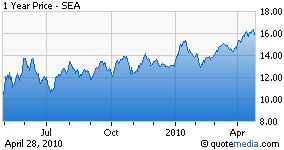 Our biggest position and one that we are most confident about is in the global shipping sector. Over the course of the past six months we built a position in the sector via the Claymore/Delta Global Shipping Index ETF (NYSEARCA:SEA) and have also been actively buying out-of-the-money LEAPS calls on five of the biggest shippers in the US - namely DryShips (NASDAQ:DRYS), Teekay (NYSE:TK), Genco (NYSE:GNK), Overseas Shipholding Group (NYSE:OSG), and Frontline (NYSE:FRO). Our exposure to the shipping sector represents about 10% of our overall exposure at the moment, and that is the maximum exposure we allow ourselves to take.
[Editor's note: After this interview was conducted, Claymore announced that SEA was closed to new investments yesterday and will be liquidated due to issues related to Claymore's acquisition by Guggenheim Partners. Tom Lydon has more on the closure. While the firm intends to re-register its ETF under the same symbol, investors looking for exposure to the global shipping sector might want to research PowerShares' Global Progressive Transportation Portfolio ETF (PTRP).]
What compelled you to take such a large position in the shipping sector?
In essence we search the globe for deep-out-of-favor sectors and invest at the "point of maximum pessimism," perhaps in a strategy not too dissimilar from that of John Templeton in days gone by. When we first started buying into the shipping sector, the median price-to-book value of the largest 100 shipping stocks in the world was a mere 0.62. Our valuations database goes back to 1970 and this was the cheapest that shipping stocks (from a price/book perspective) had been since then. It was obvious that shipping stocks were priced as if global trade would never recover. Needless to say, sentiment towards shippers was as bearish as it was toward U.S. homebuilding and regional banking stocks!
I think that it would be fair to say that even up until the end of last year there were plenty of commentators (analysts/traders/ economists/fund managers) who were of the belief that the global economy was going into a double-dip recession - or that there was going to be an L-shaped recovery. Actually, from recollection I think there were about six letters of the alphabet that were used to depict what was going to happen to the world economy. Perhaps that was a contrarian sign in itself.
Anyway, getting back to our decision to invest, our primary reason was the valuations of shipping stocks. In September when we started to invest, the total market cap of all publicly traded shipping stocks in the world came in at less than $20 billion. That was less than that of Deere (NYSE:DE)! We thought that it was only a matter of time before conditions improved and valuations returned to more "rational" levels. The other reason why we took such a large stake was because we can afford to wait it out.
What told you that the shipping industry was turning around?
We try and keep things very simple. In essence it is all about global trade - if global trade picks up, then so too will the prospects for shipping stocks. Now the best indicator that we have found that gives us an edge in understanding the "momentum" of world trade is the real-world commodity market; the prices that producers pay for inputs here and now - that is, spot industrial commodity prices. We have found that spot commodity prices lead official industrial production figures and they have done so consistently since the 1940s (that is as far back as we went in our analysis).
The best index we have found is the Journal of Commerce Industrial Commodity Index. It is made up of 18 commodities: cotton, burlap, steel, copper, aluminum, zinc, lead, tin, nickel, hides, rubber, tallow, red-oak, plywood, benzene, crude oil, ethylene and natural gas. At the end of last April, the JOC commodity index suggested to us that demand for commodities was picking up and that is only due to a pickup in industrial production:
Journal of Commerce Industrial Commodity Index
When it comes to shipping stocks everyone has an obsession with the Baltic Dry Index. The Baltic index is made up of four classes of ship. Each class has an equal weighting but the number of ships in each class varies significantly. The largest class of ship, the Capesize, represents only 10% of the Dry Bulk fleet but the two smallest classes, Supramax and Handysize, represent about 70% of the Dry Bulk Fleet. Due to the relatively small number of Capesize vessels, freight rates can vary dramatically, but the freight rates of the Handysize class tends to display trending action with relatively little noise. Accordingly we place a lot of emphasis on the behavior of the Handysize Index. The Handysize index started rising in late 2008 and has been rising consistently ever since, suggesting that the dry bulk market is slowly improving:
Baltic Handysize Index
But of course there are more than just dry bulk ships sailing the high seas, there are also container ships. Few people are aware of the ConTex Index or even the HARPEX index, which in essence measure the change in the cost of time chartering ships (as opposed to what it costs to ship bulk freight – which the Baltic indices measure). The ConTex started to advance early this year which gives us added confidence that activity on the high seas is broader based than just China's demand for iron ore, coal, bauxite and copper:
ConTex Containership Index
But what about excess capacity in the world shipping market?
There are many misconceptions out there when it comes to economics or finance. With respect to shipping, one of the biggest misconceptions is that of the bottom of the "cycle" and overcapacity. There is always overcapacity at the bottom of the cycle. If one goes back and studies history, this has always been the case: the more overcapacity, the deeper the cycle and ultimately the opportunity to bet on a turnaround.
The near complete shutdown in global trade at the end of 2008 decimated earnings. As a consequence many companies had to go into survival mode, laying up ships and canceling orders. But therein lay the silver lining. During late 2008, through all of 2009 and up until now there has been a dramatic reduction in capacity as indicated by the breakup rates and ships on order.
It seems that what was a condition of overcapacity is quickly becoming a condition of undercapacity in all three classes of ship - tankers, dry bulkers, and particularly containerships. Breakup rates are set to continue rising as they are essentially a function of the demand for steel, which shows no sign of abating.
Containership Breakup Rates
Containerships on Order as a Percentage of the Current Fleet
Although we are far from being technical analysts, we do accept that a chart of a market can give away important clues as to the behavior of the market. However, if you look at what everyone else is looking at (typically the major market indices and various sub-indices) then you will hardly expect to be trading with an edge.
We attempt to identify the trend (or mood) of a sector by looking at the behavior of the average stock rather than just a relatively small number of large-cap stocks which typically dominate each sector. To achieve this, we develop our own custom indices; in this instance we select the top 100 shipping stocks by market cap globally and create an equal-weighted index as depicted below. Of course nothing is perfect, but it doesn't take a rocket scientist to work out that the average shipping stock is gaining momentum to the upside.
Custom Global Shipping Index (equally weighted index of the world's largest shipping stocks)
Concurrent with the pickup in the price behavior of shipping stocks is that of shipbuilders, which gives us added confidence that the movement in shipping stocks is not a "false" move or a "bull trap," as it is commonly said.
How are you positioned with regards to shipping stocks, and what about valuation?
Adjusting for SEA's liquidation, approximately 80% of our exposure is via physical stock in OSG, DRYS, FRO, GNK, and TK. As discussed earlier, we selected five of the largest shipping stocks in the US that gave us a broad-based exposure to the dry bulk, tanker, and containership markets and that had a liquid long-dated option market. We bought deep OTM LEAPs in the five shippers (Jan. 12 expiration) with the remaining 20% exposure to give us a parabolic-type payoff if shipping stocks are to rise significantly over the next two years. This strategy effectively gives us a hybrid leveraged position where we have all the benefits of a leveraged trade but not the liability (we don't have to lie awake at night worrying about a margin call).
The standard valuation metrics continue to look attractive with a price-to-book ratio of 1.40, dividend yield of 4, and a historical P/E ratio of 9.0 for the five shippers. You may think that the P/E is not exactly cheap, but when you consider how much of a hit earnings took over the previous 18 months, this figure will come down dramatically with the pickup in earnings.
How long do you anticipate holding onto this trade?
As soon as shipping stocks start gaining popularity with the investment "community" we will start phasing out our position. Given how out of favor shipping stocks remain with the average fund manager/analyst we don't anticipate reducing our holdings for another 12 months, at least. We like to be providers of liquidity to desperate buyers and to the last of the bulls who finally throw in the towel - which is what we like to think we were doing from September last year until mid-February this year. Of course, only time will tell.
Do you see any other deep-out-of-favor sectors right now?
Yes, we will give you four ideas for consideration: broad-based commodity ETFs (like DBC), the U.S. utility and home building sectors (XLU & XHB) and the Greek equity market as a whole (via an ETF that trades on Euronext). Yes, that will certainly throw the cat amongst the pigeons - but how many times in a lifetime can you buy a nation's stock market where the median price-to-book ratio of the top 100 stocks is a mere 0.61? Stocks on the LSE were not that cheap even in the depths of the Battle of Britain!
Thanks, Brad, for sharing your thesis with us.
Disclosure: Daily Trading is long OSG, DRYS, FRO, GNK, TK and SEA.
Read more High Conviction Picks »
If you are a fund manager and interested in doing an interview with us on your highest conviction stock holding, please email Rebecca Barnett.