Executive summary:
SUNS is cheap, trading at par with book value
Monthly dividends allow for more current income
Nearly 8% yield is four times the broader market
Low volatility is perfect for retirees
_________________________________
Solar Senior Capital Limited (NASDAQ:SUNS) is a New York-based BDC that invests in debt instruments of middle market companies in the US. In this article, I'll take a quick look at the company's huge dividend and why it could be a great addition to your retirement portfolio.
Obviously, the main attraction here is the dividend, so we'll start there. Since September of 2012, SUNS has been reliably paying a monthly dividend of 11.75 cents, and on the current price of around $18, yields a very respectable 7.9%. With SUNS, not only do you get a terrific yield, but you also get your payments each month instead of waiting until the end of each quarter. This allows you to experience the power of compounding and raises the effective yield slightly over that of quarterly dividend payments. It also allows you to reinvest your dividend proceeds more quickly, if you're so inclined.
In addition to its great monthly payments, SUNS is cheap. While a forward PE isn't particularly useful for a BDC in my mind, for what it's worth, SUNS is trading at only 13 times its expected earnings for next year. In addition, it's trading on par with its book value, meaning you aren't paying a premium for its assets. This is important, as with a BDC, you are essentially buying a debt portfolio, and you don't want to be paying large premiums to the value of those holdings. Ideally you'd be able to pick up shares at below book value, but SUNS' record of paying dividends means that is unlikely; shares are too valuable at book value to fall materially below.
Another positive (or negative depending on your outlook) is that SUNS shares really don't move much. Last year, for instance, shares moved maybe 10% from the high to the low. That is extraordinary price stability, and if you are a retiree who is looking for a stable source of income, SUNS could be a great way to do that. You aren't subject to massive volatility like most common stocks, even "safe" ones, but you still get that amazing yield. SUNS isn't a stock you buy to experience substantial capital appreciation. Rather, you buy it with the intention of collecting the dividend over the long term. Think of SUNS as a debt security; you don't buy debt to experience capital gains, you buy it to collect the distributions.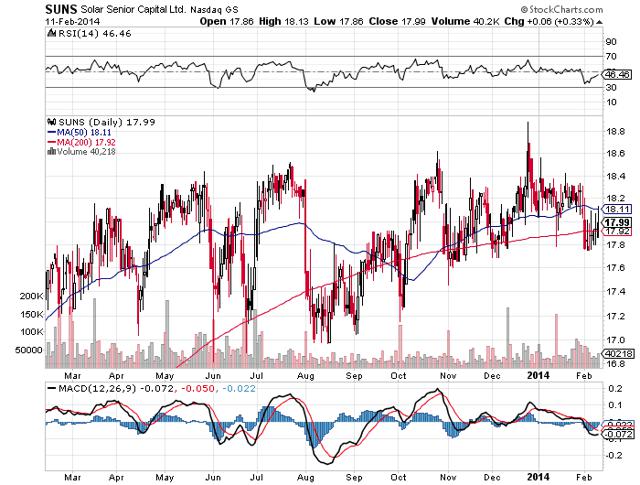 For retirees, I believe SUNS offers a unique mix of stability and income. First, the price of the stock hardly budges. This means that those seeking stable income can sleep well at night and know that they aren't going to wake up to a 20% decline in their shares due to an earnings report. Second, the huge dividend is a great source of current income. Not only does the stock yield nearly 8%, but it also pays its dividends monthly. This is an enormous positive, and in particular, for those who are retired or about to retire. Finally, SUNS shares are cheap. With SUNS trading at par with book value, you aren't paying up for an asset portfolio and thus, your chances for capital losses down the road are minimized.
Disclosure: I have no positions in any stocks mentioned, but may initiate a long position in SUNS over the next 72 hours. I wrote this article myself, and it expresses my own opinions. I am not receiving compensation for it (other than from Seeking Alpha). I have no business relationship with any company whose stock is mentioned in this article.