Below is a list of 8 stocks yielding more than 3% with a dividend payout ratio less than 70% as of the close on April 27th. In addition, I required the stocks have a recent history of rising dividends. I looked for:
Dividend Percent Change, Year Over Year (%) > 10,
Dividend Growth Rate, 3 Years (%) > 15,
Dividend 5 Year Growth Rate (%) > 20.
The screen was done using stockscreen123. February's list of 12 stocks is here and March's list of 6 stocks is here.

I featured TKC and LPHI in previous months and they remain on this month's list and have held up well of late. The only two stocks on the list that haven't appeared in recent months are Cal-Maine Foods (NASDAQ:CALM) and Empresa Nacional de Electricidad (NYSE:EOC). Both are in downtrends and CALM recently started a downtrend after a downgrade, the ongoing threat of an egg price fixing lawsuit, and an earnings report that warned of volatile feed costs (see Finviz chart below).

In addition to dividend reductions/increases, share price fluctuations affect yield and can cause this list to fluctuate.

As I stated previously, for investors worried that equity market rallies may be getting long in the tooth, high yield stocks with strong cash flow and a history of dividend increases may offer a small buffer for skittish investors who still want to maintain equity exposure.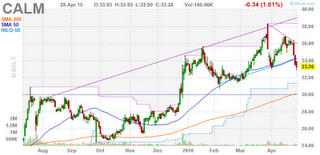 click to enlarge
| | | | | | |
| --- | --- | --- | --- | --- | --- |
| Ticker | Name | Free Trend Analysis | MktCap | PayRatio | Yield |
| CALM | Cal-Maine Foods, Inc. | Here | 799.92 | 33.32 | 5.71 |
| EOC | Empresa Nacional de Electrici | Here | 12639.11 | 35.13 | 4.36 |
| HCBK | Hudson City Bancorp, Inc. | Here | 6998.78 | 54.7 | 4.51 |
| LLTC | Linear Technology Corporation | Here | 6785.78 | 62.1 | 3.03 |
| LPHI | Life Partners Holdings, Inc. | Here | 356.47 | 13.54 | 4.17 |
| MCD | McDonald's Corporation | Here | 75844.85 | 49.12 | 3.12 |
| OSG | Overseas Shipholding Group In | Here | 1281.67 | 67.16 | 3.67 |
| TKC | Turkcell Iletisim Hizmetleri | Here | 13701.6 | 65.2 | 5.2 |
Disclosure: No Positions