Can investors wait until 2015 for a turnaround in J.C. Penney (NYSE:JCP) ?
It's possible. JCP could pull off a turnaround, but I see 2015 as the target year.
I've run some numbers for JCP, plugging in an ambitious (though attainable) revenue growth rate, as well as assessing a revision back to JCP's pre-Johnson gross margin rate, to see what the retailer's EBITDA looks like.
Anyone following JCP knows that CEO Myron Ullman needs to overcome two major obstacles if he wants to see a turnaround: healthy revenue growth and a larger gross margin.
And, if Ullman can pull off that feat, the short squeeze in this stock could be something to watch. At approximately 70% short to float, JPC could soar quickly due to a short squeeze. Here's why holding a short position is JCP during 2014 could be dangerous.
But first, let's look at a quick estimate to Q413, then I'll show some projections based on revenue growth and a widening gross margin for fiscal years 2014 and 2015.
Q4 Estimate (Baseline for Projected 2014 and 2015 EBITDA)
My analysis assumes JCP will post Q413 revenue of a tad more than $4.0 billion, $120 million more than the Yahoo Finance mean analyst estimate, but $80 million less than the high estimate of $4.08 billion.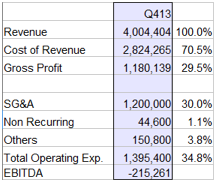 Since JCP did not offer a clue to a projected Q4 gross margin in its February 4 financial update, I'm making the assumption that a gross margin will be reported as the same old paltry 29.5% (maybe slightly higher) on February 26.
Another assumption was made with regard to Sales, General and Administrative (SG&A) costs for Q4 of an additional $187 million in advertising due to the 2013 holiday season.
In my scenario for Q4, JCP's EBITDA calculates to approximately ($215) million (see chart, above).
Fiscal 2014, a Transition to EBITDA Positive by Q4
Going forward into 2014, the table below demonstrates what JCP's Profit and Loss Statement (P&L) looks like if JCP can incrementally move back to a 40% gross margin by Q414, while at the same time grow year-over-year quarterly revenue at a 10% rate.

Since JCP's gross margin was once 40% (39.2 for full-year fiscal 2011) - and competitor Macy's (NYSE:M) has reported approximately a 40% gross margin throughout the most recent four quarters - I applied a 40% gross margin rate as JCP's goal for Q414, with a linear increase to 40% assessed for the three previous quarters.
In other words, from the chart, Q114 assumes a 32.3% gross margin, a 35% rate for Q214, 37.6% for Q314, and 40.1% for Q414.
In addition, a year-over-year 3% quarterly increase to operating expenses (SG&A, Non Recurring and Others) were assessed across the board.
It appears from the spreadsheet that by Q414, JCP will finally be EBITDA positive, which in this scenario calculates to $338 million.
However, JCP will end fiscal 2014 with a negative EBITDA of $312 million.
Fiscal 2015, the Gravy
Here's where JCP's reversion back to the pre-Johnson merchandising model and continuation of a JCP comeback could really excite investors into assessing a premium to the stock.
Below, find projections for fiscal 2015.

Again, an additional 10% year-over-year quarterly assessment was made to 2015 revenue, and a constant gross margin of 40% was assumed for each of the four quarters. A 3% increase in each Operating Expense line was assessed, as well.
From the chart, it appears that if Ullman can gain back a portion of the large drop-off to his 2012 customer base, and he retains a 40% gross margin to merchandise sold, JCP will have made it out of the woods and skirted bankruptcy.
Conclusion
No doubt, JCP faces a daunting mission. Some may say JCP may take longer to achieve a 40% gross margin once again. However, I feel that may not turn out to be the more difficult of the two primary components to a JCP comeback.
Therefore, an amazing JCP comeback must show up in revenue growth.
If we assume that Macy's top-line growth of 4.9% and 5.6% for fiscal years 2012 and 2011, respectively, serve as a competitive benchmark for this space, JCP's uphill battle of increasing revenue at a 10% CARG for the next two years could be quite formidable, especially against a backdrop of a weakening aggregate consumer spending trend.
But this level of achievement is possible if a relatively small minority (maybe 15% -20%) of old customers lost in 2012 and 2013 begin to return to J.C. Penney.
A miss in Q1 14 of anything less than 10% top-line growth and/or no improvement of at least two hundred basis points to gross margin could derail any hope of recovery for JCP in time to avoid bankruptcy.
Disclosure: I have no positions in any stocks mentioned, but may initiate a long position in JCP over the next 72 hours. I wrote this article myself, and it expresses my own opinions. I am not receiving compensation for it (other than from Seeking Alpha). I have no business relationship with any company whose stock is mentioned in this article.