Bayer AG (OTCPK:BAYRY) said its China revenues in 2009 totaled $709 million, a 28% increase from the year earlier. This means the company met its yearly goal of beating the 20% growth of China's pharma market last year. To help meet that target in the future, Bayer expects to introduce 20 new products over the next five years. The average of four new drugs per year is slightly better than 2009, when it completed three launches.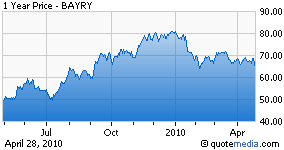 Bayer wants to retain its status as one of the top three pharmaceutical companies in China. It says the best opportunities are for companies with products that address otherwise unmet needs. Bayer is on record as saying that the diabetes and cardiovascular markets, which are not strong growth markets in the West, remain very attractive in China.

In its review of China operations, Bayer reiterated the familiar growth picture for pharmaceutical sales in China. Spending for drugs now consumes less than 5% of the country's GDP, but is expected to increase by 18% per year. Beijing is injecting $125 billion into healthcare spending over the next three years as it moves toward universal access, which will be fully implemented in 2020.

According to Bayer's calculus, the reforms and economic growth will stimulate China's pharmaceutical sales from $25 billion last year to $80 billion in 2013 and $220 billion in 2020.

See our other articles on Bayer.

Disclosure: None.