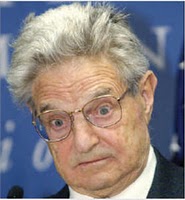 In a 13G filed with the SEC due to activity on April 26th, 2010, George Soros' hedge fund firm, Soros Fund Management, has disclosed a new position. We see that the firm now owns a 5.26% ownership stake in Westport Innovations (NASDAQ:WPRT), with 2,069,901 shares.
This is a brand new position for the firm as it did not own any shares back on December 31st, 2009, when we took a look at Soros' equity portfolio. While it owns common shares now, it could be possible that the firm exercised warrants, as we've seen other investors in WPRT have recently done so. That's purely speculation on our part though.
Other notable recent portfolio activity out of Soros' hedge fund includes buying NovaGold Resources shares (NYSEMKT:NG). Soros of course is famous for his stellar returns with his Quantum Fund, and is remembered for 'breaking the Bank of England'.
While many are often intrigued by the latest maneuvers from George Soros, keep in mind that his hedge fund firm is mainly run by his sons and other distinguished portfolio managers. In fact, we just recently saw that Neil Pegrum has joined Soros Fund Management from Cazenove Capital. George is involved very little in the day-to-day of the global macro hedge fund. For insight from Soros himself, head to his interview at Hong Kong University.
Taken from Google Finance:
Westport Innovations is involved in the research and development of environmental technologies, including high-pressure direct injection combustion technology that allows diesel engines to operate on cleaner burning gaseous fuels, such as natural gas without sacrificing performance or fuel economy.
You can view the rest of George Soros' investments here.
Disclosure: No positions