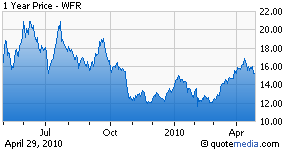 MEMC Electronic Materials (WFR) is expected to report Q1 earnings after the market close on Thursday, April 29, with a conference call scheduled for 5:30 pm ET.
Guidance
The consensus estimate is 4c for EPS and $390.05M for revenue, according to First Call. Credit Suisse said that although the company didn't provide any explicit Q1 guidance, analyst day charts suggested Q1 revenues/EPS of approximately $390M and break-even EPS. The firm is modeling $391.2M and 2c, with the gross margin at 18.5%, up 3.7% quarter-over-quarter.
Analyst Views
Since MEMC's analyst day on February 4, Credit Suisse says demand data-points in its three segments have been incrementally positive. For Semi wafers, Credit Suisse's industry channel checks at the end of March suggested Q2 pricing for some semi wafer contracts are up 10% q/q, as a result the firm would expect upside to ASPs to up 5% q/q versus their model at up 3%. Credit Suisse expects ASPs will increase again in Q3. More recently, the firm's industry checks suggest semi capex is getting even stronger with plans of large capacity orders at 8 plus 300mm fabs over the next four quarters. Semi wafer supply and demand is getting tighter and Credit Suisse expects tool based capacity utilization to exceed 90% in the next few quarters. Credit Suisse said Sun Edison is tracking better than expected and could provide upside to its full year guidance of $200M, subject to execution on permits/connection/financing for the large Italian 72MW project in Rovigno. For solar wafers, the firm believes solar sell-in demand is tracking close to 12.7 GW in 2010, well above consensus at 9GW-10GW due to multiple demand bubbles in solar.
Looking forward: Credit Suisse is modeling 14c on $422.2M in revenue in Q2, vs. consensus of 15c on $440M. For 2010, Credit Suisse is modeling 76c on $1.914B, vs. consensus of 77c on $1.84B and company guidance of 70c-80c on $1.75B-$1.85B in revenue