By David Russell
iStar Financial (SFI) is ripping higher on a strong earnings report, days after options turned bullish on the heavily shorted lender.
SFI rallied 16 percent to $6.61 in morning trading and has more than doubled in the last three months. The real-estate investment trust reported a first-quarter loss of $0.26 per share this morning, considerably better than the $1.48 loss analysts had expected.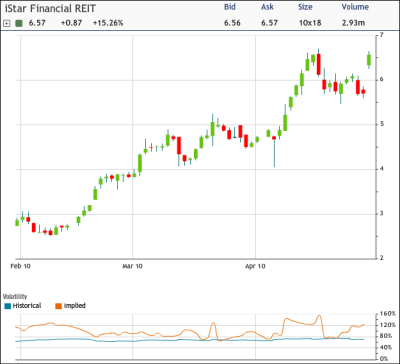 The company is benefiting from improvements in the credit market, which have helped stabilize the value of its loan portfolio and allowed management to take smaller provisions against further losses.
Call buyers started targeting SFI last week when they snapped up the June 7.50 calls for $0.35 to $0.40. Those same contracts are now bid for $0.75, representing a gain of about 100 percent. The stock is up 15 percent over the same period.
Short interest had been running at an elevated 24 percent of the float in SFI, so the calls may have been purchased by bears hedging against a rally. Regardless, the activity demonstrates the power of options as a tool to identify stocks capable of making big moves.
Options volume in SFI has climbed to about 64 percent greater than average as traders unload existing positions in the calls.
Disclosures: Author long SFI