So much for a trough in unemployment in Australia. The Australian Bureau of Statistics (ABS) produced another poor employment report. In January, Australia lost another 3,700 jobs, and the number of unemployed people increased by 16,600. Moreover, the employment rate edged higher to 6.0%. Unemployment in Australia is now marginally above the post-crisis high and overall at a near 11-year high.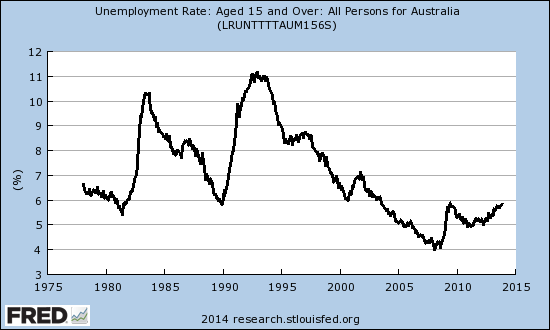 Australian unemployment rate through December, 2013
Source: St. Louis Federal Reserve
The Australian dollar (NYSEARCA:FXA) fell immediately in response to the poor numbers. AUD/USD quickly dropped out of bullish territory (above 0.90), putting me right back in the bearish camp on the currency.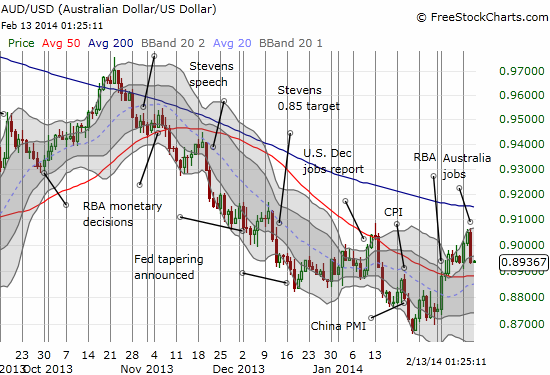 Poor jobs report throws bounce off the bottom into jeopardy
Source: FreeStockCharts.com
Commodities are adding to the pressure on the Australian dollar. The Reserve Bank of Australia (RBA) released its January index of commodity prices on February 3rd. It shows a 10% year-over-year decline in SDR terms and a 6% increase in terms of Australian dollars. Month-over-month the decline was 1.5% in SDR terms and 1.1% in Australian dollars. The index in SDR terms is now back to 2010 levels as a slide from the historic peak continues nearly unabated.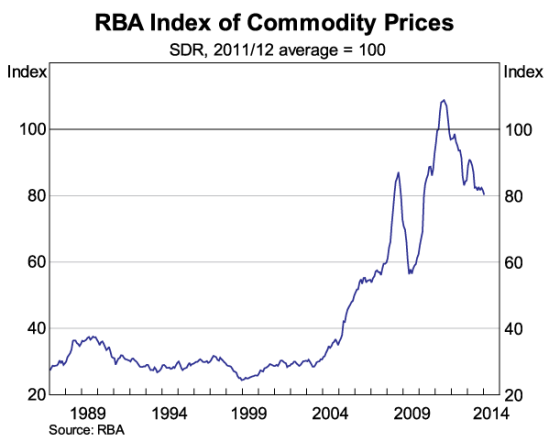 Commodity prices continue to decline for Australia
Source: RBA Index of Commodity Prices
Coking coal and iron ore are responsible for the bulk of the declines. Gold was a large contributor in 2013. Iron ore prices have been falling since December and are back to levels last seen in the summer of 2013.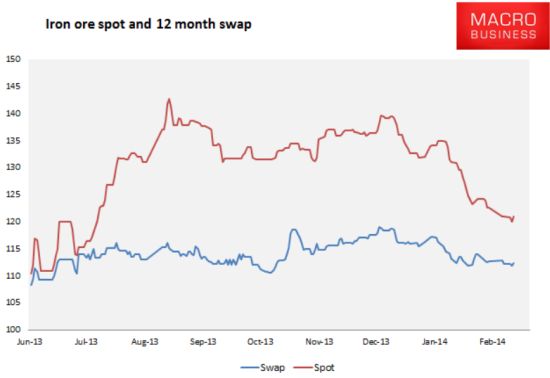 Iron ore prices weakening in Australia
Source: Macro Business
Meanwhile, iron inventories are on the rise in China portending further declines ahead in iron ore prices. Reuters reported on February 11th that China's imports of iron ore rose to a record 86.84M tonnes in January, beating the record set in November by a whopping 11.6%. With weak demand for steel and tight credit conditions all these imports have added up to a massive build-up of inventory: "Iron ore stocks at major Chinese ports…currently stand at 97.25 million tonnes and have risen 23 percent since late October."
All these woes might indicate a higher potential for the RBA to start cutting rates again. However, inflation is creeping higher in Australia, and the RBA parked its rate machine into neutral in its last statement on monetary policy. However, targeting a lower currency would at least give the RBA some semblance of the action expected from a central bank when economic winds start blowing in the wrong direction. I fully expect the jawboning to pressure the currency to restart in earnest in coming weeks. Stay tuned!
Be careful out there!
Disclosure: I have no positions in any stocks mentioned, and no plans to initiate any positions within the next 72 hours. I wrote this article myself, and it expresses my own opinions. I am not receiving compensation for it (other than from Seeking Alpha). I have no business relationship with any company whose stock is mentioned in this article.
Additional disclosure: In forex, I am net short the Australian dollar