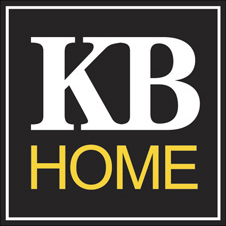 Last week several homebuilder stocks rallied sharply as the market continued to advance to new recovery highs and managers shrugged off the "Goldman Risk" which had overshadowed traders for a single day. Several nationwide developers broke out of multi-month ranges on strong volume, indicating that institutional managers were allocating a significant amount of capital to the sector.
Since most homebuilders are still operating at losses with huge inventories of homes and land, and stifling levels of debt, the move indicates that institutional investors are very optimistic about the nation's economic recovery. It will take a significant increase in wealth, along with a much better employment picture for the lofty prices on most homebuilders to be justified.
But just as the euphoric trading was catching the eye of momentum and breakout traders, Tuesday ushered in a new dynamic for growth and speculative issues. The catalyst was renewed concern over a default of Greek debt, but the broad effect was a move away from risk by a large number of influential traders. While the benchmark indices took on water, homebuilders quickly gave up gains from last week's breakout and now look vulnerable to fall much further. KB Home (KBH) builds single family homes, condos, and townhomes in 10 states across the US. The stock had recently broken out above a consolidation area at $18.00 and immediately added more than 10% to top out near $20. But the "risk off" trading on Tuesday negated the breakout and caused investors to lose nearly the entire gain from the previous week. Speaking as a trader myself, this kind of volatility would cause me to re-think a long position even if I was confident in the company's fundamentals.
As it stands, KBH isn't exactly in great shape fundamentally, and significant risks are still in place. Quarterly revenue numbers continue to decline although doing so at a decreasing rate. Still, the company has reported major losses totaling $2.64 per share in the last year alone. Analysts expect the company to lose "only" 89 cents per share this year which ends November 30, and then a gain of $0.65 is projected for the following year.
Even if the 2011 guestimates turn out to be accurate, the stock is still trading at nearly 30 times forward earnings – a difficult multiple to justify given the losses and risk of a stall in the economic rebound. During the last quarter management tried to paint a pretty picture of the housing market, but reading between the lines it appears there is still significant concern:
Encouraging data in recent months suggest that a number of housing markets may be stabilizing or starting to rebound, though we do not yet see, in many respects, a sustained nationwide recovery. While the pace is likely to be uneven in the months ahead, we currently expect housing market conditions to follow a generally positive trajectory throughout this year and into 2011. ~Jeffrey Mezger, CEO
With Europe continuing to be a significant red flag (I don't think US investors realize how our fortunes could be closely tied to the international events) and US unemployment stubbornly high, I believe a rally in the homebuilding sector is premature. We have already seen how quickly the homebuilders can give up gains when managers decide to reduce their risk levels. Imagine what would happen if managers truly kept this mindset for more than just a single day. In this case, I would expect homebuilders, retail stocks, many China plays, and a few other speculative sectors to take on water.
The ZachStocks Newsletter has a short position in another related homebuilder. This luxury builder has recently had to write down the value of its land inventory which has a negative effect on book value. I'm expecting a 20% decline in this stock along with similar negative action for the entire sector. So if you are long homebuilders, it may be worth lightening exposure on today's strength. The temporarily higher prices may provide a decent short entry, and at the very least, investors should have an exit or hedging strategy in place to carefully manage the risk.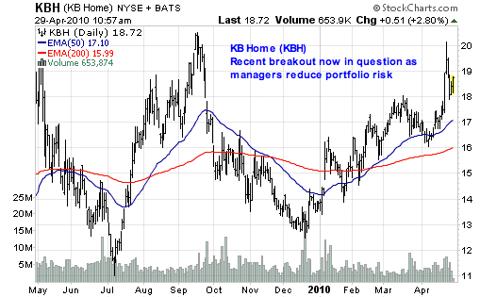 Full Disclosure: Author does not have a position in KBH