Sector rotation is a tried and true investment strategy used by professionals and non-professionals alike. Not only does it keep a portfolio diversified, it can be mapped out and predicted by following the standard business cycle model.
The way stock sectors behave in the market usually aligns pretty well with different phases in the business cycle. The cycle alternates between expansions (growth) and contractions (recessions) that generally last around 45 months and 11 months, respectively. The current bull market has lasted almost 5 years, and many investors are predicting a contraction soon.
Energy, materials, consumer staples and healthcare sectors typically perform well at the end of an expansionary phase, and in recent months all 4 of those sectors have done well, which is a possible signal of the end of a bull market. Economically sensitive sectors like information technology typically don't do well because investors shy away from growth-driven industries if they think the economy will contract.
So stock market bears may have been surprised when one of the largest global suppliers of electronic components and computer products reported record sales figures and higher earnings numbers than it did last year. That's exactly what happened when Avnet (NYSE:AVT) reported 2nd quarter FY2014 results on January 23.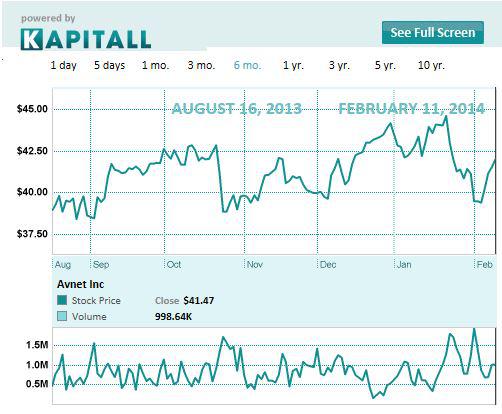 Click here for more information on AVT.
The $5.8 billion electronic wholesaler oversaw 11% year-over-year revenue growth to net a record high $7.4 billion. Organic revenue was up 8% in constant currency compared to 3.5% last quarter. Adjusted operating income grew 32% thanks to continued efficiency initiatives, and operating income margin increased 41 basis points to 3.6%. The results showed that adjusted EPS year-over-year increased 11% to $1.17.
For the first half of FY2014, revenue climbed 9.5% year-over-year while adjusted operating income grew three times as fast. Management expects the 3rd quarter to be stronger than last year as well with earnings in the range of $1.02 to $1.12 per share - an increase of 13% to 24% year-over-year.
Even after such a spectacular quarter, the stock still trades cheaply at just 12.5 times earnings and a PEG ratio of 0.92. The company began a quarterly dividend of $0.15 in September of 2013 which currently yields around 1.5% at current price levels. This yield should increase rapidly going forward considering the company's revenue growth and dividend payout ratio of just 9%. Management is also active in stock repurchases with $225 million available for buy-backs when the right opportunity presents itself.
Analysts' target price average $48 while the stock currently hovers at around $41.20 - a discount of 16.5%. Now that the acquisition of German distributor MSC is completed, the integration in European markets should help the company better compete with Arrow Electronics (NYSE:ARW). While both companies trade at about the same multiple, Avnet is reporting higher growth figures and should outpace its biggest rival for 2014.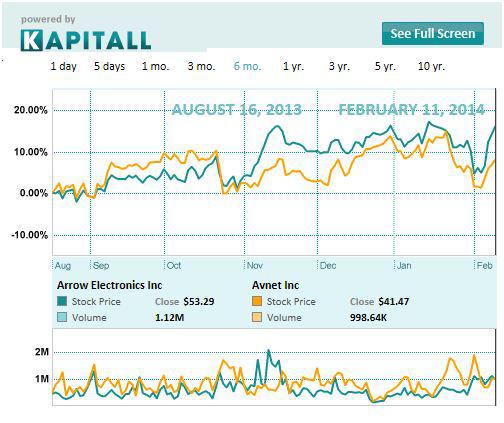 Click here for more information on these stocks.
The signal for a slowing economy can't be found by looking at Avnet's latest results, but that doesn't mean investors have nothing to fear going forward. The bull market is still over-extended and profit-taking is just one of the potential headwinds for investors as a whole. Third quarter results will paint a better picture of how the economy is holding up and let us know if we should all begin a sector rotation out of IT stocks, including Avnet, later on this year.
Disclosure: I have no positions in any stocks mentioned, and no plans to initiate any positions within the next 72 hours.
Business relationship disclosure: Kapitall is a team of analysts. This article was written by Daniel Cross, one of our writers. We did not receive compensation for this article (other than from Seeking Alpha), and we have no business relationship with any company whose stock is mentioned in this article.