The Great Recession changed the spending habits of millions of Americans. A Pew research study from 2010 reveals the scope of its impact. 24% of adults between 18 and 29 moved back in with their parents, alcohol and tobacco consumption dropped 30%, and a staggering 71% of Americans purchased cheaper brand products.
A look at how discount brands have performed in the last 5 years drives home the study's insight. While the S&P 500 recorded triple digit gains, retail giant Wal-Mart (NYSE:WMT) only gained 50%. On the other hand, Wal-Mart's discount competitor Family Dollar (NYSE:FDO) has risen over 125% in the same period. Consumers' thrifty habits seem to have stuck.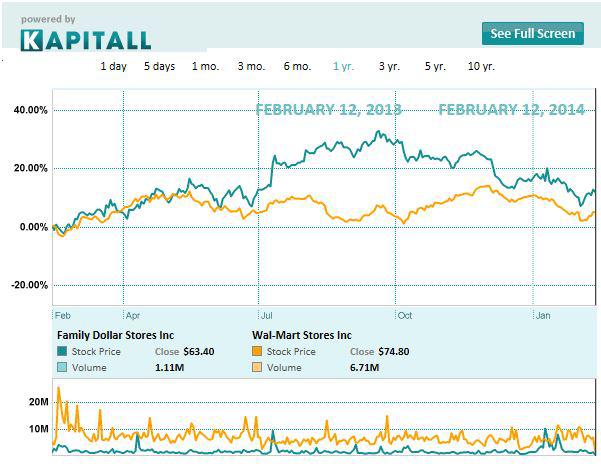 Click here to see more information on WMT and FDO.
Since the financial crisis of 2008 decreased consumer confidence has depressed spending, but optimism and spending may be on the rise for 2014. The forecast for December was an increase in spending of 0.02%, but results came in at double that figure to 0.04%. It's the fastest increase in discretionary spending in three years.
Tickets for movies, events and concerts have led the trend in increased consumer spending. 2012 movie ticket sales were a record $10.84 billion, reversing a decline in sales at theaters in previous years. 2013 showed a slight gain to $10.9 billion with 2014 looking like another big year for moviegoers. The successful IPO of AMC Entertainment (NYSE:AMC) has investors interested in the sector, but the company with the most potential could be Carmike Cinemas (NASDAQ:CKEC).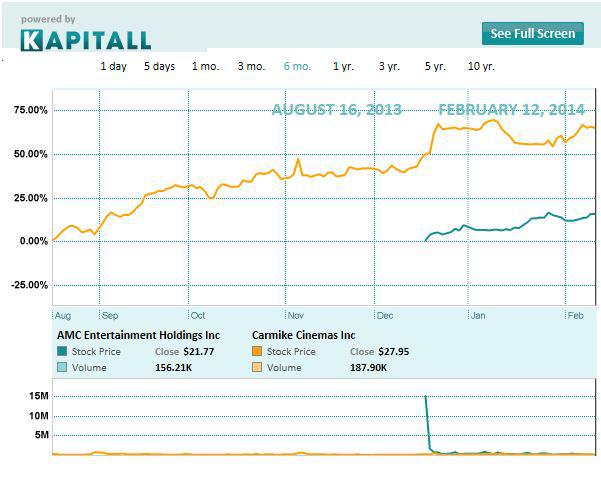 Click here to see more information on AMC and CKEC.
The company is the 4th largest exhibitor in the U.S. with 2,521 screens in 247 theaters. Its business model targets small-to-mid sized communities, which gives it a reputation for being a discount theater, but that also means it has the ability to increase pricing without giving market share to its competitors. Its $31.8 million acquisition of Muvico added 9 more theaters and 147 screens to its total - well on its way to the goal of 300 theaters and 3,000 screens.
According to the company's most recent quarterly earnings statement, theater attendance increased 10.5% year-over-year while average concession sales per person grew 7.9%. Margins on concession sales are over 85%, and adjusted EBITDA margin for the third quarter grew 190 basis points to 17.2%.
EPS growth for next year is expected to be over 94% to $1.22. Carmike is trading at a price-to-sales ratio of just 0.93 and has a return on equity of over 51%. Cash and cash equivalents stand at around $150 million, an increase of $82 million from the end of 2012.
Find more ideas on entertainment stock investing here.
The average analyst's price target for Carmike Cinemas is $30.75 representing a discount of about 14%, but the company's expansion and recent acquisitions could raise estimates to around $33 - a potential gain of about 22%.
There are some risks to consider. Theater attendance is largely dependent upon consumer discretionary spending and relative income levels. An increase in unemployment figures or a decrease in spending would directly impact ticket sales and reduce future earnings.
Disclosure: I have no positions in any stocks mentioned, and no plans to initiate any positions within the next 72 hours.
Business relationship disclosure: Kapitall is a team of analysts. This article was written by Daniel Cross, one of our writers. We did not receive compensation for this article (other than from Seeking Alpha), and we have no business relationship with any company whose stock is mentioned in this article.