Executive summary:
BlackBerry shares gaining momentum as they push higher.
Short interest has continued to come down.
Analyst estimates are leveling off and price targets are rising.
Sentiment has clearly shifted for now.
Not the only tech name to see a bit of short covering.
_____________________________________________
It's been about a month since I covered BlackBerry (NASDAQ:BBRY). BlackBerry shares were rallying from their lows due to additional investments from Fairfax and a slight shift in analyst opinion. Additionally, short interest was coming down nicely. Shares in the name have continued higher, although they are off recent highs, as seen in the chart below. Today, I'll discuss where BlackBerry stands now, and discuss whether or not this rally has legs.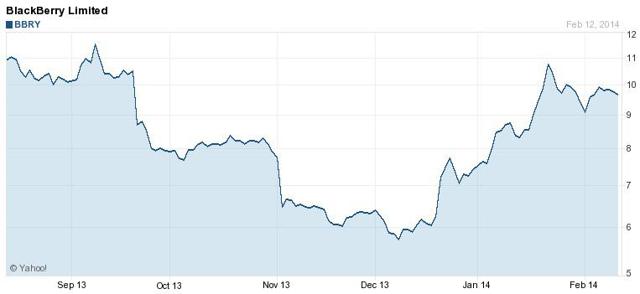 (Source: Yahoo! Finance)
An update on analyst estimates:
Back in September, BlackBerry issued a major warning. Since then, analyst estimates have come down dramatically, and another bad earnings report in December did not help. Estimates dropped again after that report, and you can see their recent history in the table that I have compiled below.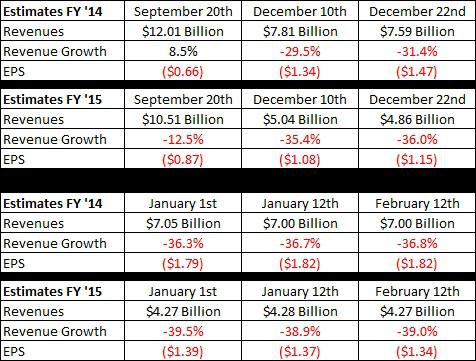 As we have gotten a bit further into 2014, we have started to see the drop in estimates level off. Revenue estimates are mostly flat over the prior month. Remember, these EPS numbers are adjusted and take out a lot of items. One important point to note is that fiscal 2015 EPS estimates have risen a nickel since January 1st. New CEO John Chen believes the company could be profitable by fiscal 2016.
Short interest continues lower in a significant way:
Throughout most of 2013, one of the bull cases for BlackBerry was the potential for a major short squeeze. Short interest in the name was extremely high, reaching around 35% or so of the outstanding share count at its peak. There were more than 184.4 million shares short for BlackBerry at the final update for June 2013. But as you can see from the chart below, short interest has fallen.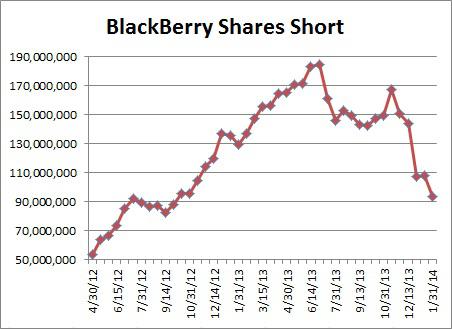 After a small rise in early January, BlackBerry short interest dropped by a little more than 14 million shares in the second half of the month. At 93.6 million shares short, BlackBerry short interest is now at its lowest point since the end of September 2012. We are almost to the point where short interest has dropped in half. Another 1.4 million shares will get us to that point. Obviously, a clear move has been made here. Those that were short BlackBerry in early 2013 are starting to cover in masses. I stated in my previous article that further short covering could push shares higher. That seems to be part of the reason for the rally, and further short covering could push BlackBerry even higher.
More positive analyst comments:
I've mentioned in the past that analysts are starting to become more positive on BlackBerry as well. We have seen a couple of positive notes since my last update. The first one was from MKM Partners, with the highlights below:
"We are increasing our fair value estimate for BBRY to $10 from $6.75 as we model lower cash burn in Handsets due to the Foxconn outsourcing," Genovese said.

"We now think the company's net cash balance can stabilize at about $2bn assuming an additional $1bn in cash burn from operations and restructuring mostly offset by real estate sales and tax refunds."

"We now give BBRY $4 per share credit for cash, up from zero previously. The other significant change is, since we now view BlackBerry as a going concern, we do not assign a separate break-up value for the intellectual property portfolio. Our $10 fair value estimate for the stock consists of $4 for the cash, $4 for the Enterprise business including Services and MDM, $1 for Handsets and $1 for BBM and QNX combined."

Genovese also notes the bull case going around that BlackBerry's Enterprise business may be worth two to three times the $4 per share we assign for the business.
The analyst at MKM did reiterate a Neutral rating on BlackBerry, but his new fair value target implies a few percent of upside. He also noted that the enterprise business may be more valuable than he models. The second note came from Peter Misek at Jefferies. Misek reiterated a Hold but raised his price target from $6 to $9. In fact, Misek stated that the bull case is $16 for BlackBerry. The key point from his note is below:
"We conducted an in-depth scenario analysis for each of BBRY's six key segments," Misek notes. "While the stock has rallied on decreased near-term liquidity concerns, our analysis highlights that BBRY faces a difficult tightrope walk as it needs to balance quickly ramping its iOS/Android MDM business while drastically reducing costs. Our base case is ~$8, bear ~$2, and bull ~$16 with a probability-weighted avg. of ~$9, which is our new price target."
Two analyst notes might not seem like much. However, I also mentioned a couple of positive notes in my previous article. While most analysts aren't telling investors to buy yet (although maybe they should have been), a lot of price targets are being raised. However, Yahoo! Finance still has the mean/median price targets at $7.24 and $7.00, respectively, with a range of $3 to $20. While a growing number of analysts are warming up a little to BlackBerry, we still are waiting for the majority of analysts to do so. That probably won't happen until BlackBerry does something really good, like announce a strong quarter, or at least one not as terrible as the last few have been.
Other short interest updates:
BlackBerry isn't the only name to see a drop in short interest. Google (NASDAQ:GOOG) was another name to see a huge drop recently. Google short interest ended January at 2.73 million shares, down from 4.91 million at the end of 2013 and 5.39 million at the end of September. Right now, Google is the one pure growth play in large cap technology. Google did miss on the bottom line when it announced Q4 results, however, investors and analysts seem to be happy that the company is selling off Motorola phone operations. That segment has been losing Google money in recent quarters, and the reduction of those losses could help Google's profitability. With Google shares racing to new all-time highs basically every week now, those short are covering.
Another large name that is seeing a major drop in short interest is Intel (NASDAQ:INTC). Intel's short interest had basically tripled into late 2013 as investors were worried about declining revenues and falling earnings. Intel's 2014 was supposed to be a turnaround year (although so was 2013), but now we are anticipating a different reality. But despite Intel management painting a bleak picture so far for 2014, short interest has turned. After a peak of more than 255 million shares last October, Intel's short interest has declined for seven straight updates. This almost reminds me of what we've seen with BlackBerry, but to a lesser extent. Intel's short interest stood at over 206 million shares at the latest update. The premise here is that Intel investors are hoping management was conservative, and that guidance will beat. Like BlackBerry, expectations are low and that provides room to beat, but the company hasn't been able to do that lately.
One interesting technology name that saw a rise in short interest was Apple (NASDAQ:AAPL). Just like the drop in BlackBerry short interest, Apple had seen huge covering until 2014 started. Apple's short interest dropped from a peak of 41.6 million in April to just 14.2 million by the end of December. In percentage terms, that was a larger fall than the one in BlackBerry. However, short interest for Apple jumped by nearly 2.4 million shares in January. While Apple announced a tremendous quarter, there were some concerns over forward guidance and iPhone unit sales. Apple's stock dropped, and the company came in and used $14 billion to accelerate its buyback. Strangely enough, a comparison can almost be made between the two. BlackBerry was so reliant on its hardware business, to the point that went things went bad, it nearly killed the company. Now, Apple's critics have stepped up their efforts to criticize Apple for relying so much on the iPhone and iPad. BlackBerry has been killed in recent years for not adapting to the changing environment and looking for something new. Now, critics are saying Apple isn't innovative and something new is needed. The fortunate part for Apple is that revenues aren't expected to fall by about 75% in just a few years like BlackBerry's revenues are. But for both, there are a large number of critics.
Final thoughts:
BlackBerry's rally recently hit a speed bump, but shares are still up nearly 80% from their 52-week low. Analyst estimates have leveled off a bit, and numerous analysts are raising their price targets. Short interest in the company has nearly fallen in half, just like other tech names such as Apple and Google that have seen large short interest falls. Further short covering and positive analyst notes could push this name back into the $12 to $15 area as we continue into 2014. For that to occur, BlackBerry has some work to do. Announcing a quarter that doesn't dramatically miss estimates would certainly help, and that could occur in late March. I'm not a 100% believer in BlackBerry just yet, but some extra investments in the company and the real estate sale will help ease cash concerns, buying the company some much needed time. I do believe the rally will continue over the next couple of months, but I wouldn't be surprised if it was a very bumpy ride.
Disclosure: I have no positions in any stocks mentioned, and no plans to initiate any positions within the next 72 hours. I wrote this article myself, and it expresses my own opinions. I am not receiving compensation for it (other than from Seeking Alpha). I have no business relationship with any company whose stock is mentioned in this article. Investors are always reminded that before making any investment, you should do your own proper due diligence on any name directly or indirectly mentioned in this article. Investors should also consider seeking advice from a broker or financial adviser before making any investment decisions. Any material in this article should be considered general information, and not relied on as a formal investment recommendation.