Sell the current rally in stocks
Stocks had a bad start to the year, with losses in January and early February. But after correcting about 6% to 7% from the (all-time) highs, a quick rally started since last Tuesday (NYSEARCA:SPY), (NASDAQ:QQQ), (NYSEARCA:DIA), (NYSEARCA:EWG), (NYSEARCA:EWN), (NYSEARCA:EWU). This seems to be a perfect example of a suckers rally. Investors seem to hope that the good times will continue after five years of rising stock prices. The news doesn't seem to justify the rally. Just look at the (again) disappointing payrolls last week and the bad ISM manufacturing numbers. Also, Yellen didn't say anything new at her testimony.
(click to enlarge) S&P500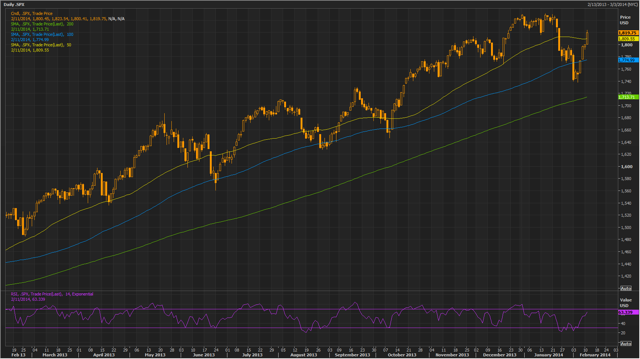 Click to enlarge
Source: Reuters, Global Demographics
Valuation, as measured by the Shiller P/E is, at around 26, still high and points to just a zero return on stocks ex-dividend for the next ten years or even negative for shorter time horizons, as John Hussman shows in his excellent research.
Earnings seem to be topping out, and with margins likely to revert below the mean in the next several years, the outlook for stocks is just dim. John Hussman shows in the below graph, the relationship between the ratio of corporate profits to GDP and the annual growth in profits over the following four-year period. This implies a 22% annual contraction in profits in the next 4 years!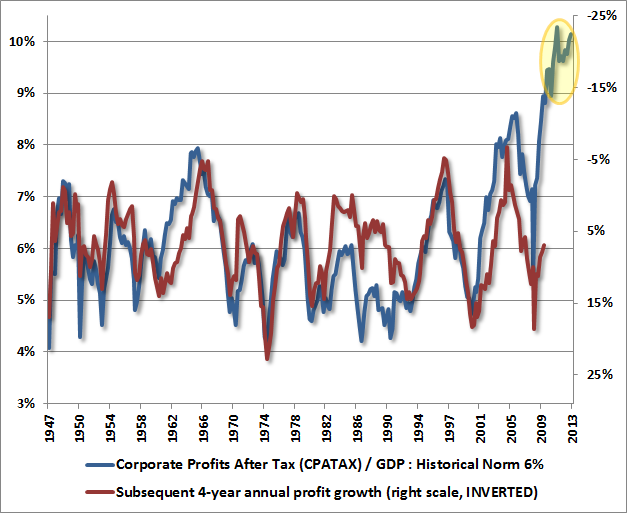 Source: hussmanfunds.com
When investors start realizing that the Fed policy of ultra-low interest rates and massive QE cannot prevent the US economy from falling back into a recession probably sometime this year, stocks could be hit hard. With the ECRI Weekly Coincident Index falling rapidly and the earnings cycle turning down, a recession seems more likely than most investors probably realize.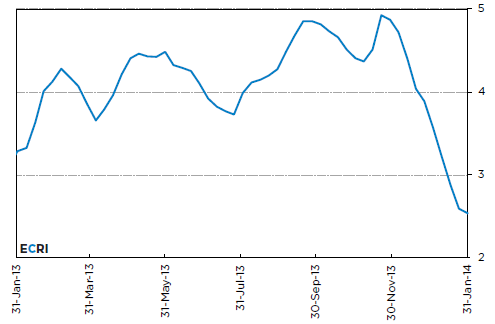 Source: ECRI
After a 170% five-year rally from the March 2009 lows in the SPX, stocks are overbought and due for a serious correction. The chances of significant new highs in stocks in the next few months seems, therefore, to be low.
Buy Treasury Bonds
On the other hand, with the outlook for stocks being quite negative, treasuries (NYSEARCA:IEF), (NYSEARCA:TLT) could this year surprise on the upside. Advisors are unanimously negative on treasuries, and this is a bullish sign.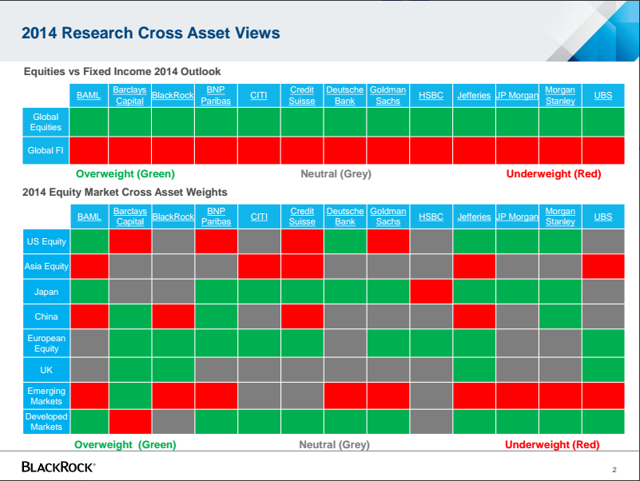 Click to enlarge
Source: www.ritholtz.com/blog/2014/01/surprising.../
The turmoil in emerging markets will also benefit treasuries, as investors are looking for a safe haven. And last but not least, a US recession and a slowdown in global economic growth will add to deflationary pressures and could drive treasuries to new lows at a moment investors least expect it.
With the 10-year treasury around 2.75% and already down from the recent 3% high, it could be trending back towards the 1.6% low of May last year.
10-year Treasury yield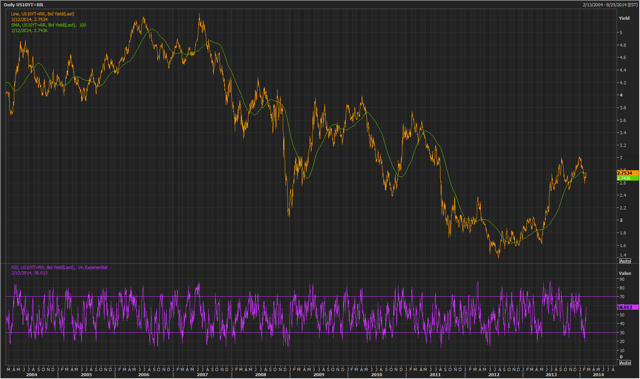 Click to enlarge
Source: Reuters, Global Demographics
This makes for a difficult investment year, which could disappoint a lot of investors who got used to the rising stock markets of the last five years.
High Hopes
To keep up the spirits and still have a good time I suggest to go out and buy tickets for one of the spring concerts of Bruce Springsteen and The E Street Band. Maybe The Boss can give you some hope.
Disclosure: I have no positions in any stocks mentioned, and no plans to initiate any positions within the next 72 hours. I wrote this article myself, and it expresses my own opinions. I am not receiving compensation for it (other than from Seeking Alpha). I have no business relationship with any company whose stock is mentioned in this article.
Additional disclosure: I have a position in AEX put options.