Executive summary:
GLDI offers investors a high yielding way to get long gold
GLDI appears to have bottomed at $13.50, offering a great entry point at present
Trailing yield of 11%+ more than mitigates limited upside
_________________________________
Many people love the idea of investing in gold (NYSEARCA:GLD) and other precious metals. While I won't attempt to explain why that is, the main problem for a lot of investors is that precious metals don't produce earnings, pay a dividend and the like. Thus, a lot of investors are turned off by the prospect of simply owning gold. However, there is a better way and in this article, we'll take a look at an ETN provided by Credit Suisse that not only allows investors to get long gold, but do so at reduced risk and receive a gigantic yield in the process.
The Gold Shares Covered Call ETN (NASDAQ:GLDI) is an exchanged traded product that basically invests in the GLD ETF that is so popular but does so by getting long GLD shares and then selling out of the money calls against the position. In other words, by owning GLDI you are long GLD but with the reduced risk (and potential reward) of selling calls against the position. This means that you lose the uncapped upside of simply owning GLD but you also experience less overall risk because in a sideways or down gold market, GLDI will outperform GLD on a total return basis. The only reason GLD would outperform GLDI is if gold has a sustained uptrend over a period of time. Otherwise, I feel GLDI is the much better option given GLD's volatile price action over the past couple of years.
The horrendous chart below represents the terrible market that has persisted for gold longs over the past year.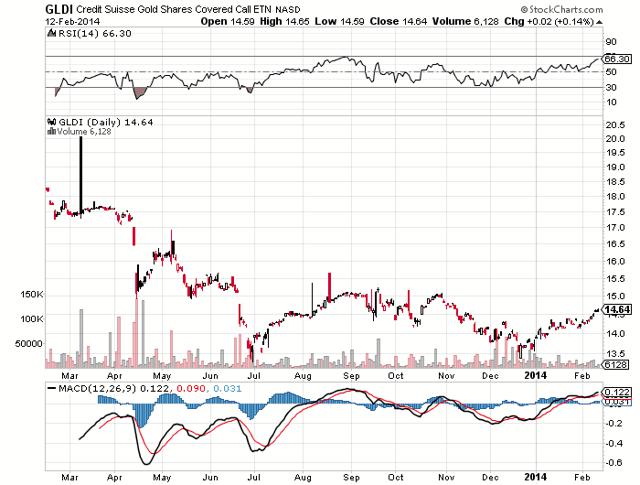 Click to enlarge
As you can see, GLDI holders have been pummeled right alongside those holding GLD shares. However, it looks like GLDI has put in a double bottom around the $13.50 level and has rebounded hard off of that number, which was last touched in December. Thus, I think current prices represent a good entry point for investors looking to get long gold while collecting a yield.
Make no mistake, there are times that GLD is going to outperform GLDI but they are two completely different investment vehicles. GLD is for investors that think GLD is going to go straight up while GLDI is for yield hunters and those that think GLD may have bottomed late last year but don't think GLD is in for a screaming bull market. If GLD goes straight up, you'll probably wish you owned GLD instead of GLDI. However, if that doesn't happen, GLDI will likely end up being the better choice.
Speaking of the yield, GLDI produces monthly income, instead of the traditional quarterly distributions, that vary based upon how much income the calls that are sold produced. As such, it is impossible to tell exactly what the distribution will be for a particular month but the past gives us some indication of what the future could hold. In the past twelve months GLDI has made cumulative monthly distributions of $1.70 per share, or roughly 14.2 cents per share per month. At the current price of $14.64 that is good for a trailing yield of a whopping 11.6%! Imagine getting long gold and receiving an 11%+ yield in the process. This is why I believe GLDI to be a terrific vehicle for those who think GLD has put in a bottom and want some income in the process. Of course, there is no way tell what the next 12 distributions will be for GLDI but it should be similar to the previous 12.
GLDI is not for everyone but for those looking for hedged exposure to GLD, it can be a great choice. In fact, you don't even need to believe in GLD's bottoming process in order to take advantage of GLDI's huge income stream. Not only is the yield enormous but it pays you each month instead of each quarter. This is an ideal mix of yield and distribution frequency and it allows you to collect that yield on an instrument with no earnings or liquidity risk like a business would have. GLDI could be a great addition to your income portfolio but make sure you read the information linked above before pulling the trigger.
Disclosure: I am long GLDI. I wrote this article myself, and it expresses my own opinions. I am not receiving compensation for it (other than from Seeking Alpha). I have no business relationship with any company whose stock is mentioned in this article.