I have been covering Angie's List (NASDAQ:ANGI) since early 2013, and have been extremely bearish since July. Last month, I argued that ANGI could "expect a dismal 2014" due to a business model that is both disingenuous and beginning to fall apart. The Q4-14 and full year 2013 results were released earlier this afternoon, and exceeded my worst expectations. In light of these recent developments, I am lowering my price target from $5 to $0 and essentially declaring Angie's List as worthless. I expect the equity to trade below $5 prior to this summer, but we may see some short squeezes in the interim due to a very crowded bear position.
Recent Price Action
After my article was published (January 14), we had a rapid run-up in the stock price due to analyst upgrades and perhaps some strong institutional buying. Just last week, John Thaler's JAT Capital disclosed a 5.5% stake in the company (3.2M shares). Following the quarterly earnings call, ANGI has traded as low as $14.40, which represents a 16% drop after-hours.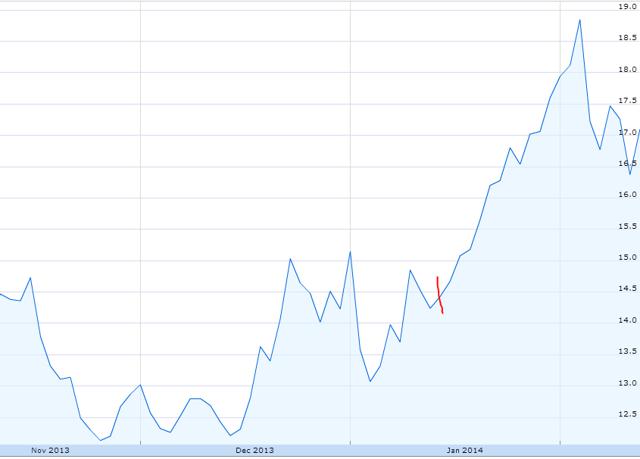 The Disaster Quarter
I am extremely bearish about ANGI's value; however the Q4-results exceeded my worst (or 'best' as a short) expectations. Both membership and service provider growth categories ground to a halt, while marketing costs remained much higher than expected. Additionally, sales costs continued to grow even as service provider growth almost ceased. This is due to a shift of sales resources to a "maintenance" function of monetizing the current base.
While Angie's List does seem to show impressive year-over-year numbers, the key focus for this type of business should be on quarter-over-quarter growth. In all of these metrics, ANGI provided poor growth. Additionally, ANGI posted operating 'cash flow' of $8.9M; however, as I explained in a previous article, ANGI is a "deferred revenue train wreck." Of this $8.9M, $8.1M comes from shifting of payments, and a shocking $25.1M is deferred revenue (DR). Essentially this means that ANGI's actual direct earned cash flows were actually negative $24.3M for the year, as the $25.1M of DR reflects advance payments for services not yet rendered (recognized). In other words, the 'true' liquidity of Angie's List is close to negative $20M ($55.9M in cash equivalents minus $75M in DR). If you pile on the accrued liabilities and payables balances, ANGI is in the hole by $22M. This compares to last year's comparable position of positive $9M.
Compounding the disappointing results was the disastrous conference call. Anyone who is long, short, or just curious on ANGI should give the call a listen, specifically during the Q&A session. The CFO frequently "forgets" numbers, and the entire staff is both bumbling for answers and challenging the analysts on certain assumptions. I'm relatively new to the scene, probably read around 300-400 transcripts and listened to maybe 60-70 conference calls, but I've never witnessed something this unprofessional and frankly downright embarrassing.
At one point on the call, Angie's mysterious 'e-commerce platform' is referred to with an awkward Star Wars Death Star analogy.
Another interesting point is ANGI's increased marketing spend on search engine optimization (SEO) to apparently "get competitors off of our name." From the screenshot below it appears ANGI still needs to spend significant money here. Notice that Homeadvisor.com has '1709 seller reviews' (5-star) and Angie has none.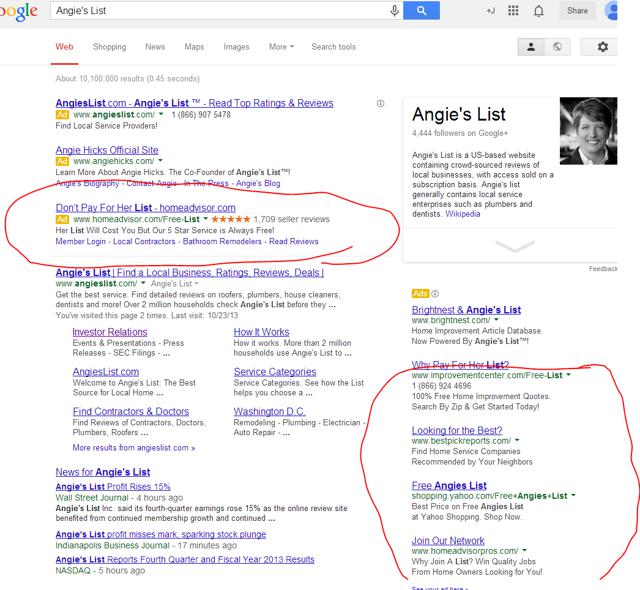 On top of all of this, ANGI is in process of reaching a $4M settlement on one of their lawsuits, some of which Michael Sacerdote covered in December. This lawsuit was one of several alleging that ANGI misled investors on their business model and operating results. This settlement suggests that the other lawsuits could reach similar ends.
The Business Model
In my past articles, I've broken down ANGI's issues into a few graphs that illustrate their key issues, both with the business model and with operating performance.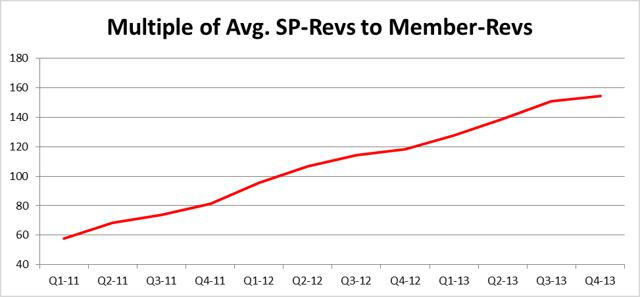 The above graph references the continuing focus on service provider revenues over member revenues, I have referred to this multiple as the "conflict of interest ratio." We are now at a record high of 155.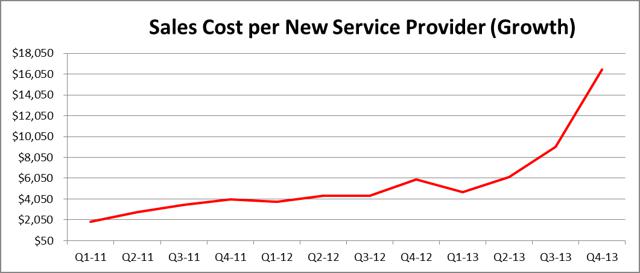 Not only did growth of participating service providers dramatically slow in Q4, the sales expenses continued to grow.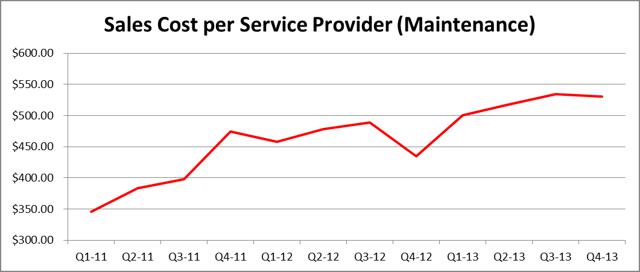 The above graph illustrates the expense nature of maintaining each service provider. These expenses continue to stay elevated despite revenue growth also starting to flat line as shown below.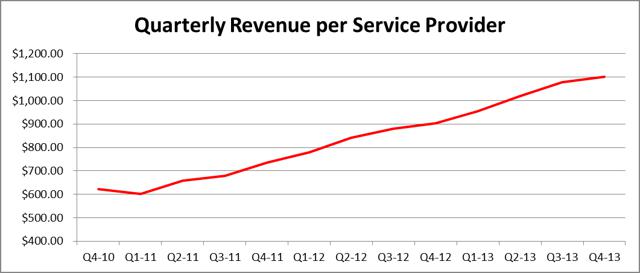 Very Crowded Short
Unfortunately, when there is an extremely obvious short, the short interest usually builds up quickly, which can ironically create short-term bullish pressure on a stock anytime the stock has a 'good day' in the markets. This phenomenon is known as a "short squeeze." With Angie's List, the short interest is at an all-time high as of 31 January, at levels of more than 2x seen last year. Keep in mind the short interest is up a shocking 80% from when ANGI traded at much higher levels this summer ($22-$28 in July 2013). If the Q4 results had not been a phenomenal disaster, I was extremely wary of a short-term pop into the $20s.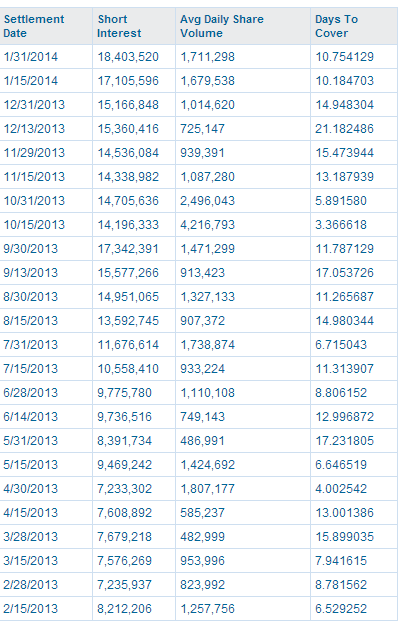 Conclusion
This stock story draws close comparisons to the children's story of "The Emperor's New Clothes" by Hans Christian Anderson. This is a company that has a disingenuous business model, negative equity, no near-term chance at profitability, and is now beginning to institute additional changes following a horrendous quarterly performance. Additionally, competition is coming on strong from eBay (NASDAQ:EBAY), Yelp (NYSE:YELP), and ReachLocal (NASDAQ:RLOC). However, sell-side analysts continue to prop up the price regardless. I've held off on pushing the $0 price target before, but after reading the recent results and listening to the embarrassing and unprofessional conference call, I'll say it officially: this stock is worth $0.
Investment Approach
Unfortunately, the "naked Emperor" has been discovered by just about everyone who isn't on the sell-side team. The short trade is so crowded that directly shorting shares is likely to be impossible. In the short term, it's likely that a lot of bears will wish to cash out and take their profits; therefore, I wouldn't look to buy near-term puts either. The best approach, judging by quoted option premiums from the evening of 12 February, appears to be Aug14 $10 puts, which were trading around 85c. I believe it's highly probable that ANGI could trade below $5 by then, if not much sooner. If it wasn't for the already crowded short, I'd speculate ANGI could trade as low as $5 (71% drop) within a few days.
Disclosure: I am short ANGI. I wrote this article myself, and it expresses my own opinions. I am not receiving compensation for it (other than from Seeking Alpha). I have no business relationship with any company whose stock is mentioned in this article.
Additional disclosure: I am short ANGI via Feb14 put options. I also have a $20/$22.50 March 14 bullish call spread as a hedge (pre-earnings).