By David Russell
Walter Energy (NYSE:WLT) is down on a bad earnings report, and the bears are looking for continued weakness.
optionMONSTER's tracking systems detected heavy call selling and put buying in the coal stock. The May 90 calls were sold more than 6,000 times, mostly for $2.35 to $2.50, against open interest of 1,624 contracts. The trade occurred after the stock reversed following a short period trading above $90 early in the session.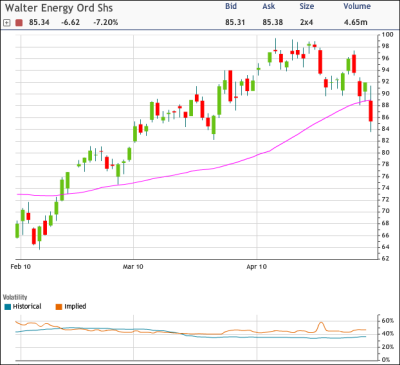 WLT fell 7.2 percent to $85.34 in early afternoon trading and is down 11 percent since April 6, when it pulled back from 20-month high of $99.45. It has surged more than 700 percent from its lows in December 2008.
Yesterday afternoon the company reported weaker-than-expected first-quarter earnings because of higher operating costs. Management sounded a bullish tone on prices for coking coal, which is used in steel production.
Traders also bought about 4,445 May 85 puts for $3.50 and $3.60 and some 1,500 May 80 puts for about $1.60.
Today's decline sent the shares below their 50-day moving average (purple line on chart), which may cause some technical watchers to expect further downside. The next likely support level is around $81, where WLT peaked in late February.
Overall options volume in the name is five times greater than average so far today.
Disclosures: No positions