Editors' Note: This article covers a stock trading at less than $1 per share and/or with less than a $100 million market cap. Please be aware of the risks associated with these stocks.
Executive summary:
Shipping companies have issued $335 million of preferred shares so far in 2014.
Preferred shares offer a great alternative to raise equity without diluting common shareholders.
Yield-seeking investors may find the risk-reward profile of preferred shares more suitable than common shares.
_________________________________
Last Monday, Diana Shipping Inc. (NYSE:DSX) tapped the market to raise $60 million by issuing 2,400,000 series B preferred shares. This is the fourth time this year that shipping companies have issued preferred shares as an alternative to common equity. Earlier this year, Costamare Inc. (NYSE:CMRE), Navios Maritime Holdings Inc. (NYSE:NM) and Seaspan Corp. (NYSE:SSW) raised $100 million, $50 million and $125 million respectively.
This follows a very busy year last year, when Tsakos Energy Navigation Ltd. (NYSE:TNP), Safe Bulkers Inc. (NYSE:SB), Box Ships Inc. (NYSE:TEU), and Costamare Inc. had raised in excess of $215 million in preferred shares. Preferred shares offer a different risk-reward profile than common shares that may be more suitable to investors, particularly yield-seeking investors. In this article, I will survey the common characteristics and differences of shipping preferred shares.
Preferred shares are hybrid securities that share elements with both corporate debt and common equity. Like corporate debt, preferred shares have a par value (called liquidation preference), pay a fixed annual dividend, and have a senior claim on the company's assets vis-à-vis common shares. On the other hand, they have no specific maturity date. Preferred shares are considered shareholders' equity for loan covenant purposes just like common shares. That is why preferred shares have become so popular with shipping companies: they allow them to raise equity funds, improve their debt to capitalization ratio, comply with debt covenants, and still avoid dilution of common shareholders. The flip side is that they have a higher cost than corporate debt.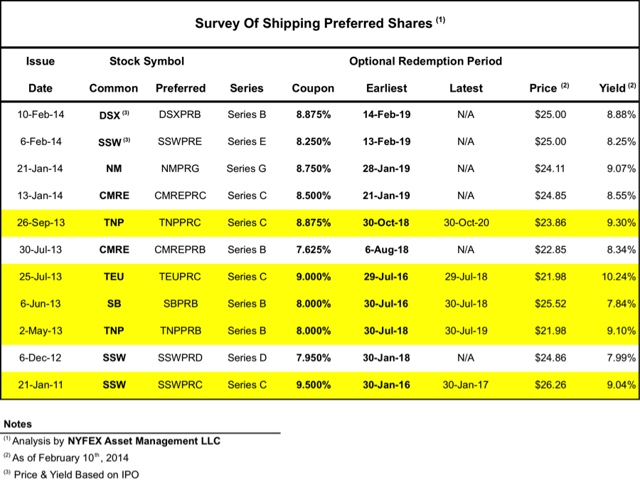 All the securities in the above sample are perpetual cumulative preferred securities. They all have a liquidation preference (or par-value) of $25 per share, and pay a dividend on a quarterly basis. They are perpetual because they have no maturity date like corporate bonds. They are cumulative because the holders have a claim on any undeclared dividends. And they are preferred because in case of liquidation (or bankruptcy) they have a higher pecking order than common shares.
All securities in the sample are also redeemable by the companies at their sole discretion. That means the companies have the right but not the obligation to redeem the shares as early as three to six years after their original issuance. It is very important to remember that preferred shares may be called but they do not have to be called.
Unless they must be called… All the highlighted securities in the sample share a characteristic that makes their redemption a foregone conclusion. If they are not redeemed within their optional redemption period, they start accruing a higher preferred dividend, potentially rising up to 30% per annum. Barring bankruptcy risk, this stiff escalation clause assures investors that the preferred shares will be redeemed within the optional redemption period.
I find this feature to be particularly attractive. In addition to a generous dividend, yield-seeking investors can have a reasonable expectation regarding the duration of their investment. Unfortunately, all the recent issues lack this "failure to redeem" clause.
There are several alternatives to preferred shares, particularly units of master limited partnerships. For example, the common units of Navios Maritime Partners LP (NYSE:NMM) pay a quarterly cash distribution of $0.4425, or the equivalent yield of 10.23% (based on the company's latest public offering at $17.30 per unit). The yield is higher than preferred shares, and the cash distribution may increase in the future. However, the common units don't have a liquidation preference, and the cash distributions are neither guaranteed nor cumulative.
The major drawback of preferred shares is their lack of liquidity. All the shares in the sample are very thinly traded. These securities are not suitable for stock traders. They are better suitable for long-term "buy-and-hold" investors. Because of their lack of liquidity, I find preferred shares with a "failure to redeem" clause as the best of breed choice.
In summary, preferred shares offer a great alternative to shipping companies aiming to raise equity funds without diluting existing shareholders. Investors may find the risk-reward profile of preferred shares better suitable than that of common shares.
Disclosure: I am long SB, TNP. I wrote this article myself, and it expresses my own opinions. I am not receiving compensation for it (other than from Seeking Alpha). I have no business relationship with any company whose stock is mentioned in this article.