1 - Introduction.
IAMGOLD (NYSE:IAG) is a mid-tier gold producer based in Canada with 6 operating gold mines spread on 3 different continents (Africa (33%), South America (26%) and North America (41%)). The Company produce also Niobium(Nd) or called also Colombium: 5,3M Kgs for 2013. They have also 4 development projects (Westwood in Quebec, Cote Gold project in Ontario Canada, Rare earth elements in Quebec Canada and Camp Caiman in French Guiana.)
According to their latest presentation, 2014 Production Guidance will be around 835-900K oz. IAG reported that the preliminary cash cost of around 800 dollars per oz for 2013 and will go up during 2014 from 825 to 875 dollars oz. Guidance is basing 2014 Gold price at 1,300 dollars and Niobium at 40.25 US dollars per Kg which is reasonable.
Preliminary all-in sustaining costs of approximately $1,235 per ounce (approximately $1,155 per ounce net of Niobec's contribution) for 2013 within guidance of $1,150 to $1,250 per ounce.
Production for 2013 was about 835K oz with 195K oz for the Q4 2013 (to be confirmed soon).
This is what has been release on January 21, 2014. Click here to read the pr
At end of 2013, an estimated cash and cash equivalent of 220M dollars and 160M dollars in Gold bullion at market. Also a 500M dollars in unused credit facility and another 250M for the Nobiec credit facility. Which give a total of cash of 1,130M now.
During 2013 the company has seen a cash position weakening from 1,770M in end of 2012 to 1,130M for 2013(E).
Commitment to preserving cash.
It is important to notice that the company is well positioned to reach target of 100M in cost reduction and is at about 77M now. This cost reduction are spread in 3 different areas: Corporate, explorations. and operations. Which means that IAMGOLD will be probably able to recover even faster when the gold price will start to bottom out and resume a trend up.
Reduction of 40% of capex for 2014 or around 400M dollars.
The company has 650M US dollars of senior unsecured notes due October 2020.
On February 19th, 2014 or next week IAMGOLD is scheduled to release its 2013 fourth quarter and full year financial results after market hours. A conference call will be held on Thursday February 20 at 8:30 a.m. (Eastern Standard Time) for a discussion with management regarding the Company's operating performance and financial results for the 2013 fourth quarter and full year.
2- Suspension of the dividends and its negative effect.
IAG announced recently that it will suspend its dividends in order to save cash in this lean period for Gold. Although understandable, the stock suffered a blow after the news (down to 3.42 the day it announced the cut) and in any future rally for Gold, we can expect IAG to rally now if the company is able to resume paying dividends. The most important factor is that the negative effect of a suspension of dividend is now behind us.
This is an important factor that is still pending for others Gold miners like Gold Resources Corp. (NYSEMKT:GORO) which is still paying dividends. Gold Resources Corp. last dividends on January 29,2014.
3- Gold price: A strong connection.
It is not a secret that this mid-tier gold producer has suffered a lot in connection with the gold price correction in 2013-2014 with a low around 1,180 dollars recently, down from 1,800's. I am showing here 2 charts: One is the Gold spot price and the other is IAG, spread in 2 years period. I separate the 2 graphs because it is easier to see definitive connection between the 2.
It is obvious that the all-in cash cost for most of the Gold mines is around 1,150 dollars now which is suggesting an excellent bottom potential for Gold.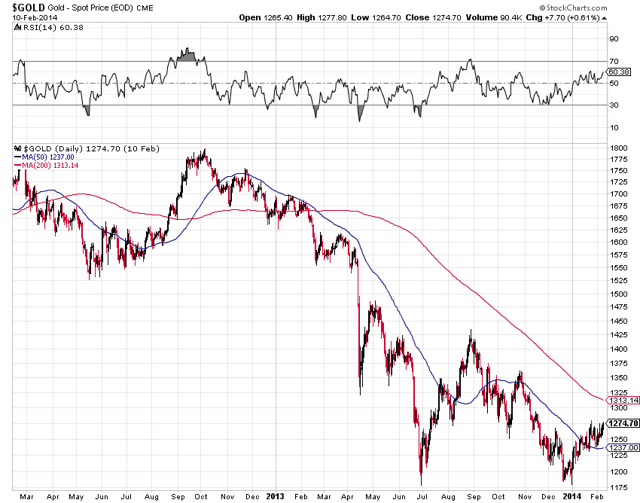 Click to enlarge
and compare to IAMGOLD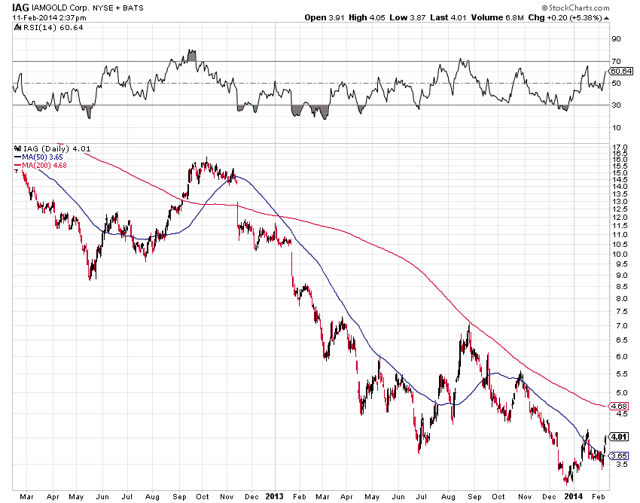 Click to enlarge
As you can see, IAG is fluctuating pretty much the same way as gold price and suffered the same downturn in stock price since around November 2013. No doubt about this.
We are noticing also that RSI for both are very similar and just above 60 for both which means that we are actually correcting and a bit high.
4 - Conclusion.
IAG is a solid company with potential and a good management caught in a weak Gold sector. IAG presents many good sides and a potential for a tremendous upside if Gold is finally bottoming out and resume a slow recovery in 2014 or 2015? It is one company that could be considered for a gamble or even go long?
The risk of bad surprises, like a cut in dividends, for example, is now mostly behind and all we can expect is that after a Gold recovery the dividends will be paid again. Guidance for 2014 has been indicated and the business is on track to deliver even better with a strategy that will preserve cash.
If you think, like I do, that Gold price may have bottomed out already at around 1,180 and Gold will probably make a recovery in second half of 2014 to 1,400's, then, buying IAMGOLD at 4 or a bit lower and accumulating seems a pretty wise strategy. Of course, any investment presents risks and we will have to be careful.
I am a RSI trader and I believe it will be possible to buy IAG under 4 again or at least one more time. It will be ok to initiate a buying phase now and add on any weakness for a potential of 50% return late in 2014.
If Gold keep dropping and test 1,000 per oz then the gamble is a loss unfortunately. This is still a possibility and many professionals are not bullish on Gold as we speak but others believe that it is now the right time to bet.
Disclosure: I have no positions in any stocks mentioned, and no plans to initiate any positions within the next 72 hours. I wrote this article myself, and it expresses my own opinions. I am not receiving compensation for it (other than from Seeking Alpha). I have no business relationship with any company whose stock is mentioned in this article.
Additional disclosure: I may start a long position with IAG soon.