Editor's Note: This article covers a stock trading at less than $1 per share and/or with less than a $100 million market cap. Please be aware of the risks associated with these stocks.
Operational Update
On February 12, 2014, Crown Point Energy (OTCPK:CWVLF) announced that the company's Hoyada-1 exploration well has encountered 36 meters (118 feet) of "highly fractured" volcanics interbedded within Argentina's Vaca Muerta oil shale in its 100%-owned Cerro de los Leones block. Strong gas shows and live oil shows were encountered throughout the 125 meter thick gross section, with the strongest shows associated with the naturally fractured intervals.
The stock was up 10c as I wrote this, which roughly equates to a market cap gain of $10 million. To put this in context, a London-listed company called Andes Energia (its ticker is AEN on the AIM exchange) put a similar news release out last week regarding an exploration well on a block to the north (yellow star, Figure 1) and saw its market capitalization increase by roughly $100 million. I have linked to that company's press release here, and would encourage readers to compare the two data points to decide for themselves whether or not the comparison is fair.
Figure 1: Map Showing Crown Point's Cerro de los Leones Block relative to Andes Energia El Manzano West Block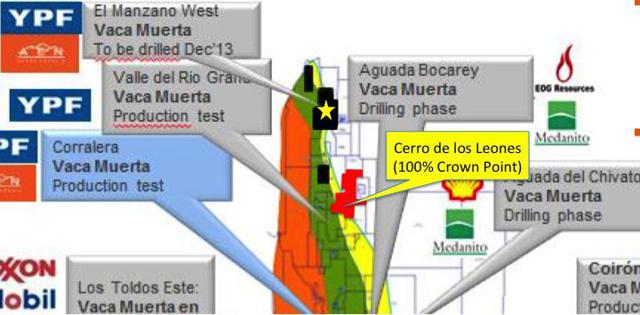 Click to enlarge
(source: modified from AEN company reports)
Of note, Crown Point appears to be dealing with a naturally fractured reservoir, which may have inherent advantages relative to non-fractured equivalents. In a reservoir that is not naturally fractured one could expect drilling and completions costs to be more expensive and technically challenging (i.e., a non-fractured unconventional reservoir would likely require horizontal drilling and multi-stage fracture stimulation, versus vertical wells and more standard completion practices for a naturally fractured reservoir).
I cannot speculate on the potential size or potential commerciality of Crown Point's well result today, but I will say this: Given the company's net acreage position of roughly 87,500 acres of Vaca Muerta believed to be within the oil maturity window on the block, I believe that the Vaca Muerta can no longer be discounted to zero as it has been in the past for Crown Point.
Other Vaca Muerta contenders like America's Petrogas (OTCPK:APEOF) and Madalena Energy (OTCQX:MDLNF) have market caps of $200-250 million which are at least in part based on the potential of their Vaca Muerta acreage. Is the option worth more than the $10 million the market has added to Crown Point's market capitalization today? I suspect so. I could debate acreage locations and specific data points until the proverbial (dead) cows come home (Vaca Muerta = "Dead Cow" in English), but with live oil shows and C1-C5 gas chromatograph readings while drilling in an area with proven production from fractured volcanics, I stand firm in my belief that the market will be forced to price in a market-comparable Vaca Muerta value for Crown Point. The value of that option remains to be seen, but given the naturally fractured nature of the intervals, the valuations of the peers, and the proven production from similar reservoirs in the area, I am encouraged.
As of its most recent financials, Crown Point had $14 million of net cash on its balance sheet and is/was expected to be fully funded for its 2014 drilling program, which includes a 10 well gas development and exploration program in Tierra del Fuego which is expected to begin in March or April of 2014 (8 development wells and 2 exploration). Also note that the company's most recently published 2P NPV10BT was $62 million. I would refer readers to my prior article on this story for further details on the assets and specifics of the Tierra del Fuego drilling program.
Crown Point is currently analyzing the Hoyada-1 data and is designing a completion and testing program, which I would expect will take 6-8 weeks to implement. In the meantime, I expect a lot of people will be sharpening their pencils on the valuations of the Vaca Muerta players. Bottom line, I believe Crown Point is worth more today than it was yesterday based on this new information and market comparables. As always, time will tell.
Risks
No discussion of a small-cap stock would be complete without a summary of the risks. First and foremost, the oil and gas industry has inherent risks with respect to drilling, completion, access to services, and any number of other operational components. These financial and operational risks are part of the industry and cannot be avoided, but can be magnified in small-cap stocks. Similarly, prospective structures and associated resources are based on existing "hard data", but until a discovery and/or successful flow test is made, those prospective resources are hypothetical in nature.
Next, it is important to remember that investing in assets in any foreign jurisdiction comes with inherent regulatory, economic and political risks. While I believe that sentiment in Argentina has turned the corner, I believe it is important to recognize the country as a higher risk jurisdiction. In this regard, smaller companies can be advantageous as they do not tend to attract the attention of politicians, but at the same time they hold little political sway. In essence, junior energy companies in foreign jurisdictions go with the tide, they do not influence it.
Commodity pricing is subject to change without notice as a result of global markets or government intervention. In Argentina, the government sets prices for domestic energy sales and has a habit of tinkering with local pricing structures, though recent developments have moved prices in the upwards direction. The macroeconomic justification for higher domestics energy prices is clear, but it is still important to keep an eye on the political landscape.
This list of risks is by no means exhaustive, but does reflect some of my key considerations with respect to my evaluation of the risk-reward balance for Crown Point Energy. It is a small-cap stock with all of the associated risks and rewards.
Disclosure: I am long CWVLF. I wrote this article myself, and it expresses my own opinions. I am not receiving compensation for it. I have no business relationship with any company whose stock is mentioned in this article.