Executive summary:
Western Refining as the GP has added stability to Northern Tier Energy.
Northern Tier Energy current yield seems to be acceptable to investors short-term.
Northern Tier Energy now has the largest yield among its peer group.
_________________________________
Among the stocks in my portfolio, Northern Tier Energy (NYSE:NTI) has been one of the most volatile. The company has faced severe pressure related to its expected distribution level, which is largely an effect of crude oil differentials, and thus out of the control of the company. However, Northern Tier Energy has been mostly stable since Western Refining (NYSE:WNR) took over a nearly 40% limited partner stake along with 100% of the general partner interest back in November.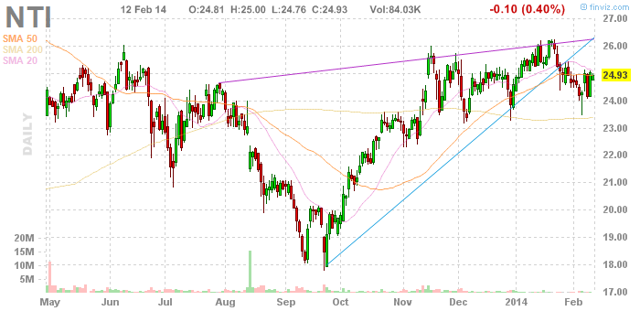 Northern Tier Energy announces a $0.41 per unit distribution for Q4 2013
On February 7, Northern Tier Energy announced that its Q4 2013 distribution will be $0.41 per common unit, down 66% from last year's $1.27 per unit, but up 33% from last quarter's $0.31 per unit. For the full year, Northern Tier Energy paid out $2.63 per unit in distributions for a yield of slightly above 10%
Northern Tier Energy' distribution will likely remain around this level for Q1 2014
It appears as if Q3 2013 was the nadir for Northern Tier Energy level of distribution. For Q4, the company likely saw its level of income increase due to improvements in crude oil differentials.
However, crack spreads remain under pressure and are still well below the levels seen in late 2012 and early 2013. Therefore, I do not expect Northern Tier Energy' distribution to reach its previous levels of over a dollar a quarter anytime soon.
Given that we are at the midpoint of Q1 2014, we can make some estimates for this quarter's distribution. The current estimates for cracks spreads in Northern Tier Energy's region are around $20.00 per BBL, basically unchanged from Q4 2013 levels. Do note that the company is able to buy some of its feedstock at a discount to WTI which does boost its refining margins per BBL.
The only upside here would be if Northern Tier Energy is able to increase its throughput in Q1 2014. The current estimate for Q4 2013 is about 80,000 to 85,000 BBLs/D. However, the company was actually expecting to sell slightly more product, about 82,500 to 87,500 BBLs/D. Do note that Northern Tier Energy refinery has a potential throughput of up to 92,500 BBLs/D.
Assuming margins and throughput remain at current levels, I think the Q1 2014 distribution will be very similar to the current $0.41 per unit, implying a forward yield of 6.60% for the stock.
Northern Tier Energy compared to its peers
Among the refinery, or downstream, MLP group, Northern Tier Energy appears to be one of the better bets out there. With is current forward yield of 6.60%, the stock offers a better yield compared to both CVR Refining (NYSE:CVRR) (5.80%) and Alon USA Partners (NYSE:ALDW) (0%!).
In addition, in terms of valuation, Northern Tier Energy 6.7x enterprise multiple is well below CVR Refining's 7.0x and inline Alon USA Partners' 6.5x.
Northern Tier Energy's stock has also been much more stable than its peers, though it is still down since the start of 2013. However, the magnitude of the decline is not even close to the declines seen in the others.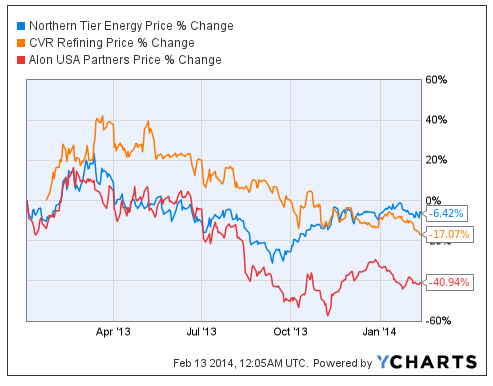 Conclusion
Overall, Northern Tier Energy current level of income seems to be acceptable to investors. While the stock did fall about 4% after the news was released, it has since mostly recovered from the decline.
Q4 results are anticipated to be released towards the end of the month. We will need to see if the company has been able to maintain its margins and throughput while also keeping costs in line, especially given the small refinery fire in Q3.
Disclaimer: The opinions in this article are for informational purposes only and should not be construed as a recommendation to buy or sell the stocks mentioned. Please do your own due diligence before making any investment decision.
Disclosure: I am long NTI. I wrote this article myself, and it expresses my own opinions. I am not receiving compensation for it (other than from Seeking Alpha). I have no business relationship with any company whose stock is mentioned in this article.