By now you've likely read the news that Comcast (NASDAQ:CMCSA) has agreed to acquire Time Warner Cable (TWC) in an all stock deal for roughly $159/share.
I first wrote about Comcast in my article "4 Signs Comcast is Taking Over Planet Earth" in March of 2013. At the time, Comcast was trading at around $40 at the time of the article. In the last twelve months, Comcast has seen its stock rise to the tune of 36.8% - and, it's one of the stocks that has bucked some of the volatility to start 2014, up 5.6% year-to-date.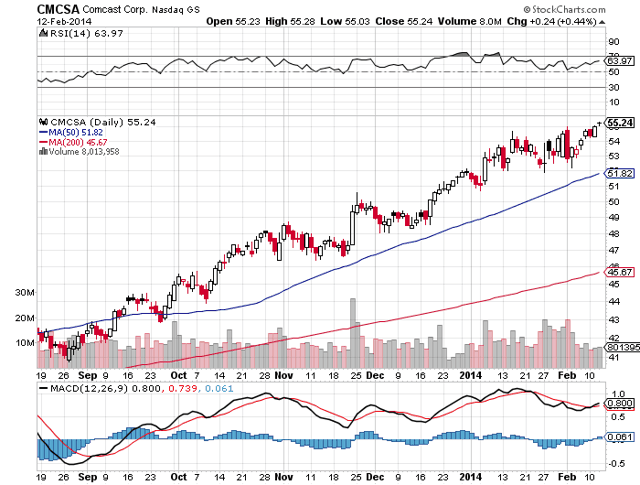 Click to enlarge
It was reported this morning that both companies' Board of Directors have approved the transaction. It also puts to rest the headlines about Charter's bid for Time Warner, which has been a constant headline for the past few months.
After Liberty Media took its stake in Charter about 10 months ago, Comcast and Charter have been de facto competitors to go after Time Warner and try and dominate the cable industry. Charter had made several bids for Time Warner, but they all came in low near $133/share.
In my previous article, I stated:
This investor remains extremely bullish on Comcast. They occupy a relatively small portion of the country for cable and Internet services, and have plenty of space and opportunity to expand. On the heels of Comcast making what appears to be a concerted and aggressive campaign to expand, going long looks to be the favorable position for investors.

By dominating their sector and expanding into others with a strong cash position and a foundation of sturdy fundamentals, Comcast will continue to grow. A short position is off the table here for the long term as I remain bullish on Comcast going forward.
Time Warner shareholders are going to receive exactly $158.82 a share for their TWC shares - about a 15% premium to market price.
The Wall Street Journal reported on the governance details:
The new company will be led by Comcast President and CEO Neil Smit. Mr. Roberts, in an interview with CNBC, said he expects the deal to add to earnings in the first year it is completed.

Comcast also said it is going to expand its buyback program by an additional $10 billion at the close of the transaction, which is expected at the end of 2014.

To reduce competitive concerns, Comcast is prepared to divest systems serving about 3 million managed subscribers and will, through the acquisition and management of Time Warner Cable systems, net about 8 million managed subscribers in this transaction.

News of the deal comes just a couple of days after Charter ratcheted up the pressure on Time Warner Cable by nominating a group of 13 people as candidates for Time Warner Cable's board, ahead of this spring's annual meeting.
Time Warner stock shot up this morning pre-market to $146.56 - about $13 from its buyout price. There's still a few hoops that need to be jumped through and the market knows that.
It is likely trading off the buyout price due to regulatory fears. The deal is going to have to eventually be approved by the FCC and the DOJ. It's likely going to be one of the tougher deals to get through since Mel Karmazin wanted to merge Sirius (NASDAQ:SIRI) with XM. Comcast is going to argue that they'll only hold a third of the U.S. cable market - and that they're facing newfound competition from companies like Google (NASDAQ:GOOG), Verizon (NYSE:VZ) and Netflix (NASDAQ:NFLX).
Often, investors feel as if they have already missed the big play if they weren't in a stock before its buyout was announced. Sometimes, however, this isn't the case. There is a case to be made for making a modest gain buying directly after a company announces a buyout, as people already in the stock are at a rush to sell and potential uncertainties behind the transaction keep the price slightly lower than the bid price. In this case, there's a premium.
However, traders do need to understand the regulatory risk involved here - the deal is anything but a finished.
First and foremost, I continue to remain bullish on Comcast, regardless of whether or not this deal goes through. If the deal goes through, those buying today at $146/share are going to be entitled to about a 9% premium, barring any other bids that might come in.
Disclosure: I have no positions in any stocks mentioned, and no plans to initiate any positions within the next 72 hours. I wrote this article myself, and it expresses my own opinions. I am not receiving compensation for it (other than from Seeking Alpha). I have no business relationship with any company whose stock is mentioned in this article.