*Please note: All values are referenced in $CAD.
The Pitch
Buhler Industries (OTC:BIIAF) is a Canadian-based agricultural equipment manufacturer with strong revenue growth and stable operating performance. With a number of product launches in 2013, Buhler Industries ("Buhler") is strongly positioned in a highly competitive environment. From a valuation perspective, Buhler's Net Asset Value ($11.86) and no-growth Earnings Power Value ($11.13) suggest a significant margin of safety from the current market price ($6.75).
Business Overview
Buhler Industries is a Canadian agricultural equipment manufacturer of tractors, front-end loaders, augers and implementers. The company's products are sold under the Farm King, Allied, Inland and Versatile brands. BIIAF has a global manufacturing and distribution network, with factories across North America, and distribution centers in North America, Eastern Europe and Russia. Buhler's strong presence in Eastern Europe and Russia (i.e., over 200 distribution centers) is a result of Combine Factory Rostselmash ('Rostselmash") acquiring an 80% stake in Buhler (2007).
BUI data by YCharts
Value Screen
BIIAF has a small market capitalization of $175MM ($158MM USD) and trades at a potentially depressed valuation based on fundamental indicators - Price/Earnings (8.8x), Price to Book (.97x) and EV/EBITDA (4.4x). Further, BIIAF has no analyst coverage and competes in a cyclical, unglamorous industry. While the aforementioned metrics shield BIIAF from the scrutiny of institutional and large retail investors, the company boasts a solid 5-year average return on capital of 14.5% and has grown revenue ~45% in 4 years from $209MM ($188MM USD) in 2010 to $343MM ($309MM USD) in 2013.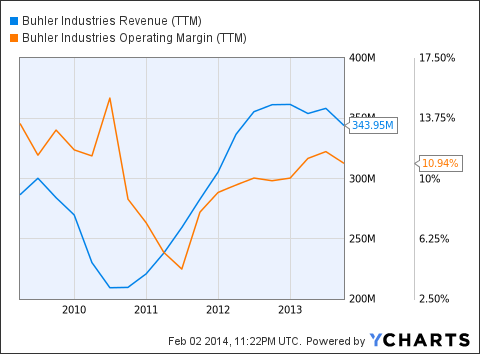 BUI Revenue [TTM] data by YCharts
Industry Dynamics
Demand for farm equipment is inherently tied to global consumption of various agricultural crops. With continued global population growth, scarcity of suitable farmland and stagnant/declining stock-to-use ratios of various crops (i.e. wheat, corn), the demand for innovative and efficient farm equipment is ever growing. The Global Farm Equipment market is expected to grow at 3% CAGR from 2013-2017.
BIIAF competes in regional markets with mixed demand profiles. The North American market demonstrated relatively healthy growth in 2013 (~5%) while the Eastern European market was flat. BIIAF's management has echoed industry sentiment with near-term revenue growth expected primarily from its North American Operations.
Competitive Landscape
BIIAF competes with a number of companies by region, as well as product. Competitors include global players, such as Deere & Company (NYSE:DE) and AGCO (NYSE:AGCO), as well as small-cap, niche players such as Art's-Way Manufacturing (NASDAQ:ARTW). Companies compete on pricing, as well as product innovation and efficiency. Strong revenue growth, expanding operating margins and return on capital metrics are a testament to BIIAF's ability to meet the customer demands in a competitive landscape.
Further, BIIAF's commitment to research and product development has led to a number of product launches in 2013 that will fuel growth in the coming years:
2013 Buhler Product Launches
Brand
Name
Product Type
Versatile

DeltaTrack

260, 290, 310

Four-track Articulated tractor

Front Wheel Assist Frame Tractor

Farm King

CX Series Augers

1860/2460

660

Conventional Augers

Fertilizer Applicator

Snowblower
Source: Buhler Industries' 2013 Annual Report
Valuation
BIIAF was valued using Net Asset Value, NAV, and No-Growth Earnings Power, EPV, methodologies. BIIAF's NAV was calculated to be $11.86 (see below) - a 60% premium from tangible book value.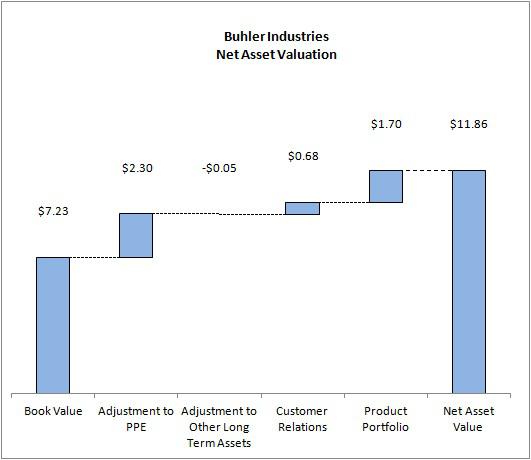 Source: N. Rajapakse, Book Value and Adjustments based on values provided in Buhler Industries' 2013 Annual Report
From a normalized EPV methodology (using discounted no-growth free cash flow), BIIAF is valued at $11.13 per share.
No-Growth EPV Model Assumptions

Input

Value

Revenue

$343MM

Operating Margin

8.4%

Tax Rate*

27%

No Growth CAPEX

$4.03MM

Free Cash Flow

$21.42MM

WACC

8.3%
*Effective Tax Rate for 2013 (25%) and 2012 (17%)
Both valuation methods suggest an Intrinsic Value, IV, of $11-12 per share. Taking a conservative 1/3 margin of safety on the IV would yield $7.70 - well above the current stock price of $6.75.
Risks and Conclusion
BIIAF competes in regional markets that are quite cyclical. Downturns in all, or some of these markets, may have a material impact on BIIAF's results. BIIAF mitigates this risk by continuously realigning its product lines to meet market needs (see 'Competitive Landscape'), and leveraging its global distribution partnerships (i.e., Rostselmash). Further, BIIAF's healthy balance sheet (low Debt/Equity ratio - 0.05 and high coverage ratios) protects the company from financial risk during downturns, while providing flexibility for expansion during times of increased demand.
Finally, potential appreciation in the stock price may be limited by Rostselmash acquiring BIIAF's remaining equity (20%).
Overall, BIIAF's consistent operating performance and strong product line provide a platform for improving performance in a growing industry. From a valuation perspective, BIIAF's current stock price provides a strong margin of safety for the fundamental-driven investor.
Disclosure: I have no positions in any stocks mentioned, and no plans to initiate any positions within the next 72 hours. I wrote this article myself, and it expresses my own opinions. I am not receiving compensation for it. I have no business relationship with any company whose stock is mentioned in this article.
Additional disclosure: I am long BUI.TO (listed on the Toronto Stock Exchange). I may increase my position in BUI over the next 72 hours. This article is for informational purposes only and does not constitute an offer to buy or sell any securities discussed in the article. The stock mentioned in this article does not represent financial advice. Investors are recommended to conduct further due diligence before committing capital to any investment.