As a risk tolerant investor, the mounting growth potential within the niche industry of Mobile App Development is attractive on the premise that it offers investors compound growth potential. With the market still in its infancy, both dominant and emerging players can realize gains that outperform already established industries. If you haven't heard about Glu Mobile (NASDAQ:GLUU) or GlassessOff (OTCQB:GLSO), then you may want to pay attention. These companies have made significant strides in the past fiscal year that has instigated a ripple effect of interest and investment. It is my intention to highlight the significance of milestones realized this year by both mobile developers, and pinpoint catalysts/metrics that will push the respective valuations higher.
Glu Mobile: The Game Developer Investors Counted Out
For those unfamiliar with Glu Mobile, the company develops and publishes a portfolio of action/adventure games targeting users on both smartphones and tablets. Top ranked games like Deer Hunter, Eternity Warriors, Frontline Commando and Motocross Meltdown are but a few belonging to the Glu's original IP portfolio. Every game utilizes the "Freemium Subscription Model" by which the proprietary game is provided free of charge, with revenues being realized from users' spending money on advanced features, functionality and virtual goods.
Retracting from highs around $5's in Q2 of 2012 to low's bottoming out around $2 in 2013; Glu has been scrutinized over their ability to shift from simple feature phones games to profitable complex smartphone apps. Disappointing investors with revenue stagnation in the latter parts of 2012 put the company in a light where earnings begged the question. How can revenues be declining in a market experiencing explosive growth? Announced delays of hit titles being released, along with lowered guidance presented a buying opportunity for the bulls and selling frenzy for bears in 2013 as the company largely remained a speculative play. In a turnaround attempt, management planned to implement strategic restructuring of the company's model focusing on ad revenue monetization. Mainly attributable to the works of Chris Akhaven (marketing guru), the company has successfully incorporated advertising regimens consisting of short videos/trailers users have to watch. Cutting the AD network middlemen (advertising brokers if you will) and developing relationships with the advertisers themselves has also improved margins.
Fifteen months of the implemented restructuring has transpired into one of the best quarters Glu Mobile has ever realized. Q4 adjusted revenue skyrocketed 62% year over year to $42.8 million, which translated to adjusted net income of $0.07 per share, compared to a $-0.05 per share loss in the same year-ago period. All this while analysts were looking speculating a break-even quarter on sales of $32 million. The achievements for the quarter and the year have lead to vastly increased optimism for 2014 guidance. Glu Mobile anticipates adjusted revenue for 2014 to be between $142-150 million, with adjusted net income from between $0.00 and $0.02 per share. Putting that into perspective, analysts were predicting a loss of $0.05 per share from revenues of $121 million meaning management expects results 140% above expectations for the coming year.
The resulting reaction from investors to the well-accepted news of earnings appreciation for Q4 lead to a one-day 30% boon to the PPS (illustrated below). Now the question remains is if there is any additional value to shareholders at these levels.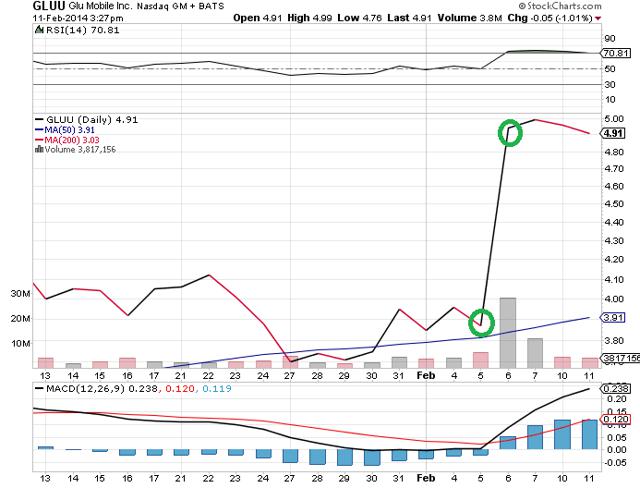 Glu's focus on better target marketing and game monetization bore fruit as it crushed 4Q estimates and 1Q/2014 guidance. With a much more robust top-line growth and profitability profile, investors should anticipate growth in line with management's expectations as the company inches towards profitability on a GAAP-basis. Trading at ~2.3x FY2014 Sales, the multiple does not reflect the company's growth potential especially with their mounting iron grip of mobile action/shooter games, which make up 40% of console-based revenues. Putting recent acquisitions into perspective, like Zynga's (NASDAQ:ZNGA) purchase of Natural Motion for 7x forward sales, underscores how Glu could be the next target, trading at a <400M market cap at a cheap multiple, all while maintaining themselves as a leading competitor. Though complete speculation, investors are highlighting Glu as an acquisition target for Google (NASDAQ:GOOG) as the companies collaborated with each other to create the first-ever game for Google Glass. As the adoption of Google Glass increases (if it ever does), so will the likelihood of a possible takeover as it becomes more of a reality.
GlassesOff: Tapping an Untapped Market
The second long-play company operating in the mobile app space I'd like to introduce is GlassesOff. GlassesOff is a neuroscience technology company, which has successfully developed and launched the first app that treats a medical condition. Presbyopia, or the age-related deficiency of the eyes, is the culprit for over 120 million Americans who have to wear reading glasses, estimated to be a billion Presbyopes worldwide. Similar to Glu Mobile, GlassesOff has created "game-like" exercises which incorporate their proprietary technology to treat Presbyopia. The games however are not for pleasure, while they may be fun or enjoyable, their main purpose is to eventually allow users to read or see without the use of any glasses or optical aids. If the play on words in the title didn't make sense before, I hope it is clear now.
Without digging too deep into medical jargon, GlassesOff's patented technology is based on neuroscientific breakthroughs that are proven to enhance image processing in the visual cortex of the brain. This means that the exercise the app uses targets the brain's ability to interpret blurred images rather than targeting or improving the eyes themselves. After completion of the GlassesOff program, users are expected to achieve improved image processing function time and efficiency. The resulting effect of doing these "brain training" exercises for 12 to 15 minutes a day, three times a week for three months, averaged an >8.6 year improvement in the eyes with all subjects successfully reading without glasses according to clinical study at UC Berkley. For a detailed journal of the science behind the app and the study at conducted at UC Berkley, please see the publication in the distinguished Nature's Journal.
Since the company listed, done via reverse merger with Autovative Products back on August 5/2013, significant achievements have been realized by management, investors and Presbyopes all across the world. The official launch of the app occurred on December 10/2013, and quickly moved to the #1 spot in the medical category of the App Store. Launching the app allowed users to finally begin harnessing the benefits offered by the program, and the company is now in a position to begin realizing revenues. From the time the stock listed, at $1.25, the price has appreciated to over $2.50 currently hovering around the $2 range. So the question is raised again, is there additional value investors can apprehend through an investment in GlassesOff? In my opinion I think the case here is stronger compared to Glu mobile.
The key driver of revenue for the company will undoubtedly be marketing and sales of the app, meaning revenues will be contingent on the app's adoption by consumers. This of course has to be facilitated by company's ability to market the product lucratively. With over 120 million American Presbyopes; a billion worldwide, there is a clear indication that there is demand for the product domestically and worldwide. This demand is not currently satisfied by any non-invasive existing product, service or exercise meaning GlassesOff has full access to an untapped market (please see market and revenue model here). The company has strategically positioned themselves to meet the marketing requirements to drive sales for the app by hiring one of the biggest names in the business. M&C Saatchi, the marketer who represents brands like Coca-Cola, Twitter, Playboy, etc., was appointed by the company in early October of last year. The company found it pivotal to hire the best in the business because they understand that it will be the key driver of revenues.
So why haven't you seen or heard about it yet? It is my belief that the company will successfully launch the app on the Android platform before a full-fledged marketing regimen appears for the brand. The timeline for the Android launch has been set for the "early months of 2014" outlined in a press release , which in mind signals a buying opportunity at a price anywhere close to $2. Even if revenues for the first half of the year are slow, full accessibility on all operating platforms multiplies that exposure of the app allowing a majority of all Presbyopes to purchase the product. At a price of $59.99, plus additional ongoing maintenance fees, the company estimates to collect between $80-100/year for each consumer. Circling back to the model in my previous article, I believe the company could realize conservative revenues of $91.5 million at a penetration rate of 5% of the applicable American market (remember that it is 100% available to them). As time progresses, with the implementation of a successful marketing campaign, GlassesOff has the potential to be billion dollar+ company. Putting that into perspective, the company would only have to capture 0.005% (5 million) of the worldwide target market (1 billion) to obtain revenues of $400 million. Putting a 2.5x multiple on sales, brings the company's valuation to a billion dollars (1B*0.005*$80*2.5). Keep in mind that the platforms GlassesOff will be sold on, Apple's iTunes and Google's Playstore, offer a global stage for sales with low barriers to entry (they are multinational-established platforms) making sales easier to obtain then physical goods/commodities.
If you don't believe those figures are attainable, let's examine the best real-world comparison. Luminosity is a web-based application that uses games to improve cognitive abilities that claim to enhance functions of the brain including memory, processing speed and overall cognitive improvements that benefit mood, attention and energy. Though the company claims to have science backing the program, it is merely anecdotal in comparison to conclusive results of the GlassesOff study performed at UC Berkeley, headed by Dr. Uri Polat. Notwithstanding the study and looking at sales alone, Luminosity has over 50 million registered users with subscription costs of $14.95/month, or $180/year. What makes Luminosity so successful is the innate ability to market the product successfully. Television ads, radio commercials, magazine pages and online campaigns have effectively brought in the business, coupled with consumers desires to improve their brain function. On the same note, if GlassessOff can follow suit in aggressive and fruitful marketing, they can fulfill consumer's demands and allow Presbyopes all over the world to take their reading glasses off once and for all.
Disclosure: I have no positions in any stocks mentioned, and no plans to initiate any positions within the next 72 hours. I wrote this article myself, and it expresses my own opinions. I am not receiving compensation for it (other than from Seeking Alpha). I have no business relationship with any company whose stock is mentioned in this article.