Executive summary:
Boardwalk Pipeline's weak results highlight the problems at El Paso Pipelines.
Weak contract renewals, exposure to the Gulf Coast, and natural gas storage threaten the distribution.
EPB's cost of capital increases as its performance weakens making growth projects prohibitively expensive.
On a distribution cut, units could fall to the low $20s.
_________________________________
On Monday, the Master Limited Partnership ("MLP") sector was rocked after Boardwalk Pipeline Partners (NYSE:BWP) reported a truly horrific quarter (results available here). BWP was forced to cut its distribution by 81%, which sent shares down 45% in a single session. In 2014, its distributable cash flow ("DCF") will fall by about a third, and the partnership will have to retain cash to pay down its large debt load and fund "growth" projects as it likely lost access to the capital markets after this quarter. After these results, investors in all midstream MLPs need to take a close look at their holdings to ensure they aren't holding a ticking time bomb.
MLPs are owned primarily as income vehicles as they distribute most or all of their cash rather than retaining earnings. With low interest rates over the past five years, they have become increasingly popular among these income-oriented investors. As a consequence, if there is a distribution cut, investors head for the hills as seen by the jaw-dropping decline in BWP. BWP's decline was also exacerbated by a relatively small float, and the fact this distribution cut was not telegraphed by management at all. If there were ever a quarter to pre-announce, it was that one. Moreover, MLPs tend to be majority owned by retail investors rather than institutional investors, which can add volatility. Based on the results from BWP, I am increasingly concerned about another MLP I have been bearish on: El Paso Pipeline Partners (NYSE:EPB).
El Paso is an MLP that is now managed by Kinder Morgan (NYSE:KMI). As the following chart shows, the units have not performed well over the past twelve months. Units now yield 8.46%, but EPB is not expecting to increase its quarterly distribution over the past three years, which is certainly a warning sign. Moreover in 2014, EPB will only be able to maintain its payout because KMI is dropping down its stake in the Ruby Pipeline and storage facilities. Further if there is any erosion in the business, EPB would be forced to cut its distribution as it is already planning on paying out virtually all of its cash.

(Chart from Google Finance)
There were two primary reasons for BWP's horrendous performance: a weak geographic profile and exposure to natural gas storage. Given the U.S. energy boom, it has been taken as a statement of fact that we need more pipelines, and that pipeline MLPs will benefit from increased production. This statement is true, with a caveat. MLPs with exposure to growth areas like the Permian Basin, Canadian Oil Sands and Marcellus Shale can profit from this trend. That is why companies like Plains All American (NYSE:PAA) and Kinder Morgan Energy Partners (NYSE:KMP) have been growing their payouts and expanding their networks with very favorable contracts. However, not all regions are booming, and pipelines in legacy areas like the Gulf of Mexico are struggling. Production cap-ex has moved elsewhere, which has dried up demand for these pipes. Boardwalk was a victim of its geography as the following chart shows.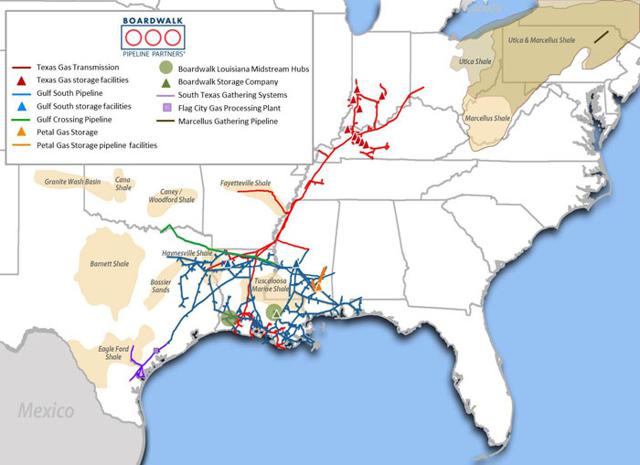 (Map from Boardwalk Pipeline Partners)
As you can see, BWP is focused in the Gulf Coast, and with drilling activity slowing, its pipelines have suffered. Pipelines operate on long-term contracts, and when they expire, there is a new bidding process. These new contracts have been coming in at a lower rate than the expiring contracts. As a consequence, BWP's pipeline network will generate less cash going forward than it has in the past. At the same time as the pipes get older, their maintenance requirements do increase as with any long-term fixed assets. Lower revenue and higher expenses cause a cash crunch that force distribution cuts. Unfortunately, EPB's pipelines share similar geography and trends.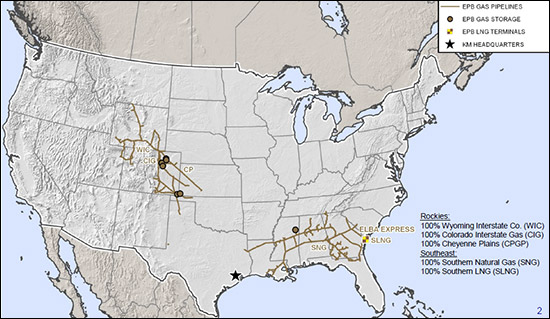 (Map from El Paso Pipelines)
Now, EPB's geographic profile is obviously different than BWP's, but there are important similarities. EPB essentially operates in two regions: the Southeast/Gulf Coast and Rockies. BWP's problems are in the Gulf region, and they are not company specific. natural gas production in this region is challenged, and natural gas producers see growth elsewhere. Companies like Chesapeake (NYSE:CHK), ConocoPhillips (COP) and Exxon Mobil (NYSE:XOM) are focusing their spending in other regions, which means production growth will be focused away from the Gulf. As these contracts come due, EPB faces the risk of lower renewals.
In fact, lower renewals are driving the weakness at its operations. El Paso has a lower rate on its Wyoming Interstate pipeline. This will drive lower earnings over several years. The gulf coast is a challenged region, and EPB has already begun to face declining contract rates at its Wyoming operations. In 2013, El Paso's transportation volume fell 5% to 7,498 BBtu/day (full results available here). Lower pipeline contract renewals will be a multi-year headwind, which is why EPB will be incapable of growing the distribution. El Paso sees its Gulf operations as a source of strength to offset the weakness in the Rockies. After the results at BWP, it seems the Gulf region will also be a source of weakness going forward. With lower volumes, future contract renewals could be problematic, and they leave open the door to a distribution cut.
Now while El Paso has conceded that its Wyoming operations will be challenged from weak contract renewals, it hopes the potential for expanding LNG exports will keep the Gulf region strong. Unfortunately as the production is mainly in different regions of the country, there will likely have to be new pipelines built to transport the gas to the Gulf of Mexico for exporting. El Paso could capitalize by building these pipelines, but so could other MLPs. EPB's legacy network will not benefit from exporting gas. Further, we are starting to see higher maintenance expense. In 2013, EPB allocated $39 billion to sustaining cap-ex, but that figure will grow to $47 million this year. While the $8 million figure is a small increase, it is a sign of things to come (2014 guidance available here).
Interestingly, the firm's growth budget has increased ten-fold to $1.14 billion thanks in part to drop downs from the general partner. Still the fact EPB is spending this much on new assets and will be unable to grow its distribution is a sign of how weak its existing operations are. The lower rates in the Wyoming operation are likely putting downward pressure on the distribution of about 5%, which is why the firm is spending so much in an effort to offset the decline. In the next five years, lower renewals elsewhere in the system will put even more pressure on the distribution.
Second, natural gas spreads have tightened, and the futures curve is currently in backwardation, which makes natural gas storage a very weak business. The decline in the storage unit accounts for 1/3 of BWP's projected drop in DCF. EPB is also very active in the storage space with capacity of 100 billion cubic feet. Given the state of the natural gas market, this unit will be problematic in 2014. Natural gas backwardation has also worsened since the end of last quarter, which increases the risk EPB fails to meet expectations. Between declining pipeline rates and exposure to storage, EPB shares many similarities with BWP.
In fact at the recent analyst conference, management argued that storage would be a growth opportunity for El Paso going forward (all analyst day material available here). Clearly, EPB's management is far more optimistic on the long-term fundamentals of storage than other MLPs like BWP. Given tightening spreads and backwardation, that optimism appears unfounded and would further challenge the optimistic case for MLP.
The MLP model can also exacerbate growth problems. Because an MLP does not retain cash, it has to fund growth projects with debt and equity. When a company's performance weakens, its cost of capital increases with a higher interest rate or lower share price in a secondary. This increased cost can make growth projects uneconomical, making it virtually impossible to grow out of the current problems. That is why BWP is only paying out 25% of its 2014 projected DCF, and it will use $300 million to pay down debt and fund growth.
El Paso could face this problem in the future as it currently carries $4.25 billion in debt for a debt to equity ratio of 2.24x. Debt to EBITDA is also 3.8x. While this certainly is not a danger sign, it is approaching a troubling level. Debt to EBITDA beyond 4.0-4.2x would be worrying. Unfortunately, EPB could face declining EBITDA, which makes the debt load more burdensome going forward. Moreover, with units so low, issuing stock to fund growth projects will be extremely dilutive and require significant ROIs to push the distribution up. Frankly, EPB is nearing a point where it becomes prohibitively expensive to grow, but its core operations are weakening. In this environment, the only tenable strategy would be to cut the distribution and use generated cash to fund growth. Based on how investors reacted in BWP, that could send EPB significantly lower.
In summation, El Paso shares many characteristics with Boardwalk, whose units cratered on a massive distribution cut. It has an unfavorable geography, weak renewals, and exposure to storage, all of which will weaken results going forward. Further, its large debt load and high distribution make growth projects very costly. It may be painful for investors in EPB who paid more than $40, but EPB is a sell here. I am certain BWP investors wish they had sold on Friday even if it meant taking a loss. Of midstream MLPs with market caps above $5 billion, EPB is in the weakest position. Even at current prices, units are a sell, and I would not consider going long until $22.50-$25 at the highest.
Disclosure: I am long KMP. I wrote this article myself, and it expresses my own opinions. I am not receiving compensation for it (other than from Seeking Alpha). I have no business relationship with any company whose stock is mentioned in this article.