Executive summary:
As of writing, Google's enterprise value has surpassed that of Apple
Apple trades at just 7.7x EV/FCF while Google trades for a mind-boggling 30x EV/FCF.
The pair trade here, until Apple's EV is squarely ahead of Google's, is likely to short GOOG/buy AAPL
_________________________________
Apple (NASDAQ:AAPL) is the world's richest and most powerful technology company. Unfortunately, while the company does command the highest market capitalization in all of tech, it is not the most valuable company on an enterprise value basis. That honor, believe it or not, goes to Wall Street darling, Google (NASDAQ:GOOG).
What?!
You heard it right, folks. Apple's market capitalization as of the time of writing sits pretty at $480 billion, while Google's sits at $400 billion. However, Google has about $58 billion in net cash on the books (suggesting that the business is valued at $342 billion). Apple, on the other hand, has about $141 billion in net cash, implying an enterprise value of $339 billion!
Now, it's clear that Google is a higher growth name (and Wall Street is enamored with the company in general), but as far as free-cash-flow is concerned, there is absolutely no contest as to who the real "boss" is: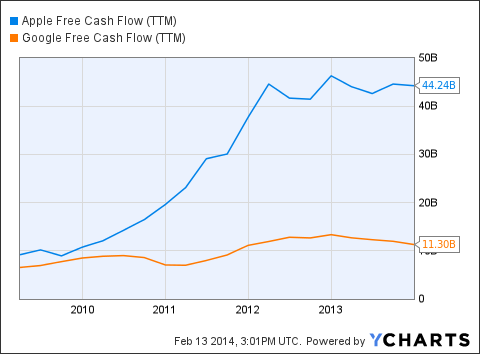 AAPL Free Cash Flow ((NYSE:TTM)) data by YCharts
To put this in perspective, Apple trades at 7.7x EV/FCF while Google trades at 30.3x EV/FCF. Now, Google and Apple aren't exactly operating in the same businesses, and frankly, Google's business is "safer" than Apple's, but this valuation gap is pretty ridiculous and indicative of one thing: the market expects Google's free cash flow to grow "to da moon" and Apple's to, at some point, crater as a result of competitive pressures of secular headwinds.
Apple's growth opportunities still look compelling
While everyone's gaga for Google, Apple's opportunities are still well ahead of it. For example, what's to stop Apple from fully capitalizing on the smart connected devices trend that Google recently bought its way into via Nest? iOS and potential derivatives will likely be utilized in a number of new device categories that investors haven't even yet begun to appreciate.
There's also the incremental market share expansion opportunities to be had in the high end of the smartphone market (large iPhone, anybody?) and continued secular growth in both the smartphone and tablet markets. Apple could also conceivably develop its own search engine (think a Google competitor that becomes the de facto search engine across hundreds of millions of iOS devices) and expand its software/service ecosystem (some of which could be just for iOS device users, of course) pretty dramatically.
This, folks, is what having a ton of cash on the balance sheet does for you: Apple's opportunities to expand are nearly limitless as long as management spends its cash wisely.
This Valuation Gap Is Absurd
I think this valuation gap is, frankly, absurd and worth exploiting. I'm starting to believe that Google has run far ahead of itself and - despite how much I absolutely adore Google - think that the pair trade here is probably to short Google/buy Apple until Apple's enterprise value is, once again, squarely ahead of Google's.
Disclosure: I have no positions in any stocks mentioned, but may initiate a long position in AAPL over the next 72 hours. I wrote this article myself, and it expresses my own opinions. I am not receiving compensation for it (other than from Seeking Alpha). I have no business relationship with any company whose stock is mentioned in this article.