Many states in the southeast are essentially closed again today with Georgia, North Carolina and South Carolina having taken the brunt of the most recent winter storm in the region. We have a few inches of white stuff in our yard right now, but it is not snow, it is sleet accumulation and a layer of ice from last night's rain. Pretty nasty stuff, especially when one considers that roads are not being plowed and temperatures are fluctuating between below freezing and above freezing over the course of the day.
It rained again last night and during the early morning so we do have ice accumulation in some of the trees and we have heard reports from friends of certain areas between Columbia, SC and Augusta, GA where power has already gone out over large areas. At this point it seems that Georgia and Alabama are the two states with the vast majority of utility customers without power but expect South Carolina saw a spike in power outages overnight.
This is all good news for natural gas but could pose issues for some of the nation's largest utilities such as Duke Energy (NYSE:DUK) and Southern Company (NYSE:SO) while having a much larger impact upon regional player SCANA (NYSE:SCG) which has nearly all of its operations in South Carolina (Ed. Note - SCANA's electric utility operations are all in South Carolina). Although it does appear that Duke dodged the bullet, they are still dealing with weather moving across their territory, but the impact upon Southern Company and SCANA will depend upon how quickly they can get everyone back on the grid.
Chart of the Day:
It is very cold across the United States right now and we have weather patterns pushing across the country that is shutting down certain regions.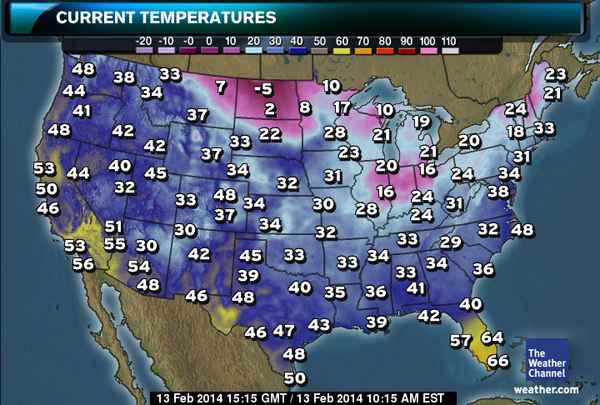 Oddly enough we have weather that has been moving from the southwest towards the northeast and bringing with it moisture that is turning from rain, to sleet and ice and then snow.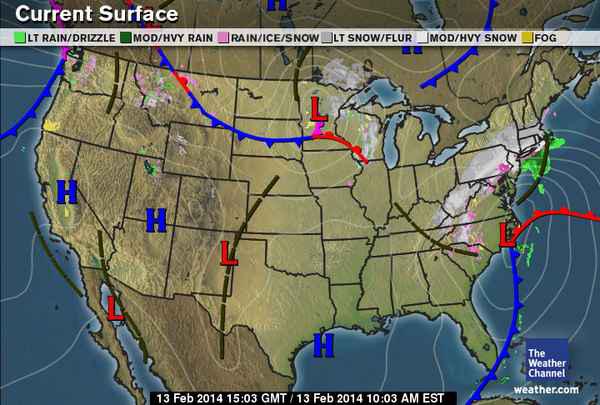 Source: The Weather Channel
Commodity prices this morning are as follows:
Gold: $1,297.40/ounce, up by $2.40/ounce
Silver: $20.33/ounce, down by $0.011/ounce
Oil: $100.21/barrel, down by $0.16/barrel
RBOB Gas: $2.7533/gallon, down by $0.0098/gallon
Natural Gas: $5.042/MMbtu, up by $0.22/MMbtu
Copper: $3.227/pound, down by $0.029/pound
Platinum: $1,406.30/ounce, down by $1.00/ounce
Utilities
The utilities have been out in force with their crews repairing downed lines the past 24 hours, however the storm did hit certain areas harder than others. The places experiencing the worst outages were hit with freezing rain that accumulated in the soft wood trees prevalent in the south and then later with strong enough winds to detach branches weighed down by the ice. This caused a surge in outages across the region.
The further north you head the fewer power outages there are according to Duke Power's website. This image is of SCANA's utility service area and shows the hardest hit area being around Aiken (nearly 48,000 without power now), which corresponds with Southern Co's website which shows nearly 120,000 in that area on the Georgia side of the boarder without power.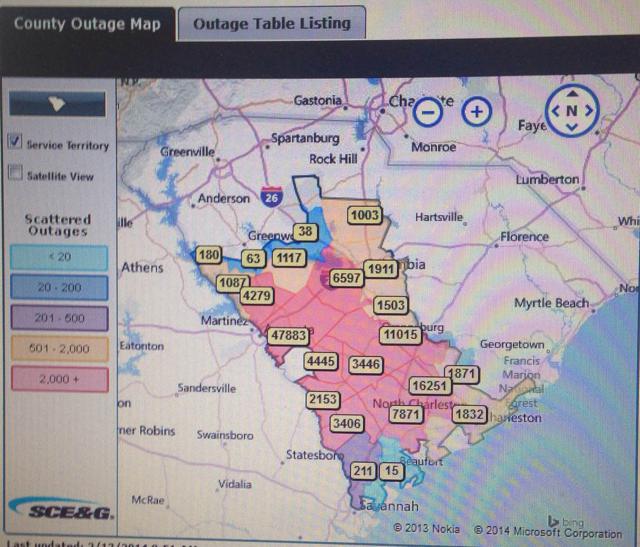 Source: SCE&G
The good news for the utilities at this time is that the areas where they have been hard hit seem to be in confined areas, which means that for the most part they have dodged a bullet.
Natural Gas
Look for natural gas to continue to remain strong as this storm works its way up the east coast, but we do expect prices to come back down as they have done after the other recent spikes. With the power outages held to a minimum in the south, we might see some large drawdowns in natural gas supplies ahead as many in the south use natural gas as a heating source for their homes and the utilities use it at numerous plants. For a reference, with customers home and paying rates higher than commercial clients, Southern's CEO said that they had seen a 15% increase in sales so far this year (with two storms).
Deere Beats
It has to be awful to be a shareholder of Deere & Co. (NYSE:DE) because no matter how well the company does each quarter they always exercise extreme caution and scare the market. Every. Single. Time. It never seems to fail.
This quarter the company reported (reported yesterday before the open) EPS of $1.81, which was a $0.28/share beat when looking at the analysts' consensus. Revenues also came in higher than expected, as the company reported $6.95 billion in sales versus the $6.76 billion the market was looking for. Even with that strength the company once again cited issues on the farm as reason to be cautious and even guided their numbers for the next quarter below the consensus (although they did guide in-line for FY results).
Transports
We do not want to make too big of a deal out of the ice storm in the south, however we do think that it is important to point out that the transportation names might face some issues that they will need to work through in regards to logistics as this storm is hitting transportation infrastructure that helps distribute goods that are imported and exported through two of the largest ports on the eastern seaboard, Savannah, GA (the second largest) and Charleston, SC (the fourth largest). As the weather gets worse further north we could see issues at the numbers 1 and 3 ports on the east coast, but those are better equipped to deal with this sort of weather.
Government officials have already moved to shut down some key infrastructure in Charleston due to the ice storm. As the bridges close down in the city it makes getting from one place to another quite difficult. Even on stretches of road that were opened and being traveled yesterday, major bottlenecks emerged as numerous accidents (some involving 18-wheelers) closed down major interstate intersections.
If these storms were hitting near the end of the quarter we would be worried for names in the iShares Transportation Average (NYSEARCA:IYT), however it is in the first half of the quarter and thus plenty of time to work through whatever bottlenecks form. We think the recent move higher in transportation names continues and any dip on weather concerns is a buying opportunity.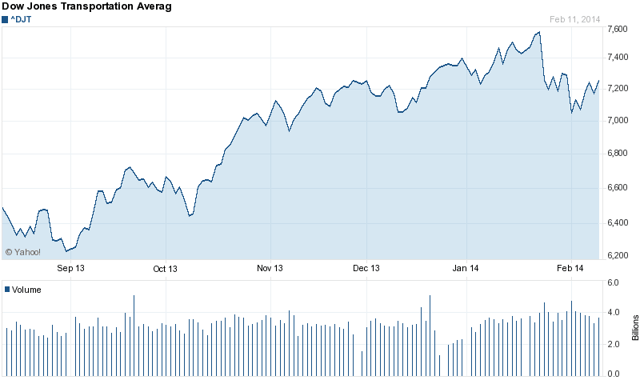 Source: Yahoo Finance
Right now, looking at the traffic cameras set up by the Department of Transportation in our state there is very little traffic. Those vehicles that are out on the roads right now are moving very slowly and there continue to be large numbers of single vehicle accidents reported.
Disclosure: I have no positions in any stocks mentioned, and no plans to initiate any positions within the next 72 hours. I wrote this article myself, and it expresses my own opinions. I am not receiving compensation for it (other than from Seeking Alpha). I have no business relationship with any company whose stock is mentioned in this article. SO and DUK have previously been recommended.