Executive summary:
Barrick is guiding for a 10% lower output as the company is shifting towards a focus on free cash flow.
Capital expenditures will be 50% lower in 2014 due to the suspension of construction at Pascua Lama.
Barrick recorded a huge impairment loss and is now "playing it safe" as it re-calculated its reserves based on a gold price of $1100/oz (vs. $1500/oz before).
_________________________________
Introduction
In this article I will analyze Barrick Gold's (NYSE:ABX) fourth quarter results whereby I will provide my view on the financial results of the company and its balance sheet. I will also discuss the outlook for 2014 which will result in my conclusion at the end of this article.
All images in this article were sourced from the press release.
My view on the financial results
Barrick Gold recorded a revenue of $12.5B in 2013 which is a decrease of just 13% compared to 2012 and this is much better than its competitors. Unfortunately, the impairment charges more than doubled in 2013, to $12.7B which resulted in a net loss of a stunning $10.6B.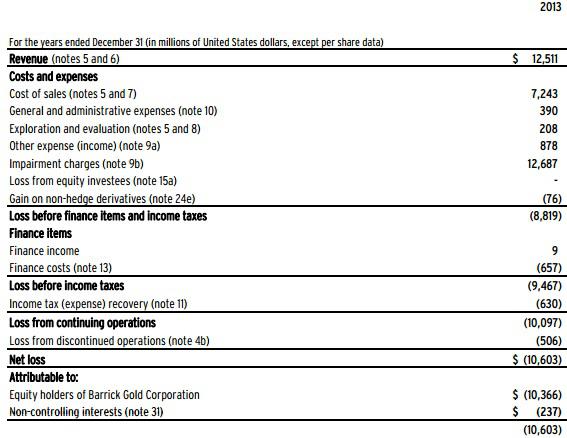 These impairment charges were mainly recorded because the gold price continues to trade at relatively low levels, and just like most other senior producers, Barrick Gold had to re-assess the value of its reserves based on an updated gold price.
As all of my readers know, I always like to have a look at the cash flow statements as well as I believe those statements offer a better insight on the quality of the underlying business. That's specifically the case at Barrick Gold, as impairment charges are non-cash charges and have no influence on the operating cash flow.
So when looking at the cash flow statements, you can see that Barrick generated $4.2B in operating cash flow in 2013 which was entirely used to fund its ongoing capital expenditures need which totaled $5.5B. The shortfall was funded by issuing more shares.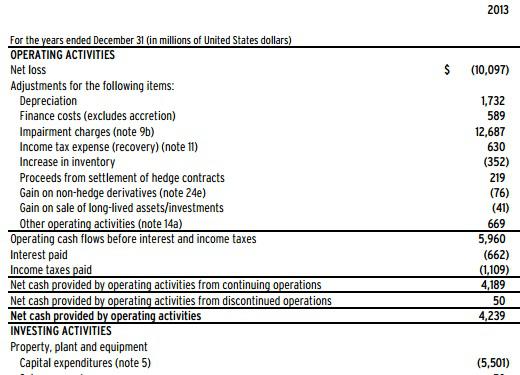 Barrick is determined to tackle this problem and now expects to slash capital expenditures in 2014 by 50% compared to the 2013 level. According to the company (see press release), the lower capex is directly caused by the construction halt at Pascua Lama.
My view on the balance sheet
Moving over to the balance sheet, Barrick Gold had a working capital position of approximately $3.3B with a current ratio of 2.14 which is very decent (keep in mind a ratio higher than 1 means the company has sufficient current assets to cover its current liabilities). Unfortunately, Barrick still carries a lot of (long term) debt, and its total liabilities stand at almost $21.5B which is close to 60% of the total value of the balance sheet.
The impairment charges I discusses earlier obviously have a huge impact on the book value of Barrick Gold. At the end of 2013, Barrick's book value was approximately $11.66/share, which means that it's currently trading at approximately 1.7 times its book value. However, if one doesn't take the value of goodwill and other intangible assets into consideration, the tangible book value drops to $6.36/share meaning Barrick is trading at 3X its tangible book value which is quite high.
Outlook
In 2014, Barrick Gold will be focusing on quality ounces with higher operating margins instead of focusing on production growth. The official production guidance for 2014 is 6-6.5 million ounces of gold, which is approximately 10% lower than this year. The expected all-in sustaining cash cost will be between $920 and $980/oz which is in line with its peers, as for instance Agnico Eagle (NYSE:AEM) is aiming for an AISX of $990/oz this year.

As the capital expenditures are being halved to $2.5-2.7B, there's a decent chance Barrick Gold will be free cash flow positive this year (using a gold price of $1300/oz), and I definitely hope the Barrick management will use the cash flow to further reduce its debt profile.
Conclusion
2013 wasn't a pleasant year for Barrick Gold as it was hit with huge impairment charges. Fortunately there seems to be light at the end of this dark tunnel, as Barrick will focus on generating free cash flow this year. Barrick should definitely be free cash flow positive this year as the company will be slashing its capital expenditures in half and from an operational point of view, the company will focus on the high-margin ounces instead of being blindly focused on the amount of produced ounces.
On top of that, the sentiment in the sector seems to be turning, so it could be an interesting idea to write a put option on Barrick Gold. I'm particularly looking at a P15 January 2015 at $0.88 for an annualized yield of 6.1%.
Disclosure: I have no positions in any stocks mentioned, and no plans to initiate any positions within the next 72 hours. I wrote this article myself, and it expresses my own opinions. I am not receiving compensation for it (other than from Seeking Alpha). I have no business relationship with any company whose stock is mentioned in this article. I currently have no position in Barrick Gold, but I might be tempted to write an out of the money put if the option premium is sufficient.