Nearly a month ago, I penned down an article on Whole Foods Market (NASDAQ:WFM) recommending investors to sell. The company released its quarterly report yesterday and the numbers were terrible. Due to the dreadful performance, shares have tanked over 8% in today's trading session. The company's previous quarterly report was also bad and I expect it to continue this trend in the upcoming quarters. Therefore, I think investors should sell their Whole Foods Market shares.
Numbers From The Quarterly Report
· Revenue came in at $4.2 billion, up 10% year-over-year, missing the consensus estimate of $4.3 billion.
· On the earnings front, the company reported EPS of $0.42 while the analysts held out for $0.42.
· Same-store sales jumped 5.4% year-over-year, marginally falling short of the analysts' estimate of 5.5%.
· Transactions increased by 3.1%, while the average basket size of customers was 2.3% higher.
· Operating income was $255 million, or 6.0% of sales, and EBITDA were $366 million, or 8.6% of sales.
· Net income was $158 million, or 3.7% of sales, and return on invested capital increased 26 basis points to 13.3%.
Opportunity Giving Rise To Competition
As consumers are becoming more aware about the effects of genetically modified, or GMO, food and repercussions of the industrial fertilizers and pesticides used in farming, they are looking for more transparency in the food they eat. As a result of this, it is expected that the market for organic food in the U.S. will exceed $80 billion by 2015. The organic and natural food market still has large potential for further growth. In 2012, this market was just 3.5% of total food sales in the U.S.A.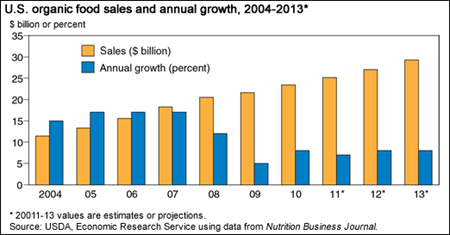 However, this huge growth opportunity has also given rise to stiff competition and as a result Whole Foods' underperformance is likely to continue in the upcoming quarters. In fact, the company has revised its earnings and revenue guidance downwards for FY2014 for the second time in a row. The company has reduced FY14 EPS $1.58-$1.65 which is well below the consensus estimate of $1.68.
The bad news doesn't end there. Over the past quarter, Whole Foods was cutting prices (on key products) due to increased competition by companies entering the Organic & Natural food business; particularly Costco (NASDAQ:COST) and Kroger (NYSE:KR). Continued cost reduction will directly eat into the company's gross margin, which will put downward pressure on Whole Foods' bottom-line.
On the bright, Whole Foods Market is planning to open 33-38 stores in fiscal 2014 and 38-45 more in fiscal 2015. Moreover, the company predicts that there exists room for 1,200 stores in the long run, and aims to exceed the count of 500 stores by 2017.
However, I don't think these initiatives will be enough to solve Whole Foods On-hand problems anytime soon. Moreover, Whole Foods' average dollar-volume has dropped significantly to $219.2 in the latest reported quarter. Therefore, I think investors should exit Whole Foods Market as soon as possible.
Kroger Moves
Kroger's third quarter registered positive comps of 3.5%, making it the 40th consecutive quarter of positive comps. This is no mean feat and is the result of Kroger's customer-centric business model. The company is well positioned to continue its growth momentum as well. On the back of comps growth, Kroger's third-quarter revenue jumped 3.2% over last year to $22.5 billion.
The company's customer-first strategy and the strong progress to improve the fresh products segment has been one of the growth drivers. The customer centric business model has, over a period of 10 years, been responsible for an 83% increase in loyal households that keep visiting Kroger for their grocery needs. Focusing on the most loyal brand of customers has been one of the driving forces behind the 40 consecutive quarters of positive comps, and it is all set to sustain the momentum into 41st.
Kroger is confident of its growth going forward because it is capturing only $0.50 of every $1 the loyal customer spends on products that the company sells. It is confident of achieving its fiscal 2013 earnings per share target and projects comps growth of 3% to 3.5% (excluding fuel) for the fourth quarter. For fiscal 2014, it is confident of delivering 8% to 11% earnings-per-share growth targets, which does not include the accruals coming in from the Harris Teeter Supermarkets acquisition last year.
Harris Teeter's acquisition opens up an excellent opportunity for Kroger to access areas with high median incomes such as Northern Virginia and the North Carolina research triangle. Kroger has also jumped onto the organic and natural food bandwagon, aiming at consumers who are driven toward organic and natural food items for reasons of health and supporting local farmers.
Conclusion
Not only is Kroger growing faster than Whole Foods, it is also cheaper as it is trading at 12.27 times its earnings. Whole Foods' growth is slowing down and I expect that trend to continue throughout 2014. Bad quarterly results never go down well with investors; therefore I think investors should dump Whole Foods Market in favor of Kroger.
Disclosure: I have no positions in any stocks mentioned, and no plans to initiate any positions within the next 72 hours. I wrote this article myself, and it expresses my own opinions. I am not receiving compensation for it (other than from Seeking Alpha). I have no business relationship with any company whose stock is mentioned in this article.