The AAR is reporting another strong week of year over year gains in the rail industry. U.S. railroads originated 298,218 carloads during the week ended April 24. This was a 14.6% gain over the same week last year, but still down 10.8% from 2008. Intermodal traffic jumped 15.1% year over year and down 5.4% versus 2008 (click to enlarge).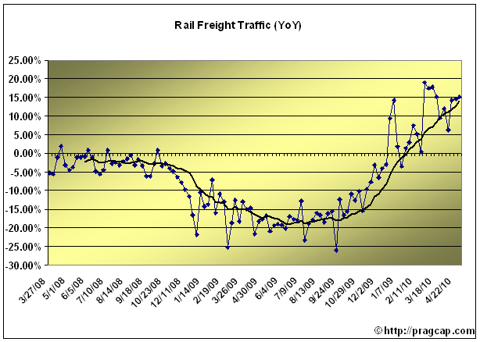 Click to enlarge
The breadth of the traffic remains quite strong as all 19 commodity groups report year over year gains:
All 19 carload commodity groups were up from last year, led by gains in commodities associated with the steel industry: metallic ores, up 163 percent; metals, up 80.2 percent; waste and scrap, up 59.7 percent; and coke, up 12 percent. Other notable increases included 25.3 percent for motor vehicles and equipment; 45.2 percent for primary forest products; 22.8 percent for lumber and wood products; and 13.1 percent for chemicals. Grain was up 20.1 percent, and coal rose 6 percent.
Source: AAR