With so many mining operations losing money at $20 per ounce of silver and $1,250 per ounce of gold, SilverCrest Mines' (NYSEMKT:SVLC) profitable business remains a secret to millions of precious metals aficionados.
As the combined lowest cap and most consistently profitable junior gold and silver mining company in the space, SVLC could attract additional institutional money as well as serious press coverage when the assumed bull market in precious metals materializes and goes mainstream once again.
Earnings jumps and rapid stock performance could be the catalysts for a media-driven focus on a junior mining company like SVLC that performs like a producing major.
Consider the following chart of SVLC's Santa Elena open-pit heap leach mine operation (published by SilverCrest).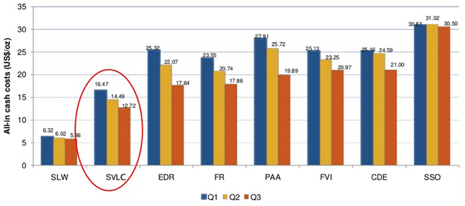 Source: SilverCrest Mining (Jan. 2014) - Slide 26
According to the chart, investors of SVLC are buying silver at $12.72 per ounce, or at a discount of approximately 35% to the Exchange Traded Fund, SLV.
But that's just a warm-up to this mining story.
The company also mines lots of gold, too - a total of 31,099 ounces, according to SilverCrest's latest news release of Jan. 16.
And here is where SVLC gets interesting.
Production for 2014 is expected to increase total silver equivalent ounces by approximately 16.5%, according to my calculations.
The following chart serves as the basis for my 2014 estimate of production, and revenue.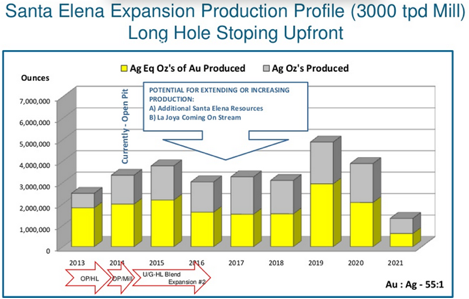 Source: SilverCrest Mining (Jan. 2014) - Slide 17
From the chart, above, I've entered the production estimates for 2014, and by using an adjusted Ag:Au ratio of 60.5 to 1 ounces mined, as indicated from SilverCrest's most recent mining results reported in the Jan. 16 news release.
Combining the information gleaned on slide 17 of SilverCrest's Jan. 2014 presentation to investors; the Ag:Au mining production ratio of 60.5 to 1; and the percentage of mine extraction sold in 2013 (Jan. 16 news release); the following table, below, presents the number of ounces of silver and gold I estimate SilverCrest will sell in 2014.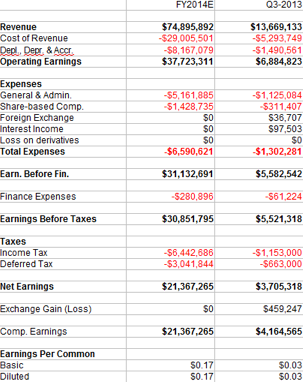 Taking these data, I've next constructed a fiscal 2014 estimate of Revenue, Operating Earnings, Net Earnings and Earnings per Common Share.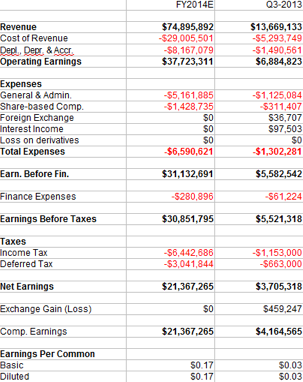 Revenue was calculated by estimating an average sales price in 2014 of $24 per ounce of silver and $1,400 per ounce of gold, or an 18.8% and 8.9% increase in prices from today's spot prices.
My estimates for the average silver and gold price are admittedly very rough, but some estimates of gold reaching $2,000 per ounce and silver $50+ (and here) this year come from precious metals analysts who predicted the big run-up in prices between the years 2009 and 2011.
But in 2012 and 2013, these same analysts were off the mark on their prediction for gold and silver prices.
So, what if gold and silver prices move sideways throughout 2014?
If today's prices of $1,280 per ounce of gold and $20 per ounce of silver were realized as SilverCrest's average sales price during 2014, the spreadsheet I've constructed, above, returns an earnings per share of 13 cents.
Note: FY2014 estimates for Cost of Revenue were derived from the company's guidance of between $8.50 and $9.25 per silver equivalent ounce. And Total Expenses, Finance Expense and Taxes were estimated by using the latest quarterly report for the period ending Sept. 30.
At an average sales price of $1,400 and $24 per gold and silver ounce, respectively, I calculate that SilverCrest could earn 17 cents per share.
Therefore, calculating share price becomes a matter of multiplying both earnings estimates by a range of earnings multiples (see chart, below).
The low estimate of 13 cents per share and an earnings multiple of 15 calculates to $1.95 per share. At the high estimate of 17 cents per share and an earnings multiple of 30-times, SVLC could reach $5.10, a more than a double from today's price.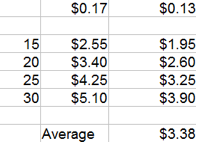 Disclosure: I have no positions in any stocks mentioned, but may initiate a long position in SVLC over the next 72 hours. I wrote this article myself, and it expresses my own opinions. I am not receiving compensation for it (other than from Seeking Alpha). I have no business relationship with any company whose stock is mentioned in this article.