Brazil stepped up its policy stimulus exit Thursday, increasing the selic rate 75bps to 9.5%. The decision was unanimous. The move was only expected by half of economists surveyed, and most of those expecting an increase were looking for 50bps. In its announcement the BCB noted that the move marks a continuation of the policy adjustment process (having previously raised the reserve requirements in February):
Brasília - Continuing the adjustment process of the monetary conditions to the forward-looking scenario of the economy, in order to ensure the convergence of inflation to the targets path, the Copom unanimously decided to increase the Selic target to 9.50 percent, without bias.
click to enlarge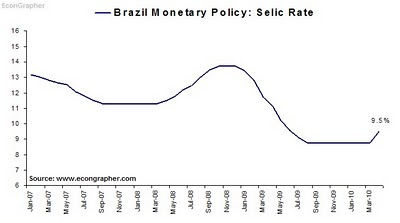 The main driver of the move is concern over inflation and overheating as the Brazilian economy has made a strong recovery from the crisis. Throughout the recession inflation in Brazil has remained around 4-5%. Meanwhile growth is now starting to pick up, helped by rising commodity prices and wealth catch-up effects in the developing economy. The move is almost certainly likely to result in more capital (hot money) inflows into Brazil as many other central bank rates are closer to 0-1%, resulting in a large potential carry trade yield pick-up. The BRL (Brazilian Real) has jumped about 2% since the announcement, with the USD BRL rate trading around 1.73 and the carry trade has helped the BRL rally about 20% over the past year.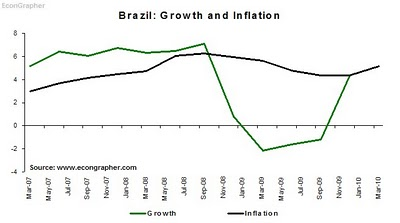 Overall, this is a positive move in terms of anchoring inflation expectations, and removing policy stimulus before overheating becomes a significant problem. There is likely to be more tightening yet, as inflation picks up and the economic recovery in Brazil strengthens.

The outlook for the Brazilian economy is reasonably strong, and it is likely to see growth about 5.5% this year, and around 4% in 2011. For inflation: the most recent central bank survey saw consensus inflation forecasts for 2010 at 5.41% and 4.8% for 2011 (both above the 4.5% target); and the estimate for the selic rate is 11.75% at the end of 2010. Thus the overall outlook for the Brazilian economy is good, but there are still some potential risks around overheating, global risk spillovers (e.g. sovereign debt), and if capital flows get too carried away that could create some vulnerabilities.

Sources
Econ Grapher Analytics econgrapher.com
Banco Central do Brazil bcb.gov.br
Trading Economics tradingeconomics.com

Disclosure: No positions