Netflix (NASDAQ:NFLX) is a battleground stock with strong opinions prevalent from both bulls and bears, in a very similar fashion to its primary competitor, Amazon (NASDAQ:AMZN). Netflix is up over 130% year-over-year despite continuing growth in content expenses and a failure to grow profits. With the recent SEC filing of the 10-K (annual report), NFLX has revealed that content obligation growth has once again outpaced revenues on both a q/q and y/y basis.
I recently outlined my bearish thesis in strong detail last month (January 14) by factually refuting almost every key point of the published Icahn thesis. Regardless, NFLX beat expectations for its Q4 report and provided strong guidance for Q1-14, which has led to a 1-month stock surge of nearly 30%. The yearly action for NFLX is shown below, with a red marker to indicate when I published my short thesis.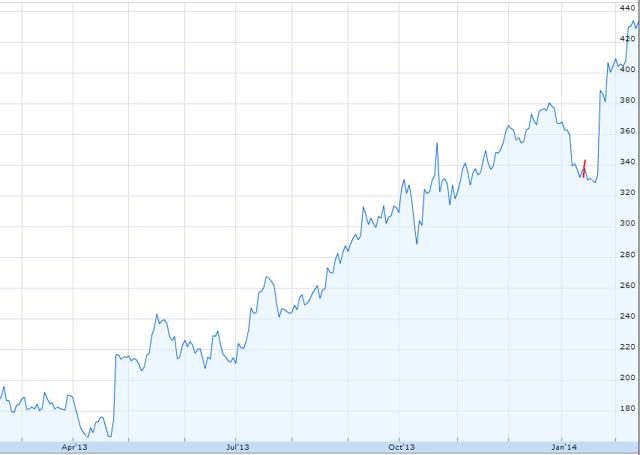 As the cash cow DVD base continues to erode (down 20% y/y), NFLX has increased its long-term debt by $400M (up 100% y/y), has rapidly increased content liabilities (up 29% y/y), and diluted its share count by 5%. Meanwhile, overall revenues are up 21.2% and earnings are up an eye-popping 537%. However, the EPS figure is distorted by an atrocious 2012 performance. Compared to 2011 ($4.16), NFLX's 2013 EPS ($1.85) is down over 54%.
The cost trends are unmistakable, and recent evidence such as the Disney (NYSE:DIS) Star Wars deal and the House of Cards Season 3 renewal suggest costs will continue to skyrocket.
I believe Netflix stock is worth $100 or less, based on a generous (considering abysmal margins) multiple of 1x sales. NFLX is currently a market darling, but even a tiny miss of expectations could send it plummeting.
Content Costs Growing Faster than Revenues
Content costs continue to grow faster than overall revenues, as shown in the chart below. As Amazon steps up its bids for content and Netflix strives to build up its stable of premium content, I believe the cost pressure will continue to build.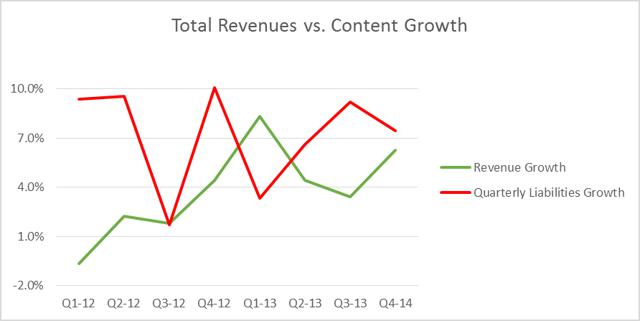 Comparing content growth directly to streaming revenue growth (q/q) also yields a disturbing trend. For Netflix to become profitable on the streaming side, streaming revenues must strongly outgrow content costs. Q3-12 was promising (4% spread), and Q1-13 was very bullish (8% spread), but the past 3 quarters have been abysmal. Due to the increase in other overhead costs such as G&A and marketing coupled with other direct costs, NFLX will need several sustained quarters of high single-digit or better spread in this category to attain profitability. In the past 8 quarters, NFLX has only achieved this hurdle once (Q1-13).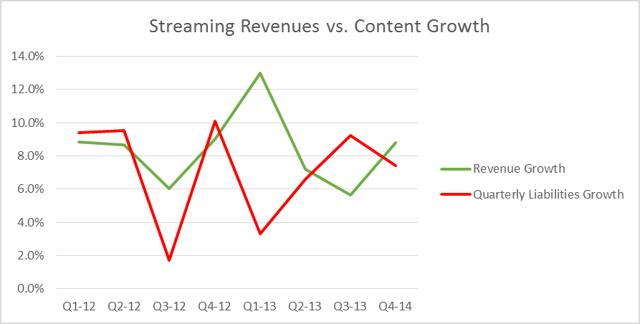 The relevant pieces from the 2012 and 2013 10-K are pasted below. The 2013 numbers do NOT include the $400M in additional long-term debt.

2012 10K figures:

Net Neutrality
The recent court decision on net neutrality presents another facet of uncertainty for Netflix's business model. While I don't necessarily think NFLX will drastically suffer as a result, I have seen estimates as high as $200M in additional yearly technology expenses. I do not factor ISP delivery prioritization expenses into my models, but I do consider it as a potentially significant headwind.
Common Bullish Arguments not Factually Grounded
The average Netflix bullish case reads exactly like Brian Bleifeld's recent article in which he argues "Netflix is Still Wildly Undervalued." Typically, I wouldn't call out other contributors by name, but since he directly chided a few NFLX bears in his article, I believe it's fair to list his bullish thesis here as an example (emphasis added):
"I feel based on my typical family experience that Netflix could double in revenue with no additional services and quadruple if they added some premium services. Therefore I feel it is undervalued at this time."
Additionally:
"When doing a recent family budget I looked at the entertainment line and wondered how expensive Netflix would have to be before I dropped it from the budget. I came up with 40-50 dollars a month at current service level. If they could add current season content I think I would be willing to pay up to 90 dollars a month on a premium basis. Netflix is still in my opinion wildly undervalued."
Mr. Bleifeld wrote two bullish articles in December 2011 and March 2012, and I congratulate him on his excellent timing; however, his current thesis is based on nothing but thin air. Then again, Icahn's (son's) thesis was ludicrously flawed as well, and that trade turned out beautifully. Long-term investors do not have the luxury of profiting from flawed approaches. Traders, myself included, sometimes make profits even when we were wrong. On the flipside, oftentimes correct trade thesis projections still turn into losses. In the short term, it's possible for NFLX to hit $500, even $1000, but it doesn't change the long-term valuation.
Note that the bullish approach fails to account for streaming content liabilities or debt load, much less current price-sales and price-earnings multiples and expectations. "Buy what you love," is a decent starting point, but over the long term, profits will determine the ultimate return.
Conclusion
Netflix is trading with extremely high valuations due to strong streaming subscription growth momentum. However, NFLX's content contests continue to skyrocket, and increasing competition from Amazon coupled with studio expectations will continue to drive these prices upwards. I believe that due to multiple business risks and razor-thin margin potential, Netflix is worth, at-most, a 1x multiple to forward revenues, or approximately $88, representing downside potential of 80% from prices on 13 February, 2014.
Investment Approach
Shorting Netflix is very expensive due to strong option premiums. I hold to the belief that if NFLX loses its bullish sentiment, the crash could be as large as 80% from today's prices. Jan 2015 $200 puts are trading for approximately $3.75, and $250 puts are approximately $9. If I was buying more puts (I currently have a large position at $170), they would likely be at the $200 strike.
If you desire to have more time, the January 2016 options are markedly more expensive and more thinly traded. $200s are $13 and $250s are $24. If I bought 2016 puts, I'd probably go with the 'moonshot' $100 puts for around $2 (extremely thinly traded).
Disclosure: I am short NFLX. I wrote this article myself, and it expresses my own opinions. I am not receiving compensation for it (other than from Seeking Alpha). I have no business relationship with any company whose stock is mentioned in this article.
Additional disclosure: I am short NFLX via Jun14 puts ($300) and Jan15 puts ($170). I may purchase additional puts in the next 72 hours. I am long DIS.