After writing an article about the attractiveness of Brazilian bonds, a comment on the article suggested many might be interested in the WisdomTree Dreyfus Brazilian Real ETF (BZF). A quick look at the 2-yr. chart tells one that this BZF ETF is indeed worth an investor's interest (see below).
click to enlarge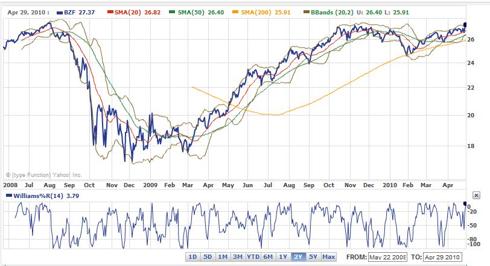 This chart looks very much like a "cup with a handle". This chart formation often indicates that the underlying entity is about to take off. If you add Brazil's great underlying fundamentals to this, you are more assured that this is likely a good investment. Brazil is an emerging economy. It is rich in natural resources. It is currently running a trade surplus of over $40B/year. It is oil independent. In fact it is a net oil exporter. It has plentiful fresh water. It is the world's eighth largest economy with a GDP of $1.6T. It has highly rated bonds, even in these times of low ratings. Additionally, the Real Chart shows that it is likely to have good appreciation vs. the USD (see below).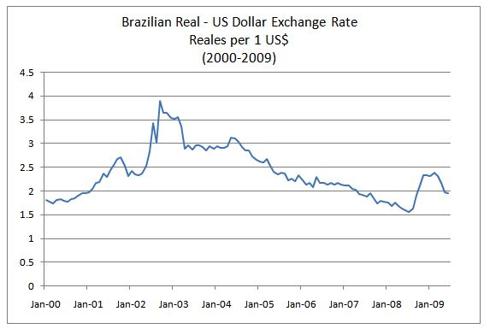 On this chart lower on the Y-axis means the Real is worth more. Except for the flight to the USD brought on by the 2008 crash, the Real seems to have a good history of appreciating against the USD. It is likely to do so in the future.
The description (from TD Ameritrade) of the WisdomTree Dreyfus Brazilian Real Fund BZF ETF is below:
The fund seeks to achieve total returns reflective of both money market rates in Brazil available to foreign investors and changes in value of the Brazilian Real relative to the U.S. dollar. The fund normally invests in short term securities and instruments designed to provide exposure to Brazilian currency and money market rates. It intends to exposure to Brazilian currency markets by investing primarily in short term U.S. money market securities and forward currency contracts and swaps. The fund is non diversified.

The value of the shares of a currency exchange traded product relates directly to the value of the foreign currency held by the particular product. This creates a concentration risk associated with fluctuations in the price of the applicable foreign currency. Unique risk factors of a foreign currency include national debt levels and trade deficits, domestic and foreign inflation rates, domestic and foreign interest rates, investment and trading activities of institutions and global or regional political, economic or financial events and situations. Currency products may not be suitable for all investors. Many currency products are not investment companies registered under the Investment Company Act of 1940.For a more complete discussion of risk factors applicable to each currency product, carefully read the particular product's prospectus.

Investments in bond funds are not insured or guaranteed by the Federal Deposit Insurance Corporation (FDIC) or any other government agency. Bonds and bond funds will typically decrease in value as interest rates rise.
Good luck trading.
Disclosure: No positions at this time