Even for a seasoned investor, it is rare to see a billion-dollar company more than quadruple in value in just a few days, as Intercept Pharmaceuticals (NASDAQ:ICPT) did just recently. The trigger for this amazing rally occurred following the announcement that the Phase II trial of obeticholic acid (OCA) for the treatment of nonalcoholic steatohepatitis (NASH), a chronic liver disease, was stopped early due to its strong efficacy results.
Until recently, the treatment of nonalcoholic steatohepatitis was under the radar of traders and investors alike, particularly those searching for undervalued biotechnology companies with the potential for strong rallies. Clearly, the Intercept announcement caught many investors by surprise, as NASH wasn't an area of focus for them until recently. However, the Intercept announcement caused us to seek undervalued biotechnology companies in the same field that may have the same course. After considerable research, we identified one small biopharmaceutical that we believe has the potential to succeed in medication for liver disease (including NASH): Conatus Pharmaceuticals (NASDAQ:CNAT). Below, we describe Conatus' clinical achievements, its future planned development and research directions, and the reasons we see Conatus as undervalued, therefore presenting a great investment opportunity.
Conatus Pharmaceuticals
Conatus Pharmaceuticals is a biotechnology company focusing on the development and commercialization of novel treatments to treat liver disease. According to Transparency Market Research, the global liver diseases therapeutics market was worth $6.5 billion in 2011 and is expected to reach $10.9 billion in 2018, growing at a compound annual growth rate of 8.6% from 2012 to 2018.
Emricasan: Conatus' Powerful and Unique Lead compound
Conatus' lead powerful compound, emricasan, is a first-in-class, orally active caspase protease inhibitor. Caspases are a family of related enzymes that play an important role as modulators of critical cellular functions, including functions that result in apoptosis, a form of programmed cell death, and inflammation. Conatus' clinical rationale is to use emricascan to target and inhibit the caspases that drive both apoptosis and inflammation in disease, and as such to offer a unique and potentially powerful therapeutic approach for the treatment of both acute and chronic liver disease (See Fig. 1 below).
Emricasan Mechanism of Action (Fig. 1)
Emricasan Studies
To date, emricasan has been administered to over 500 subjects in Phase I and Phase II clinical trials, and has been generally well-tolerated in both healthy volunteers and patients with liver disease. The highly compelling preclinical and clinical trial results suggest emricasan may have clinical utility in slowing progression of liver diseases, regardless of the original cause of the disease. In a randomized Phase IIb clinical trial in patients with liver disease associated with chronic Hepatitis C infection, emricasan demonstrated a statistically significant, consistent, rapid and sustained reduction in elevated levels of two key biomarkers of inflammation and cell death, alanine aminotransferase (ALT) and cleaved Cytokeratin 18 (cCK18), respectively, both of which are implicated in the severity and progression of liver disease.
Emricasan: Results of Phase IIb Trial (Fig. 2)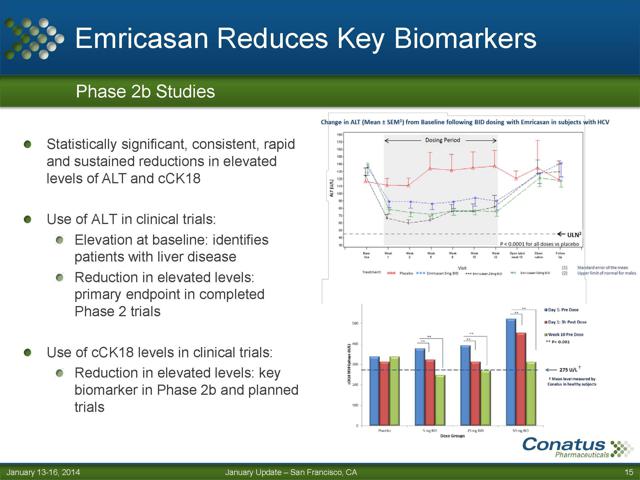 Conatus has designed a comprehensive clinical program to demonstrate the therapeutic benefit of emricasan across the spectrum of fibrotic liver disease.
CNAT Scheduled Catalysts in 2014 (Fig. 3 below)
As Fig. 3 illustrates, all clinical trials are in advanced stages, including Phase II and IIb trials. A description of each of the clinical trials is detailed below. We will begin with NASH.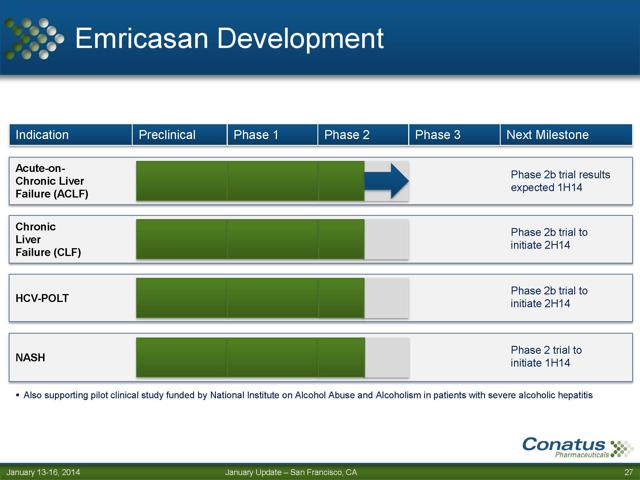 Nonalcoholic Steatohepatitis
NASH is a serious chronic liver disease caused by excessive fat accumulation in the liver that induces chronic inflammation. This leads to progressive fibrosis that can lead to cirrhosis, eventual liver failure and death. Currently, there are no approved drugs to treat NASH. NASH affects 2% to 5% of Americans. Potentially more than six million patients are believed to have advanced liver fibrosis or cirrhosis due to progression of the disease. Analysts see peak sales of $4-$5 billion annually in the NASH market that "has the potential to be as big as or bigger than the hepatitis C market."
Upcoming Clinical Trials With NASH
In experimental preclinical models, emricasan was found to inhibited hepatosis, fibrosis and inflammation associated with NASH. Given the results, Conatus plans to initiate a Phase II trial in non-alcoholic steatohepatitis in the first half of 2014.
Preclinical Results in NASH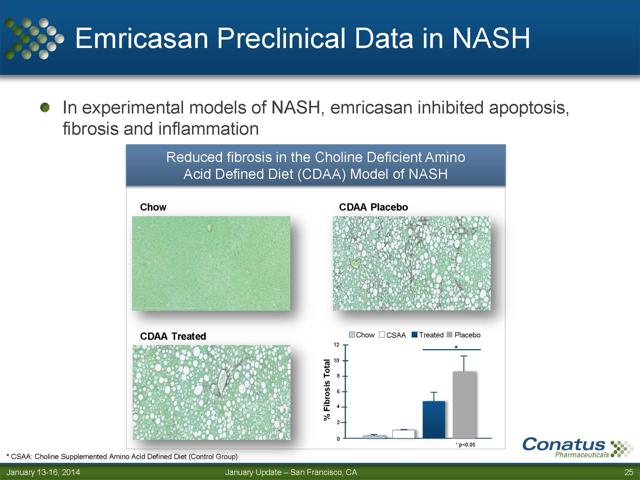 Furthermore, declines in alanine aminotransferase (ALT) activity were also seen in Phase IIb clinical trial in patients with liver disease associated with infection with Hepatitis C. Based on the positive results in both preclinical and clinical trials to date, we think there is a strong indication for successful results in Phase II.
Acute-on-Chronic Liver Failure (ACLF)
ACLF occurs in patients with cirrhosis but relatively stable liver disease until an acute event results in rapid deterioration of liver function. The cause of this acute episode of decompensation may include toxins such as alcohol, metabolic abnormalities and infections. The ACLF population is in high medical need of an efficacious and well-tolerated therapy to prevent progression to multi-organ failure and, ultimately, premature death. The morbidity and mortality of the ACLF patient population is high, and up to 45% of the patients may develop multi-organ failure, or require a liver transplant or die as a result of the decompensation episode within 28 days of hospitalization.
Conatus estimates that 150,000 patients in the United States and the EU are diagnosed with ACLF. According to a 2011 publication in the Journal of Hepatology, the total annual charges associated with intensive care units (ICU) admissions in these acute deteriorating patients alone are $3 billion, equating to a mean charge of $116,000 per admission. There are currently no approved therapies with a specific indication for the treatment of ACLF, and there are only a limited number of clinical studies currently being conducted in patients with either liver cirrhosis or liver failure.
ACLF Upcoming Clinical Trial
On Sept. 11, 2013, Conatus announced the initiation of a Phase IIb trial in ACLF. This is a placebo-controlled, double blind, multi-center clinical trial designed primarily to evaluate the pharmacokinetics, pharmacodynamics and safety of emricasan in ACLF patients. In addition to confirming a safe dose of emricasan in this patient population for Phase III studies, Conatus plans to explore changes in organ function, changes in biomarkers including ALT, cCK18, caspase 3/7, IL18, and assessing time to clinical worsening, defined as progression to next organ failure, liver transplant or death. Conatus expects to have initial data from this trial in the first half of 2014. In addition, if the results are compelling, Conatus plans to submit applications for orphan drug designations for ACLF in the United States and the EU in the second half of 2014.
Chronic Liver Failure
In contrast to ACLF, chronic liver failure (CLF) involves progressive destruction of liver cells over time, resulting in fibrosis and cirrhosis. The main difference between this population and ACLF is that in ACLF, patients have an acute event that triggers a decompensatory event that may be reversed, whereas in CLF, the event is of a chronic nature and it is unlikely that the liver function will improve. These patients are often either on the liver transplant list or too sick to be on this list. Conatus estimates that there are approximately 10,000 CLF patients in the United States and the EU diagnosed with CLF.
According to the U.S. Organ Procurement and Transplantation Network, there were over 5,800 adult liver transplants performed in the United States in 2011, and approximately 2,500 patients died while waiting for transplant and another 500 subsequently became ineligible for a liver transplant. In Conatus' view, emricasan has the potential to improve patients' ability to survive longer while waiting for a liver transplant or potentially make them eligible for transplant. Conatus plans to initiate a Phase IIb trial in CLF patients in the second half of 2014 after completion of the ACLF Phase IIb study.
HCV-Post Orthotopic Liver Transplant (HCV-POLT)
According to the Organ Procurement and Transplantation Network and the European Association for the Study of the Liver (EASL), of the approximately 12,000 patients in the United States and EU who receive liver transplants each year, approximately 30% are HCV-infected. Since immune system suppression is required following liver transplantation, all of these patients experience post-transplant HCV recurrence that can lead to fibrosis and cirrhosis. It is estimated that 50% of these patients develop cirrhosis within two years of transplantation. Conatus identifies this population as the HCV-POLT population, and estimates 50,000 patients in the United States and EU.
Conatus plans to initiate a placebo-controlled Phase IIb clinical trial in the second half of 2014 evaluating emricasan in Post-Orthotopic Liver Transplant (POLT) recipients with reestablished liver fibrosis. The U.S. Food and Drug Administration (FDA) granted Orphan Drug Designation to emricasan in late 2013 for the treatment of liver transplant recipients with reestablished fibrosis to delay the progression to cirrhosis and end-stage liver disease. This emricasan trial will focus on the subset of POLT patients with reestablished liver fibrosis as a result of recurrent post-transplant Hepatitis C virus (HCV) infection who have successfully achieved a sustained viral response (SVR) following HCV antiviral therapy (POLT-HCV-SVR).
Conatus claims that its new antiviral drugs have the potential to clear HCV infection in POLT patients, but do not directly address reestablished liver fibrosis and prevent reestablished liver fibrosis from advancing to cirrhosis and ultimate failure of the newly transplanted organ. Conatus believes that this trial will confirm the scientific rationale to expand into broader indications in patients with liver fibrosis.
Severe Alcoholic Hepatitis
Alcohol-related liver disease is a major cause of morbidity and mortality in the U.S., and excessive alcohol consumption is the third leading preventable cause of death in the U.S. Alcoholic liver disease encompasses a clinical/histological spectrum of disease, including fatty liver, alcoholic hepatitis and cirrhosis. Alcoholic hepatitis is a syndrome of progressive inflammatory liver injury associated with long-term heavy intake of ethanol. Severely affected patients show signs of retaining large amounts of fluid in the abdominal cavity (ascites), as well as kidney and liver failure.
On Sept. 10, 2013, Conatus announced initiation of dosing in the Phase II clinical trial of emricasan in patients with severe alcoholic hepatitis. This study is being conducted by the Translational Research and Evolving Alcoholic Hepatitis Treatment (TREAT) Consortium consisting of the Mayo Clinic Rochester, Indiana University and Virginia Commonwealth University in collaboration with the National Institute on Alcohol Abuse and Alcoholism (NIAAA). The trial is a placebo-controlled, double-blind, multi-center study that is designed to assess whether emricasan improves the 28-day survival in patients with chronic liver disease caused by alcohol and contraindicated to receive corticosteroid therapy for their alcoholic hepatitis. The study is designed to also evaluate the role of apoptosis and sterile necrosis in alcoholic hepatitis, the safety and tolerability of emricasan, overall clinical outcomes and pharmacokinetics in this patient population.
Nonalcoholic Fatty Liver Disease (NAFLD)
Nonalcoholic fatty liver disease (NAFLD) is a broader indication of liver diseases that includes NASH, and is one of the most common causes of chronic liver disease in U.S., far surpassing alcohol-related liver disease. An estimated 10%-20% of Americans have NAFLD, although most probably don't know it, because it progresses without symptoms. While the short-term effects are minimal, the potential long-term complications -- gastrointestinal bleeding, anemia, encephalopathy (abnormal brain function), cirrhosis, liver cancer and liver failure -- are the same serious problems that often occur after decades of alcohol abuse.
In an experimental model of NAFLD, emricasan reduced inflammation of adipose tissue, resolved hepatic steatosis and improved metabolic parameters and reduced fasting glucose and insulin levels. According to Conatus, these preclinical data provide empirical support for evaluating emricasan in patients with NAFLD and it is considering initiating studies in patients with NAFLD.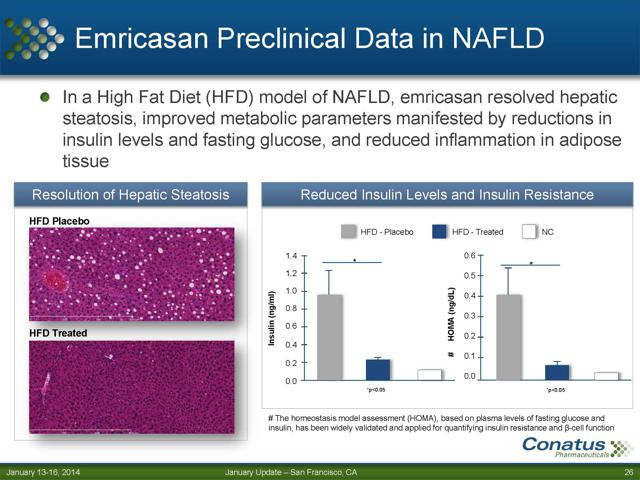 Shifting Beyond the Liver Paradigm: Type 1 Diabetes
As Conatus continues to extensively pursue the development of emricasan in various indications for liver diseases, it is also pursuing emricasan as a possible candidate for new treatment paradigms in diabetes.
On July 20, 2012, Conatus and the University of Alberta announced a treatment trial of the first patient in an investigator-initiated islet cell transplant Phase I/II trial of emricasan to determine safety, achievement and maintenance of insulin independence and to obtain preliminary data on the efficacy of emricasan to maintain adequate immunological protection against both allo- and autoimmunity of islet cell transplant recipients.
Islets are cells found in clusters throughout the pancreas. Pancreatic Islet cell transplantation is a procedure in which islets from the pancreas of a deceased organ donor are purified, processed and transferred into another person to treat type 1 diabetes. In type 1 diabetes, the beta cells of the pancreas no longer make insulin. An individual diagnosed with type 1 diabetes must take insulin daily to survive. Transplanted islet cells, however, can assume the work of the destroyed cells. Once they are implanted, the beta cells in these islets begin to make and release insulin. Researchers hope islet transplantation will improved blood glucose control, reducing or eliminating the need for insulin injections to control diabetes, and preventing hypoglycemia.
Preclinical studies support the use of a pan-caspase inhibitor therapy to broaden the availability of clinical islet transplantation. Enhancing islet engraftment post-transplant should prolong graft longevity, resulting in a more quiescent immunological state and thereby enhancing long-term rates of insulin independence. Inhibition of islet apoptosis in the immediate post-transplant period may reduce the amount and intensity of anti-rejection therapy, accelerating "accommodation" and drug minimization. According to Conatus, if these targets could be met, or if stable immunological tolerance was enhanced through emricasan treatment, islet transplantation would be potentially safer and therefore more available to a broader spectrum of patients with type 1 diabetes.
Company's Financial Position
Net loss for the three months ending Sept. 30, 2013, was $3.3 million. Cash, cash equivalents and investments, excluding restricted cash, totaled $59.6 million. According to this financial data, Conatus' financial position should be enough to fund operations through 2016, even without any additional contributed amount from any collaboration that can be realized with strong Phase IIb data in ACLF or other indications. Needless to say, having a cash surplus is always a great advantage and a strong financial position for any developmental biotech company such as Conatus Pharmaceuticals.
Summary and Conclusion
Until recently, despite its $1.4 billion market valuation, Intercept Pharmaceuticals was not a well-known company. Only after announcing the early stop for strong efficacy of OCA in the Phase II trial for treatment of NASH did Intercept shares soar (a sharp jump to $8.6 billion in two days, before correcting to $7.1 billion market cap).
We see Conatus Pharmaceuticals and its work with emricasan as being in a very similar position to Intercept prior to announcing the OCA results. Conatus targets the development and commercialization of novel therapeutics to treat liver diseases, and is further along in its pipeline. However, a different but interesting picture is revealed when these two companies' pipelines and market valuations are compared. Intercept pipeline has one Phase III clinical trial and three Phase II clinical trials compared to Conatus' five ongoing Phase II clinical trials in progress or planned for a start in 2014 (including the Phase II trial in NASH patients). With such a pipeline, Conatus' fully diluted market cap of $155 million is extremely low compared to the $7.1 billion market cap of Intercept. In our opinion, this marked discrepancy in market valuations calls for a sharp market correction with a significant Conatus market cap increase.
ACLF upcoming catalyst: Although events like the quadrupling of Intercept's value in a couple of days are rare, we estimate that successful results from Phase IIb in ACLF in the first half of 2014 should create an even stronger effect for Conatus. We base this estimation on Conatus' current relative low value market, its potential blockbuster indication and the fact that there are currently no approved therapies with a specific indication for the treatment of ACLF. Successful results would also position the company as an attractive takeover target for companies focused on liver diseases.
Liver-drug markets and Potential collaborations: Success with emricasan for ACLF is only one of the reasons we estimate Conatus as a prospective billion-dollar company. Given the huge potential of the liver disease market, combined with the fact that Conatus intends to seek a corporate partner to expand evaluations of emricasan in non-orphan indications such as liver fibrosis from viral hepatitis, alcoholic hepatitis and non-alcoholic steatohepatitis, investors may be looking at a more than probable deal of hundreds of million dollars in up-front and milestone payment collaboration. Given the preclinical and clinical trials data derived from patients with NASH, we think there is a reasonable chance to the signing of a partnership agreement with a major pharmaceutical company for the Phase II trial.
Expansion beyond liver-drug markets: An additional reason we are bullish on Conatus and believe it is significantly undervalued relates to the fact that beyond the liver diseases market, emricasan may also be a candidate for new treatment paradigms in diabetes, opening an additional multibillion-dollar market.
CNAT valuation: As described in this article, Conatus has the potential to emerge as a blockbuster in numerous ways. With a market capitalization of just $155 million, approximately $59.6 million in cash (enough to fund operations through 2016) and with potentially lucrative drugs for so-called orphan diseases, Conatus is clearly an undervalued company. Its market evaluations do not reflect the possibility that Phase IIb in ACLF may be successful. The current CNAT overly low value was noticed recently in an article on Seeking Alpha, in which calculations involving only CLF and ACLF indications estimated the share value of CNAT at around $23.25. Importantly, the $23.25 price target does not reflect estimations of other indications such as NASH.
The current undervaluation for Conatus becomes even more apparent when contrasted with another liver-drug competitor conducting NASH trials, such as Galectin Therapeutics (NASDAQ:GALT). The current market valuation of GALT is much higher than Conatus. However, in contrast to GALT, Conatus is further in its trials and emricasan had demonstrated activity in preclinical models and in the clinical trial of NASH in Phase IIb clinical trial in patients with liver disease associated with infection with Hepatitis C. Furthermore, much of GALT valuations of $335 million is derived only from preclinical data, with Phase I clinical trial data for NASH patients expected only in 2014.
Although we think that Conatus should have at least the same valuation as GALT based only on its NASH indication ($335 million or another $22 to Conatus' $23.25 valuation), we decided to take a conservative approach to estimate the share price of Conatus based on this indication only. Thus, if we calculate only half of GALT's current valuation ($167.5 million) it adds $11 to the Conatus valuation of $23.25, for a total of $34.25. We note that even at the $34.25 target price (market capitalization of under $540 million), CNAT is still undervalued, especially when compared to the ICPT valuation of $1.4 billion before ICPT announced the NASH efficacy results and quadrupled its value.
At its current market value, with its pipeline and catalysts and what we see as its marked undervaluation, we would not be surprised to see the share price of Conatus double or even triple before the results of the Phase IIb trial in ACLF patients are released. The announcement of successful results from this trial could lead to a high of $50-$60 or more per share. No doubt about it: 2014 has the potential to be exciting and possibly a "game changer" year for Conatus and for individuals with chronic liver diseases. We will be watching Conatus closely in the next quarter and very carefully throughout the year.
Disclosure: I am long CNAT. I wrote this article myself, and it expresses my own opinions. I am not receiving compensation for it. I have no business relationship with any company whose stock is mentioned in this article.
Additional disclosure: BioGroup Team is a team of professionals with a shared interest in trading and investing in the healthcare and life sciences sectors. Our experts' editorial team is comprised of individuals with extensive background in research, science, economics and trading in the biotechnology/health sectors. This article was written by Roy Vimer, one of our group analysts. Neither BGT nor Roy Vimer received compensation for this article (other than from Seeking Alpha), and we have no business relationship with any company whose stock is mentioned in this article.