Rackspace Hosting (NYSE:RAX) faces the perfect storm. This fast-growing cloud-computer technology stock just got hit by a double whammy. It has disappointed the market with less than stellar results in its most recent earnings report. And it has lost its CEO.
Management has admitted to difficulties competing with the bare-bones profit model of its chief competitor, Amazon (NASDAQ:AMZN) Web Services, who is dead set on owning this industry sector. RAX management has already undertaken steps to cater to a more service-oriented, upscale corporate clientele, but this will probably be a bit of a learning curve, and growth and earnings may both suffer a bit along the way.
At current market prices, around $31.50 at time of writing, a Reverse Cash Flow analysis reveals that the market projects an 18% growth rate over the next 10 years. I think that is too ambitious, given the competition.
To add insult to injury, RAX faces management upheaval as CEO Lanham Napier announced his retirement this week, with no planned successor is on the horizon.
The market will punish this high-flier severely; it has already lost 33% of its value in just two days. But the damage may not be done. A glance at technical charts reveals that after a possible bounce at current prices, the stock may move much lower, possibly to $15, with a pause along the way at the $25 support level.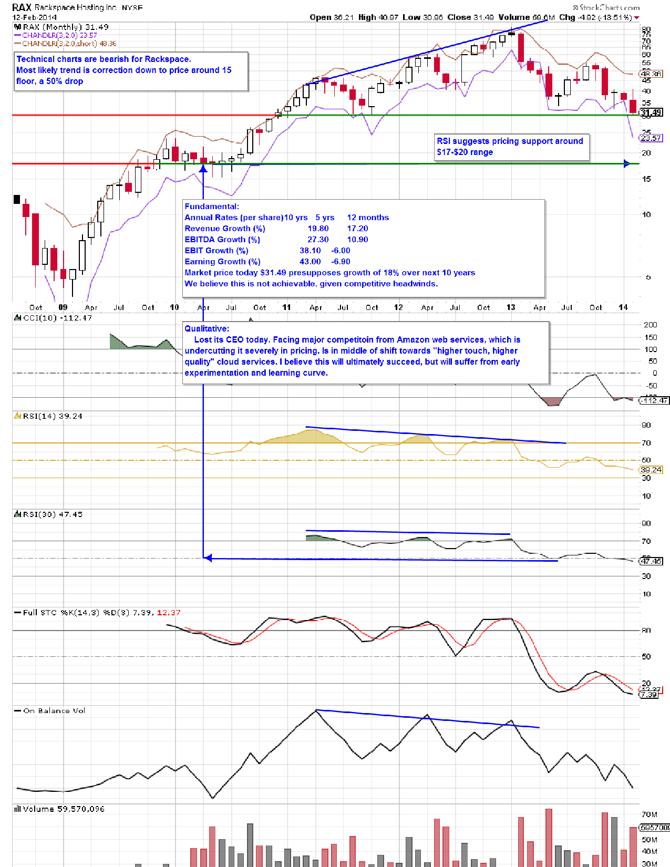 Not only do the technicals look discouraging, but in a rare confluence of events, both a quantitative and a qualitative look at the company bode poorly for its prospects.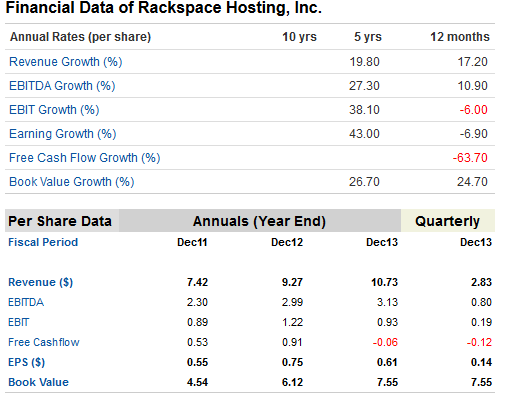 Source: gurufocus.com
While top of the line revenue growth has only slowed slightly, bottom line EBITDA and EBIT figures reveal a more concerning story. 12 month Earnings Before Income Taxes, Dividends and Appreciation have slowed by 50% over their five year trend. EBIT alone has turned negative.
Even if management can halt the slide and turn that EBIT back to mirror the 10% EBITDA, those growth rates are not enough to justify this company's still lofty price/earnings ratio. At a 10% growth rate, this stock discounted present value would be close to $17.75 using a 6.75% discount rate and only $11 using a 12% discount rate.
And from a qualitative perspective, things don't look much brighter. According to today's Wall Street Journal article, Rackspace is losing the perception battle to Amazon in the cloud sector:
"In a recent survey of Jeffries, 57% of respondents were considering using Amazon in their deployment of cloud - based services compared with just a third for Rackspace."
The cloud's are gathering ominously over Rackspace, and it's time investors seek shelter.
Aggressive investors may wish to short this stock, but my own preference is to use an options play.

Disclosure: I have no positions in any stocks mentioned, but may initiate a short position in RAX over the next 72 hours. I wrote this article myself, and it expresses my own opinions. I am not receiving compensation for it. I have no business relationship with any company whose stock is mentioned in this article.
Additional disclosure: The author has invested in a bearish options play involving RAX, that will benefit if the stock moves down.