Earlier this year, railroad stocks received a lot of attention after the world's most famous investor, Warren Buffett, announced that he would buy the rest of Burlington Northern Santa Fe for $26 billion. This mega-acquisitions put a 'boring' industry in the spotlight for a brief time and once again on investors' radars. However, as quickly as railroads jumped into the forefront of investors minds they disappeared again; relegated to their traditional role as the unsung backbone of the American economy. For investors seeking to make a play on railroads, there isn't currently a real pure play ETF option. This is unfortunate for several reasons, since this sector can offer a compelling choice for investment in both good and bad economic times.
Why It Would Make An Interesting Choice
With oil prices spiking, many will be surprised to know that one of the least affected industries is that of railroads. "Burlington Northern Santa Fe last year moved, on average, a ton of goods 470 miles on a single gallon of diesel, and society has an enormous interest in using less oil to transport goods," according to Mr. Buffett. This suggests that if oil prices continue to rise, rail firms are likely to be a major beneficiary since they are able to move more goods using less fuel than their trucking or air-freight peers. Railroads may seem like a remnant of an earlier era, but they remain a critical part of America's transportation infrastructure.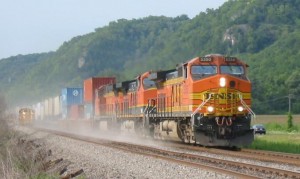 In addition, railroad firms have a substantial competitive advantage; the barriers to entry in the industry are more or less insurmountable for new firms. "Railroads have this because potential newcomers would have to pay so much to set one up. Burlington Northern, for example, owns more than 20,000 miles of track in the United States and Canada, and it owns or leases more than 85,000 rail cars and 23 facilities dedicated to handling distribution of automobiles. Now, it's using that position to force rate increases on customers" said John Reese in a recent interview. The sheer size of current railroads and the immense benefits from the 'network effect' allow railroads to operate with minimal competition. This trend seems likely to continue well into the future especially given the enormous networks that the current railroads have built up as well as the weak debt markets which would make it very difficult to raise the kind of capital necessary to assault the many railroads' dominant position.
IYT: Close, But Not A Pure Play
There are a handful of existing ETFs with significant exposure to railroad companies, including the iShares Dow Jones Transportation Average Index Fund (NYSEARCA:IYT). But there's nothing available that focuses exclusivelyon the railroad industry. As IYT is designed to reflect the performance of the overall transportation industry, it also has significant assets in non-railroad stocks. For example, two of the top three holdings in IYT are Federal Express (NYSE:FDX) (11.7%) and UPS (8%); rounding out the top ten are trucking and supply chain logistic firm Landstar (NASDAQ:LSTR) (5.1%), Expeditors International (NASDAQ:EXPD) (5.1%) which specializes in air delivery and freight services, J.B. Hunt Transport (NASDAQ:JBHT) (5%) a trucking expert, and rental giant Ryder (NYSE:R) (4.9%) (see all of the top ten holdings of IYT here).
Railroad ETF
In addition to current railroad giants such as Union Pacific (NYSE:UNP), Norfolk Southern (NYSE:NSC), and CSX Corp. (NYSE:CSX), a pure play railroad ETF could focus on firms that provide railcar services as well as railcar leasing options. This mix would allow the fund to diversify itself beyond the household names and offer exposure to firms that can rarely be found in sector ETFs such as Freightcar America (NASDAQ:RAIL), American Railcar Industries (NASDAQ:ARII), and GATX (GMT) a railcar leasing firm. This mix would also give the fund diversified exposure across market capitalization levels, and finally offer investors a real way to invest in the broad railroad sector. Plus, the ticker CHOO would make for a catchy marketing campaign.
Disclosure: No position at time of writing.
Disclaimer: ETF Database is not an investment advisor, and any content published by ETF Database does not constitute individual investment advice. The opinions offered herein are not personalized recommendations to buy, sell or hold securities. From time to time, issuers of exchange-traded products mentioned herein may place paid advertisements with ETF Database. All content on ETF Database is produced independently of any advertising relationships. Read the full disclaimer here.