Executive summary:
Mosaic's share price is slowly but steadily recovering after it fell off a cliff in July 2013.
A positive industry outlook and a $1.0 billion share repurchase program are set to support Mosaic's share price in 2014.
Earnings estimates for potash firms are likely to be adjusted and revised upwards.
Rebound potential still exists especially if potash and phosphate prices continue to improve.
_________________________________
The Mosaic Company (NYSE:MOS) is full-on in recovery mode. Mosaic's share price collapsed dramatically in July 2013 as Uralkali (OTC:URALL) stirred up the dust with its announcement to break-up the potash cartel it was forming with Belaruskali of Belarus. Shares of Mosaic subsequently collapsed from $53.21 on July 29, 2013 to $41.09 on July 31, 2013: A decline in market capitalization of 23%. The forceful slump in share price was solely precipitated by panicking investors who threw away their shares without regard for their intrinsic value. However, Mosaic's share price has turned around slowly and the phosphate and potash producer now trades at $47.96: A recovery of 17% since shares were trading at $41.09 nearly six month. I have previously recommended Mosaic (here) and other potash firms for contrarian investors amid their strong rebound potential.
Share performance comparison
Shares of Mosaic are now up 2% year to date and down 22% over the last twelve month.
(Source: Yahoo Finance)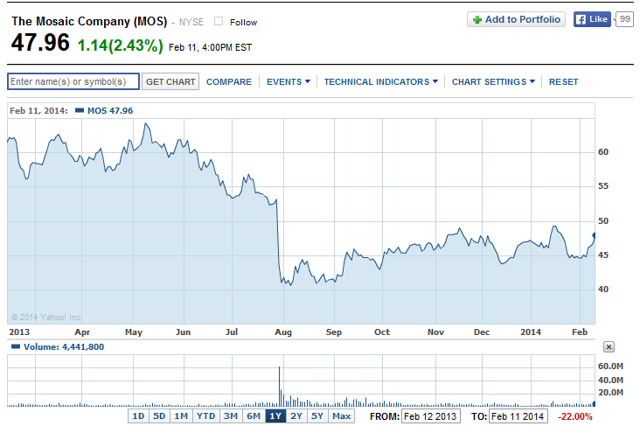 Other companies in the fertilizer field also got caught on the wrong foot. Including Uralkali, potash companies literally got slaughtered last year although many firms have rebounded slowly and solidly. Potash Corp. (NYSE:POT) still posts a negative return of 24% over the last two years, Agrium (NYSE:AGU) gained 8% and Compass Minerals (NYSE:CMP) 15%. Potash Corp. and Mosaic are my highest conviction ideas and I expect their turnaround to continue over the course of 2014.
(Source: Yahoo Finance)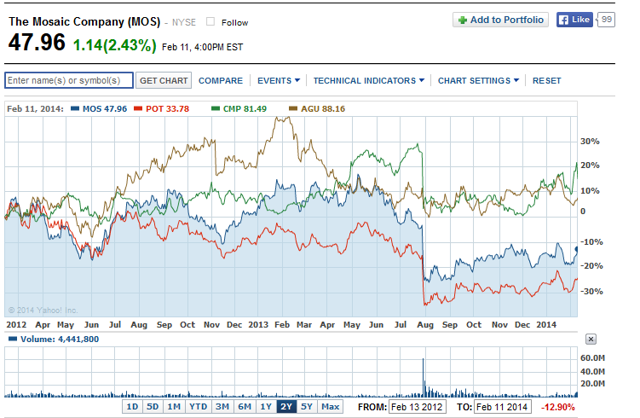 Fourth quarter results
Mosaic's fourth quarter profits expectedly took a nosedive: Fourth quarter net income decreased from $616 million in Q4 2012 to $129 million in Q4 2013. Earnings per share fell from $1.44 in the year ago quarter to $0.30 in Q4 2013: A y-o-y decline of 79%. Net sales in the most recent quarter came in at $2.2 billion vs. $2.4 billion a year ago (a minus of 8%). In the fourth quarter of 2013 Mosaic sold 3.4 million tonnes of phosphates vs. a fourth quarter guidance of 2.5-2.9 million tonnes. Mosaic also sold 1.9 million tonnes of potash in Q4 2013 which compares against a guidance range of 1.5-1.9 million tonnes. Sales volumes came in at the upper end of the guidance range or exceeded the range dramatically in the case of phosphates. With an expected rebound in potash and phosphate prices in 2014, the earnings outlook for Mosaic and other firms in the industry improves dramatically.
President and Chief Executive Officer Jim Prokopanko commented fourth quarter results [emphasis added]:
While our results for the fourth quarter reflect the low market prices for potash and phosphates, current market conditions are improving. Market dynamics are unfolding as we expected they would, with sales volumes increasing before prices; in fact, we shipped a record volume of phosphates during the quarter, and potash volumes increased significantly.

Mosaic is in excellent position to thrive as the business cycle continues to improve, in large part because of the notable progress we made on our strategic priorities in 2013. We rebalanced and grew our business portfolio, began to structure a more efficient balance sheet by increasing leverage and returning capital to shareholders, and accelerated our work to assure Mosaic remains a low-cost producer.

Customers believe a bottom in potash prices has been reached and are now exhibiting improved confidence in their buying decisions. In 2014, we expect record global shipments and improving producer operating rates. Our long-term constructive outlook for potash has not changed.

Our Phosphates business ended the year with robust shipments worldwide and a record for the fourth quarter. Prices improved during December and we believe momentum will continue through the spring in North America. As we look ahead, higher realized prices and lower raw materials costs should bode well for the profitability of our growing Phosphates business.
After potash prices collapsed in the second half of 2013, it was easy to adopt a negative mindset with respect to fertilizer companies. Sell-side analysts quickly switched into negativity mode in July and substantially lowered their earnings outlook and their target prices for shares of fertilizer companies. However, from a contrarian standpoint, a purchase of potash firms such as Mosaic or Potash Corp. in the midst of the ensuing panic in July 2013 could not have been better timed. Fertilizer companies are now soaring back.
Mosaic not only gave an upbeat industry- and sales outlook but also announced a $1.0 billion share buyback program which surprised investors and clearly is a good thing for shareholders.
P/E multiples artificially high
I still think that earnings expectations for potash firms in general are too low and we are going to witness gradual upward adjustments of earnings estimates and target prices for potash firms in the coming quarters. With earnings expectations too low, P/E ratios are relatively high. Mosaic trades at 16.42 times forward earnings while other companies in the fertilizer business, except for Agrium, trade at similarly high earnings multiples.
(Source: Achilles Research, Nasdaq)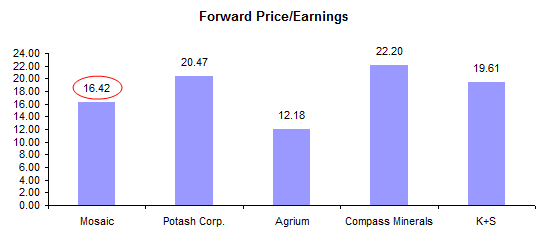 Final thoughts
Mosaic and Potash Corp. are my favorite investments in the potash sector. Both companies were thrown off the cliff last year but have rebounded nicely and I see further upside potential for both companies as the pricing environment for potash and phosphate improves. Mosaic's optimistic industry outlook also was encouraging and should lead to analysts revising their earnings estimates. While the decline in y-o-y earnings is nasty, it is largely a reflection of a collapsing potash price and strategic buying behavior of dealers and middlemen. I expect the potash price to slowly rebound in 2014 and companies to achieve a selling price range of $330-350 which should provide a healthy earnings boost. In the meantime, Mosaic's share repurchase program should provide crucial support for Mosaic's share price. Long-term BUY on continued recovery in the potash market and expected rebound of Mosaic's share price to pre-crisis levels.
Disclosure: I am long MOS, POT. I wrote this article myself, and it expresses my own opinions. I am not receiving compensation for it (other than from Seeking Alpha). I have no business relationship with any company whose stock is mentioned in this article.