By Brad Zigler
A poorly kept secret has roiled around the Chicago grain pits this month: Traders have been waiting for China to come to the U.S. market for corn for the first time in four years.
And, sure enough, the Department of Agriculture this week confirmed that China had purchased two cargoes of corn - about 115,000 tons - probably destined for a feed mill.
American corn is cheaper than China's domestic price. A lot cheaper. We're awash in maize now, and with plantings 85 percent complete, another bumper crop is likely to follow.
What's more, planted acreage will likely exceed intentions reported at the end of March. Favorable spring weather and rapid planting progress have raised acreage expectations.
The talk among locals is that we're only seeing the Chinese dip their toes now into the U.S. corn market. There's a real shortage of corn in China, owing to drought and cold weather that has slowed planting. In fact, the country's been obliged to sell corn from its reserves in order to keep a lid on rising prices.
This week's purchase could be just a test drive for the Chinese should their domestic production be further curtailed by weather. That prospect's got tongues wagging about the possibility of some 2 million tons in future sales of U.S. corn.
Not surprisingly, word of the purchase buoyed corn prices Wednesday. July corn jumped to $3.64 a bushel, a gain of more than 10 cents, staving off a decline that had technical traders betting on a dip below the critical $3.55 level.
CBOT Corn (Jul. '10)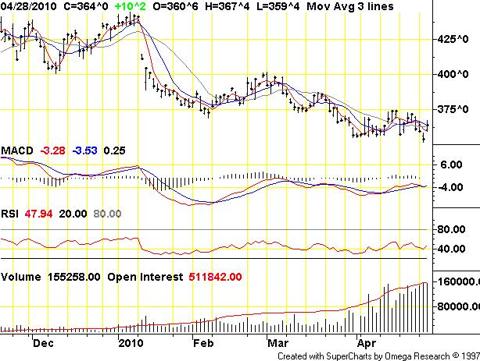 But there were hints of change in the corn market even ahead of the Chinese purchase. A spike in delivery cancellations and export numbers were big clues, especially the latter. The USDA reported corn export sales at 58.3 million bushels last week, far ahead of trade guesses calling for 33.5 to 43.3 million bushels in sales.
Corn finished last week technically weak. A break below $3.55 would have had the bears aiming for a near-term target at the $3.42-$3.43 level, which, if taken out, would have cleared the way to a longer-term objective around $3.28.
Shifts in trader commitments going into last week also foretold of change. Commercials added to their net short positions, intimating a greater willingness to hedge forward sales after months of lightening up their books.
Money managers, meanwhile, covered enough short sales to get them close to flat after a month-long excursion into short territory.
Index traders also built up their net long positions.
Corn Trader Commitments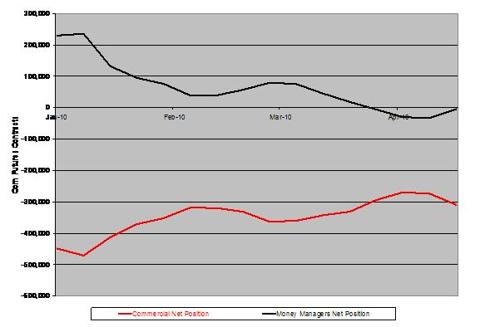 Corn's nascent buoyancy may be just the tonic needed for the iPath Dow Jones-UBS Grains Total Return Subindex ETN (NYSE Arca: JJG). Corn makes up 35 percent of the note's component weighting, with the balance split between soybeans (44 percent) and wheat (22 percent).
Not that there hasn't been interest in the notes, mind you. Inward money flows have spiked significantly over the past two weeks.
iPath DJ-UBS Grains ETN (NYSEARCA:JJG)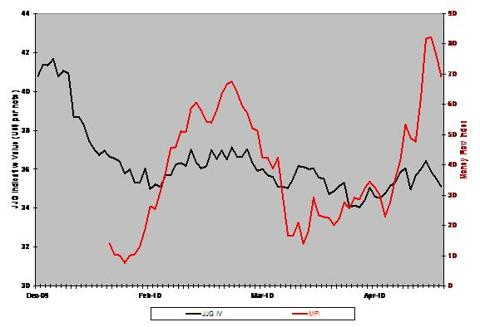 It's uncertain at this point how soybeans will contribute to JJG's near-term prospects, since expectations for the 2010 soybean crop are murkier than corn's. Corn and soybeans compete for the same acreage, so, generally speaking, an increase in corn acreage would likely lead to lessened soybean commitments. Actual soybean yields, though, are heavily influenced by July and August weather. At this early stage, there's no reason yet to expect the 2010 U.S. average yield to be below trend, but there are a lot of calendar pages to be torn off between now and midsummer.
The situation for wheat is even more muddled. At last look, local grain elevators were still slashing wheat bids, sending futures market losses downstream to producers.
So, we've got a bit of bounce in corn prices, an uncertain yield outlook for beans and still-pretty-lousy prospects for wheat. Not the most encouraging fundamentals.
Still, with the Chinese now buying, the fundamentals are better than they were before. That may be enough to entice early-bird traders. The question you have to ask yourself is this: Can the early bird survive on corn?