There has been considerable talk lately about how overextended the rally in equities has become and how there is too much bullish sentiment. We are somewhat skeptical of these reports because we have seen little evidence of crowd behavior (taxi talk, dinner party discussions, queuing for IPOs etc) that is generally associated at important market peaks. If anything we continue to observe perma-bears holding on. Perhaps not until the perma-bears finally throw in the towel will we begin to get a little concerned about the rally in equities.
Anyway, with respect to market behavior what would one typically expect to see prior to a significant downturn in the S&P 500? Looking outside of the equity market itself one of the places that risk aversion is likely to show up first is in the currency market, notably in the carry trade (borrowing in low yielding currencies such as the Yen and investing in high yielding currencies such as the AUD). From experience this was not so much the case some 10 years ago but as time has progressed to the present day, markets have become more correlated. Perhaps it is the dramatic gain in popularity of hedge funds chasing out performance. Anyway, markets have become so highly correlated that if you can pick the direction of the AUDJPY then you can virtually close your eyes and buy the S&P 500, or any market index for that matter.
The currency carry trade has broken to another multi-week high confirming that investors are still quite ready, willing and able to chase yield/invest in risky assets (call it what you like).
click to enlarge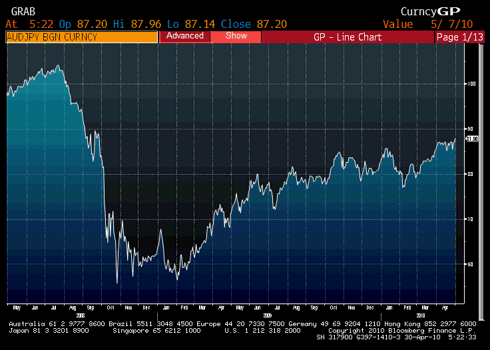 Click to enlarge
While the AUDJPY (or DBV) continues to make a series of higher highs and higher lows fear not about being long equity markets. Yes, Greek debt dramas, "too much" bullish sentiment and all. Master the carry trade, it will ultimately give you that all important edge.
Disclosure: Long VTi DBV