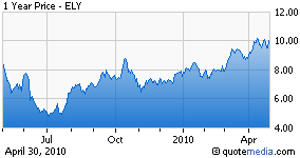 Callaway Golf (NYSE:ELY) reported 1Q 2010 earnings on April 29th, and for the most part reported in the range of analysts' estimates for the key numbers. Sales increased 11% to $303 million from $272 million during the first quarter last year, and were up 6% overall on a currency neutral basis. Net income for the quarter was $20 million, equal to diluted EPS of $0.24, two cents below the consensus analyst estimates of $0.26 per share. Although these numbers are clearly important, other numbers for the quarter paint a much better indication of why this company is strengthening both its brand and its market position to maximize profitability over the long term.
The total market for all aspects of the golf business still remains relatively unattractive. For example, woods, irons, and balls were down 14%, 15%, and 7.7%, respectively, in 2009, a year where the golf business was severely affected by the economy. For March, all three came in negative again, but this time only 4%, 3.2%, and 4.3% respectively. So while the golf market as a whole still appears to be weak, there are definitely signs that the pain is starting to heal.
On a Callaway specific basis, I believe the company is capitalizing on their own product innovations to grab market share from competitors during the downtrend. In irons, where the company is currently on back-order for their $1000 Diablo forged irons due to strong demand, Callaway has increased their market share from 20.6% to 20.9% since the start of 2010. In balls, the company has also added to their position, increasing from 10.7% to 12.8% of the market since the start of the year.
For woods, the picture is even better; since the start of the year, Callaway has managed to turn a 13.9% market share into a 20.9% market share. A big win by the brand's number one ambassador (Phil Mickelson) at the Masters, as well as 7 of the first 11 winners on tour this year using Callaway's newest drivers, could also positively affect sales into the future.
When looking at these numbers, consider what management has suggested in previous conference calls about a single share point of growth in each of these categories: in woods, one share point is equal to $15-20 million in revenue; in irons, one share point is equal to $15 million in revenue; and in balls, one share point is equal to $10 million in revenue.
When calculated, this means that Callaway expects that they have increased sales by at least $100 million, from just one quarter of strong share growth. While poor weather delayed the start of the golf season (rounds played through February were down 20%) and negatively affected first quarter numbers, the company expects the second quarter numbers to be very strong. If weather permits (March playable hours were up 11%, a good indicator) and the economy does not have a significant negative affect on the industry, the second quarter could be a good indication of whether or not Callaway's management has created a brand name and a competitive advantage that will allow them to grab market share, or if they are still fighting to maintain their position in a highly competitive industry.
International sales, a key factor in Callaway's long term growth strategies, increased 16% YOY to $152 million. However, on a currency neutral basis, the increase was only equal to 5%, which was negatively affected by the weak numbers in Europe. For the quarter, international sales represented over 50% of total sales (US sales = $151 million), and is a good indication of where a majority of the company's business growth will be coming from in the next 5-10 years, driven by the addition of golf to the 2016 Olympics. The rest of Asia business increased nearly 50%, driven by strong growth in Korea and China, two areas that continue to perform well and highlight the opportunities overseas.
All in all, the company maintained their 2010 full year guidance, with EPS expectations of $0.25-$0.35. From my perspective, I will be keeping a close eye on second quarter numbers; these will be a good indication of whether management is getting results from their strategies today and whether or not Callaway will be able to capitalize on the growth in international demand from the Olympics in the future.
Disclosure: Author long ELY