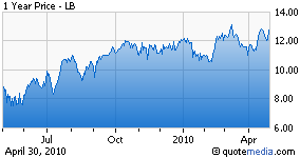 Click to enlargeCompany Description: LaBarge, Inc. (NYSEMKT:LB-OLD) provides custom electronic, electromechanical and interconnect systems on a contract basis for customers in diverse technology-driven markets.
Current Data, 4/29/2010:
Price = $12.81
Trailing EPS = $0.81
2011 EPS Analyst Estimate= $1.16
P/E based on fully taxed Trailing EPS = 15.8
Reasons for Optimism
LB Meets 8 Out of 10 GeoInvesting's Bargain Requirements:


Requirement
Comments

Recent 52-week High

(generally within 3 months)

Reached $13.21 on 4/10/2010
30% EPS Growth Rate

Full year 2010 estimates indicates an EPS growth rate of 36.7%
Full year 2011 estimates indicates an EPS growth rate of 31.8%

10% Revenue Growth

Full year 2011 estimates indicates a revenue growth rate of 18.1%

Positive Operating Cash Flow & Strong Balance Sheet
As of December 2009
YES
Positive Cash Flow
NO
Debt to Equity Ratio less than 20%
24.9%
YES
Current Ratio is at least 2:1
2.1:1
Return on Equity is at least 15%
15.0% (On Annualized Basis)
Minimum Pre-tax Operating Margins of 8%
5.0% as of fiscal 3rd Qtr. 2010
Preferably Under 50 Million Shares
16.0 Million shares as of fiscal 3rd Qtr. 2010

High Insider Ownership

(generally greater than 15%)

22.9% as of 10/31/09 proxy
Limited Institutional Ownership

(generally less than 20%)

26%
P/E Divided by Growth Rate (PEG Ratio) is Less Than 1. (based on 2010 est)
0.50
Strong Order Trends: Mr. LaBarge says:
Due to broad-based strengthening in customer demand, bookings of new business in the fiscal 2010 third quarter increased 50 percent from the comparable period a year earlier and 14 percent from the current-year second quarter.
Higher bookings resulted in backlog at March 28, 2010, increasing to $194,350,000, up 8 percent from $180,528,000 at December 27, 2009, and up 16 percent from $168,008,000 at June 28, 2009. Backlog at March 29, 2009, was $185,602,000.
Strong Commentary:
Mr. LaBarge said:
We remain very pleased with LaBarge's excellent progress and expect the fiscal fourth quarter, ending June 27, 2010, to be the strongest quarter of the fiscal year with sales and earnings moderately higher than this year's third-quarter levels. Based on our current visibility and the anticipated continued strengthening of order flow across key market sectors, particularly industrial and natural resources, we expect continued business strength into next fiscal year, with sales and earnings for the 2011 full fiscal year expected to reach new record levels.
Diversification: Through tough economic times, the company can rely upon its diversity, essentially allowing its stronger business segments to make up for those whose revenues get more compromised for one reason or another.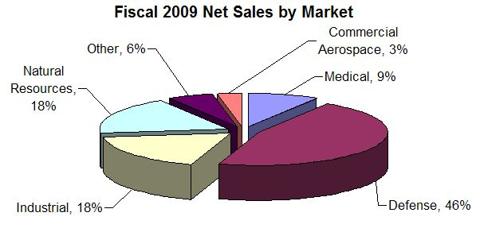 Click to enlarge
(Click to enlarge)
From the 2009 Annual Report:
The wisdom of this approach was validated during fiscal 2009 when a strong defense market helped offset weak sales to the natural resources and industrial industries.

Another leg of diversification in the company's recent Pensar acquisition will help to facilitate gaining a presence in the wind power generation market.
Growth and Value. The stock sells at less than two times its book value per share of $6.76
Potential Valuation Scenarios if the company can achieve its EPS growth goals:
Short-Term Potential value based on fully taxed adjusted trailing EPS
P/E 25 * $0.81 = $20.25
Short-term Potential value based on 2009 fully taxed adjusted Implied EPS Guidance
P/E 15 * $1.15 = $17.40

Disclosure: Author long LB