By Jeff Bailey
A very bad smell is coming off the stock of Regis (NYSE:RGS), the Edina, Minn., company that operates about 10,000 hair salons, including the Supercuts chain. Contributing to the foul odor are repeated same-store sales declines, a radical reorganization, put in place by a one-time cruise ship industry executive, that, to put in kindly, isn't going so well, and some accounting adjustments that should cause everyone at and around the company to ask some tough questions.
Just the sort of mess a true value investor might want to poke around in, say, looking for opportunity where others see trouble. The shares are down about 31% since last May. Is this the bottom, or close to the bottom - the time to dive in while others are headed for the exits? Be greedy while others are fearful?
Trotting out our financial advisor tools, we see that the shares are inexpensive on an historical basis, using price-to-sales ratio (the whole earnings thing is a little messy right now) and price-to-book value.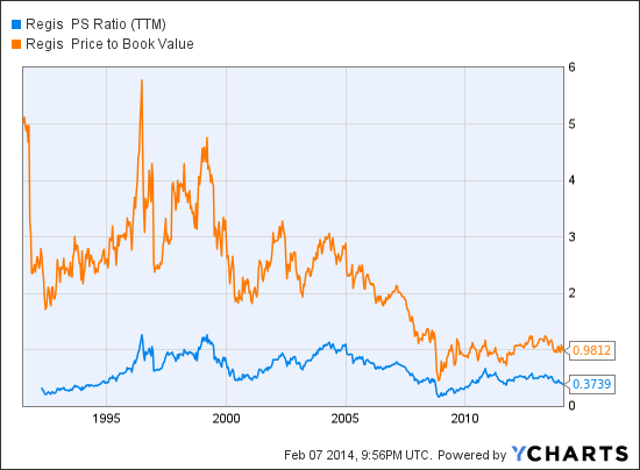 RGS PS Ratio (NYSE:TTM) data by YCharts
Activist investors, including Daniel Beltzman of Birch Run Capital, piled into the stock in recent years, agitating for change. Beltzman also took a board seat. Old management was swept out. Daniel Hanrahan, 56 and a former executive at Royal Caribbean Cruises Ltd., was hired as CEO in August 2012. Charting the stock since Hanrahan's arrival, well, it's not the Love Boat.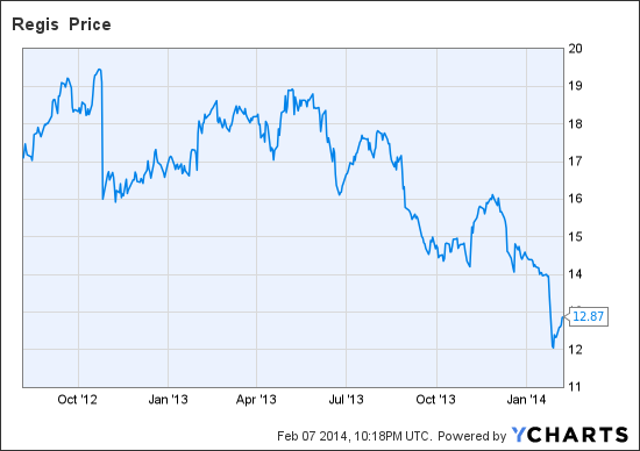 RGS data by YCharts
Poor Hanrahan came in during the midst of a revenue slide. Some of it due to closing of hundreds of underperforming salons. Some due to underperforming salons that remain open. Profit margins have narrowed steadily.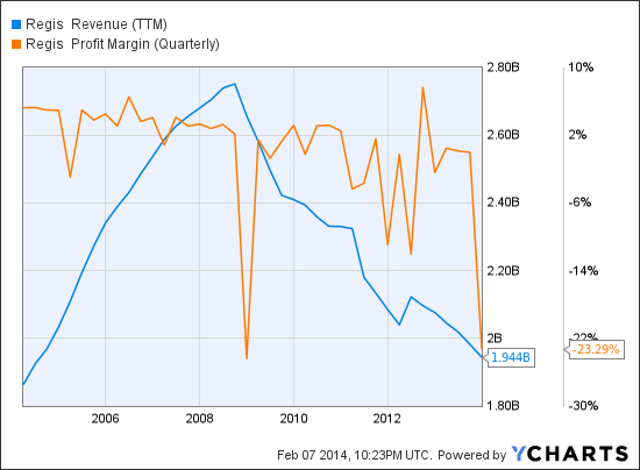 RGS Revenue (TTM) data by YCharts
First, a word about the original thinking behind Regis. Myron Kunin had big ideas in the 1950s when he took over his father's business, which happened to be a small chain of hair salons. Like so many prosaic industries - trash collection, funeral homes, junkyards - the business was utterly fragmented. All moms and pops.
Kunin opened more shops and then began buying up other little chains. Today, the first thing one learns on the Regis web site's investor-relations page: It's "nearly ten times larger than our nearest competitor." Indeed there are no other big hair salon chains. And though Regis has had its troubles over the years, and could clearly have been purchased, the only private equity investor willing to buy the company was Kunin himself, taking it private for a time before taking it public again.
Maybe Regis has the industry to itself - most of the 350,000 salons in the U.S. are single-location operations - because there are no economies of scale in the business. Indeed, the company's experience suggests there are diseconomies of scale. Sure, you buy shampoo more cheaply as a $2 billion-a-year business. And if you have lots of locations, advertising and coupon distribution can be more efficient.
But the actual running of the business - cutting and coloring hair - isn't enhanced by the corporate form. Rather, the stylists and colorists have to support layers of managers above them, layers that don't exist at the mom-and-pop competitors. And in this business at least, it seems doubtful that customers will pay a premium to get their hair cut at a Supercuts, MasterCuts or Regis salon. High-end salons garner brand loyalty. The great masses, however, are loyal to the person who cuts and colors their hair, not the establishment.
There are only the flimsiest barriers to entry. Beauty colleges abound, pumping out eager graduates. Storefronts are for rent.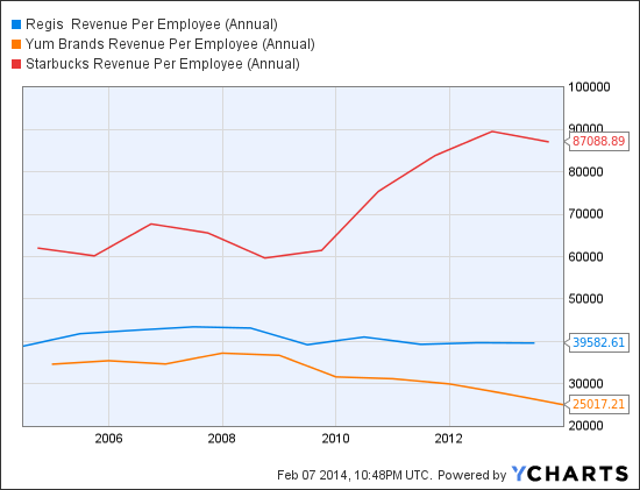 RGS Revenue Per Employee (Annual) data by YCharts
A $2 billion a year company with 50,000 employees. Regis narrowly beats out Yum (NYSE:YUM) and its fast food workers in revenue per employee, but ranks far below Starbucks (NASDAQ:SBUX) and its baristas, a quick use of our Screener shows.
Nothing superior management can't solve, you say? Hanrahan, or the next poor guy/gal who takes the job, may get the ship turned around and, if so, there will be a nice bounce in the stock. But let's not mistake that possibility for Regis turning into a good business. So, there may be a place for a brave value investor in this stock, but it's hard to see it as anyone's long-term holding.
The same-store sales declines over the last three fiscal years, ending in June 30 - 2.4% in FY2013, 3.5%, 1.9% - aren't huge, but this is a tiny-profit-margin business.
Hanrahan has a program. He wants to minimize wait times. Bully. But then his reorganization flummoxed the staff. Regis formerly managed its several chains separately in the field. Supercuts had its district managers, as did MasterCuts, etc. Hanrahan changed that. Now all the mass-market chains are managed together, regardless of brand, geographically. That puts a local manager closer to the stores he/she oversees. And the managers are back to cutting hair, not just driving around telling others how to do so. One can imagine how popular that was.
Hanrahan's remarks in the fiscal second quarter earnings release are among the saddest issued this year:
"These initiatives have triggered increased turnover as well as a steep learning curve within the field that negatively impacted our revenue and current operating results."
He goes on to say:
"While the salon business has always been a high turnover business, employee attraction and retention have proven to be more challenging during this period of change. As we create a culture of accountability, stylist turnover remains skewed towards our lower producers, and the company's hiring has not kept pace with this turnover."
A stylist shortage. Hard to reduce wait times with that, eh?
During the most recent quarter, Regis wrote off $83.2 million of deferred tax assets - stuff akin to net operating loss carry-forwards that shelter future profits. When your ability to produce future profits is in doubt, you have to consider writing this stuff down. Not encouraging. Regis also wrote off the entire amount of goodwill it had allocated to its Regis salons chain, which operates mostly in malls; $28.6 million lopped off. Non-cash, both the charges are. But the outlook for the mall salons can't be too swell if they're nuking the goodwill.
Hanrahan may have made a bad situation worse. And he might be able to fix it. We'll see. If he makes progress, the stock should pop a bit. But there's no apparent reason for a 10,000-salon company to exist.
Disclosure: None.