ABBREVIATED INVESTMENT THESIS
Cliffs Natural Resources (NYSE: CLF) is significantly undervalued. An investment company called Casablanca Capital LP has proposed a plan to restructure CLF, which, if implemented, could generate substantial value for shareholders in 2014. If the plan is denied by the company, shares could continue to slide, however, if a stop-loss strategy is implemented, the potential risk would be insignificant relative to the potential reward.
TRADE RECOMMENDATION
POTENTIAL DEAL: purchase shares of CLF around $20.50 | stop-loss of $18.45 | Target of $40
This deal should be treated as a short-term trade that has the potential to turn into a long-term investment.
The stop-loss is recommended primarily as a tool to protect you from the irrational thinking associated with paper losses that can cause investors to stay in stock positions they do not fully believe in just for the hope of recouping paper losses. The price of $18.45 has no significance other than being 10% less than the price at entry. If stop-loss in triggered, treat potential re-entry as you would a new trade; reanalyze it based on market, industry, news, etc.
This stock is subject to large price-swings based on new information being released from Cliffs or Casablanca Capital LP. A stop-loss will protect an investor from the potential significant downward price movement caused by negative news being released.
It is my opinion that the market is an extremely complex system that can never be fully understood. Even if you feel tremendously confident in a particular trade, you must acknowledge the fact that there is always a possibility that your forecasts will be wrong. You must protect yourself from this by creating an exit plan.
COMPANY ANALYSIS
Overview of company
Cliffs Natural Resources is an international mining and natural resource company.
CLF makes revenue from the mining and processing of iron ore and coal.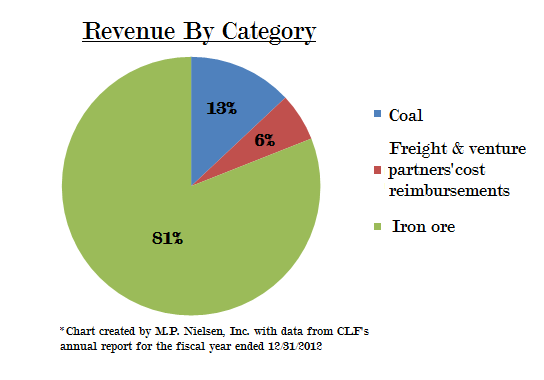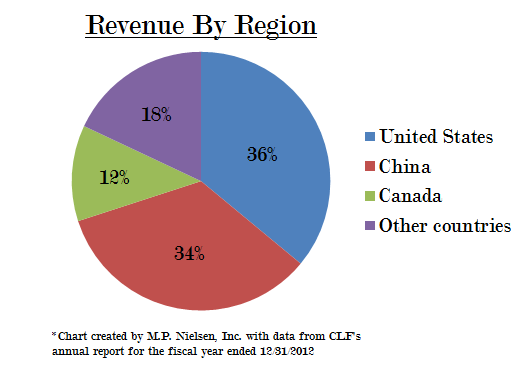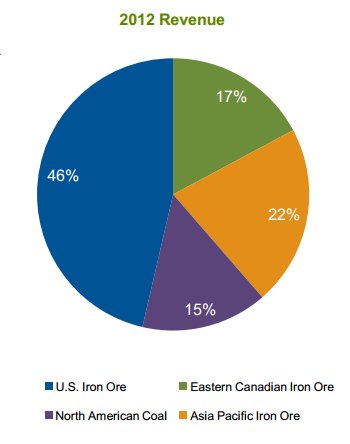 *Graph above from Cliffs Natural Resources' investor relations website
Share price history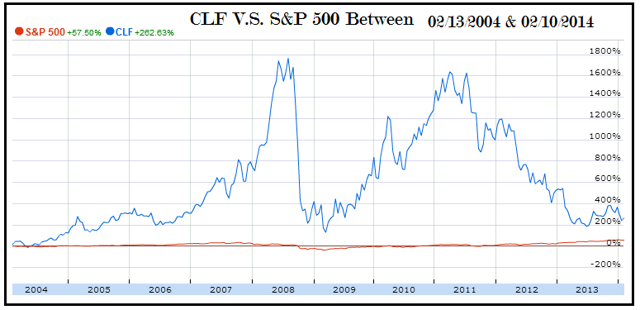 As you can see from the chart above comparing the performance of CLF shares to the S&P 500, CLF shares are exceptionally volatile.
Recent events/share price declines

*Chart source: Google Finance
Since it acquired Consolidated Thompson, CLF shares have decreased in value by over 75%.
Consolidated Thompson was acquired by Cliffs on May 2011 for roughly $5 billion, which was a 30% premium to what the company was trading for on the days before its acquisition by Cliffs. During the fourth quarter of 2012, upon performing its annual goodwill impairment assessment, CLF recorded a goodwill impairment charge of $997 million mostly caused by the Bloom Lake mine (a mine site absorbed by CLF through acquisition of Consolidated Thompson) project's lower than anticipated profitability, delays in achieving full production capacity, and higher capital and operating costs. This adjustment to goodwill was listed under operating expenses and had a direct negative effect on the earnings per share for 2012.
*Data source of table below: Edgar SEC website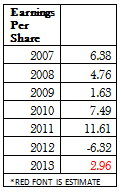 Much attention has been given to 2012 because of the EPS loss of $6.32. This loss caused many investors to liquidate their holdings of CLF. The significant write-down warranted a correction in the company's share price, however, I believe the market severely overreacted. The value of a company is the present value of its future dividends. When CLF purchased Consolidated Thompson, they believed the present value of the future stream of cash flow was roughly $5 billion, since then they adjusted the goodwill by roughly $1 billion. Theoretically, the market value of the company should have dropped by $1 billion the day this information was released. However, it is likely that the troubles brewing at Bloom Lake were anticipated by many institutional investors and traders. I believe $1 billion was already taken out of CLF's market capitalization even before the goodwill impairment expense was documented. When the write-down was published it probably caused another group of investors who were not previously aware of the issues at Bloom Lake to liquidate their holdings thus causing further share price deterioration and making the stock even more undervalued.
OVERVIEW OF PROPOSED PLAN AND ITS IMPLICATIONS
Description of deal
Casablanca has a plan to combine Bloom Lake, other Canadian mines, and the established Asia Pacific mines into a company called Cliffs International. They recommend making a Master Limited Partnership consisting of Cliff's USA operations, which have been lucrative and stable. If this plan goes through, shareholders of CLF will receive shares of both Cliffs International and Cliffs USA to replace their current shares of CLF. This plan should boost the value to shareholders by fetching higher multiples for the 2 new companies. The international company will appeal to investors seeking a value-play with growth potential and the USA company will attract dividend investors seeking stable income and low risk.
Casablanca also proposed other changes:
Optimizing cash-costs and operating profitability
Divest infrastructure and other non-core assets
Set clear objectives for return on capital
Share price implications of changes being made
Based on Casablanca's valuations, Cliffs International, if valued similarly to other growth-oriented mining companies, should be worth at least $15 per share. Cliffs USA, if analyzed by dividend alone, should be worth $23 per share.
Implied midpoint valuation of CLF (without quantifying effects of improving operational profitability and divesting of non-core assets): $53/share
FUTURE OF CLIFFS NATURAL RESOURCES
If Cliffs implements plan
Could see impressive upside of up to 2.5X shortly after the company implements the plan proposed by Casablanca.
If Cliffs rejects plan
Based on my own rough valuations, I have determined a fair market value for CLF (if the plan is not accepted by management):
Assumptions involved in determining values for inputs:
Bloom Lake operations continue as anticipated and no other write-downs are recorded in the near future.
Earnings per share will grow moderately from current levels.
The iron ore market will perform in line with average forecasts.
| | |
| --- | --- |
| DCF Model Assumptions | |
| Earnings per share last 12 months | 2.96 |
| Earnings are expected to grow at | 5% |
| For the next five years | |
| Before leveling off at | 1% |
| Thereafter | |
| Return available on market benchmark investment | 11% |
| Implied stock price per share | $35.21 |
The above discounted cash flow model is based on very conservative estimates and the implied stock price is still considerably higher than the current market price. The key for this price being met will be earnings per share. If Cliffs can maintain decent earnings in 2014, we should see increased buying as investors regain faith in the company.
RISK-REWARD ANALYSIS
Potential risk
The main risk Cliffs Natural Resource will face in the near future, from a shareholder's perspective, is the likely share price decline if action is not taken or the proposed deal is rejected by Cliff's management.
Since a stop-loss will be in place, the total risk will be 10% (assuming no re-entry).
Potential reward
The potential reward for Cliffs' shareholders if the proposed plan is consummated could be significantly higher than the potential risk. If Casablanca is correct, shares could rise to between $36 and $53/share or 72% - 154% within a few months of a statement by the company indicating its plan to implement Casablanca's proposal.
Risk-Reward Ratio: 11 : 1
CONCLUSION
Cliffs Natural Resources is significantly undervalued based on extremely conservative estimates. Shares have significant upside potential even if the proposal from Casablanca is rejected. If the proposal is accepted and implemented, shareholder value could rise by as much as 154%. The downside risk is limited by a stop-loss leaving an attractive asymmetric risk-reward profile.
Disclosure: I have no positions in any stocks mentioned, but may initiate a long position in CLF over the next 72 hours. I wrote this article myself, and it expresses my own opinions. I am not receiving compensation for it (other than from Seeking Alpha). I have no business relationship with any company whose stock is mentioned in this article.