When trading in an environment with extended prices and significant macro risks, even value and growth investors need to be particularly cognizant of technical trends. For months, the retail industry has been trading higher as the US consumer has provided much more strength than expected. Whether this strength comes from strategic defaults, lower savings rates, or government stimulus initiatives, the bottom line is that retail outlets have seen growing sales and at least a temporarily healthier environment.
But this week, the retail index has fallen a bit behind the broad market action, which makes me concerned that the sector may be losing its leadership. Tuesday was a difficult day for nearly every sector as Greek worries led to a sell-off in widely held growth names. It was completely normal for retail to be hit especially hard because the industry has become a "high beta" or more volatile area for traders.
As stocks rebounded on Wednesday and Thursday, however, retail as a whole had very little strength. If managers were really putting more capital back into speculative issues, one would expect retail to have been back to it's Monday highs by the end of the day yesterday. As it stands, early Friday, the SPDR S&P Retail (NYSEARCA:XRT) was back down nearly to the lows set at the close on Wednesday.
If retail is weakening as a sector of choice for growth managers, then there will likely be many dynamic stocks which make for good short opportunities within the sector. Lululemon Athletica (NASDAQ:LULU) is one that looks particularly interesting.
The yoga-inspired athletic apparel company has been growing its retail presence from what used to be primarily a Canadian chain – to a well established US presence. The chain appeals primarily to up-scale athletic women (although the company's men's concepts are starting to pick up traction) with high prices that assure fat profit margins and a certain quality premium perceived by clients.
Many of the textiles incorporate seaweed which is supposed to be soothing for skin, and the company prides itself on offering much more than just apparel. Lululemon typically employs professional trainers to serve customers, ensuring that customers pick out the perfect items for their own workout regimen, and offering training tips and guidelines along the way. For LULU customers, the shopping experience is just as important as the products they walk out of the store with.
While the concept has been very successful and I have owned the stock for gains shortly after the IPO, LULU is now trading at a multiple that warrants concern. Investors are expecting strong 30% plus growth for the next two years which will be easy for management to hit if the consumer really is organically stronger. But if consumer spending is propped up by government stimulus or strategic defaults, the whole house of cards could come crashing down.
At this point it looks like the risks of a softening retail market are too big to ignore. At the same time, the technical pattern on LULU is also very concerning. After topping out over two weeks ago near $45, the stock has lost a good bit of value on heavy volume. And it looks like there could be further weakness in store.
In early February as the market was dealing with the last correction, LULU bottomed at $25.75. At the time, investors were worried that a weak consumer could crimp growth or even cause retail earnings to contract. Once those fears were alleviated, the industry traded sharply higher – due in part to temporary effects of stimulus and mortgage defaults.
Once it becomes clearer that the consumer is not as healthy as commonly perceived, analysts will likely ratchet down their estimates – and investors could also cut back the multiples they are willing to pay for equities. If 2012 estimates for LULU were cut from the current $1.39 to just $1.18 (only a 15% decrease) and investors paid a still robust multiple of 20, the stock price would fall more than 30% to $23.60.
Based on the price action of LULU, and the potential for estimates and multiples to shrink, I would recommend a short position with a tight stop. Obviously, the bulls could still step back in and support the market and retail stocks particularly. But it appears the risk of further weakness trumps the optimism we have experienced for so long. (Click to enlarge)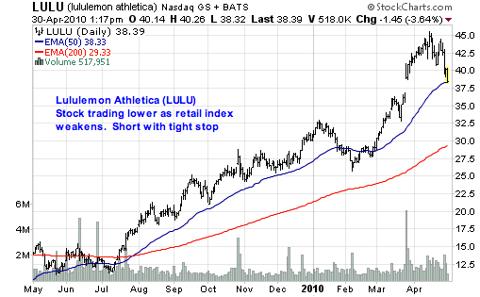 Click to enlarge
Disclosure: Author has a short position in Client Accounts