By Sumit Roy
Natural gas inventories plunged by 237 bcf last week. It was last trading up by more than 6 percent to $5.14/mmbtu after the Energy Information Administration reported that operators withdrew 237 billion cubic feet from storage last week, at the upper end of most analyst estimates.
The latest withdrawal was above last year's draw of 157 bcf, and the five-year average draw of 169 bcf.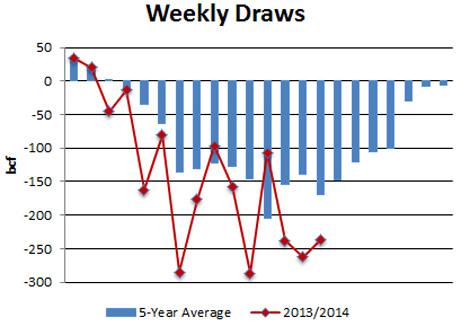 In turn, inventories now stand at 1,686 bcf, which is 841 bcf below the year-ago level and 647 bcf below the five-year average (calculated using a slightly different methodology than the EIA).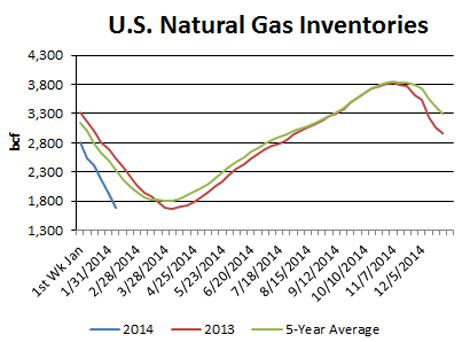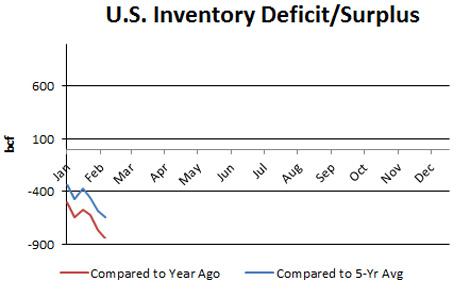 The weather last week was much colder than normal.
According to the Edison Electric Institute, utilities generated 83,473 GWh in the week ending Feb. 8, which was 10.7 percent above the same week a year ago.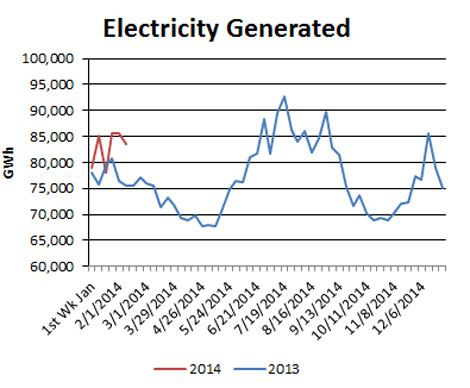 Looking forward, the NOAA's 6- to 10-day outlook calls for much warmer-than-normal temperatures across much of the country, a big shift from the recent cold.
NOAA 6- TO 10-DAY OUTLOOK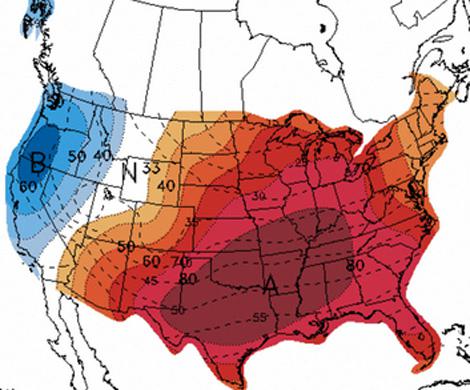 Meanwhile, the number of rigs drilling for natural gas in the U.S. fell by seven to 351 last week, according to Baker Hughes.
Natural Gas Rig Count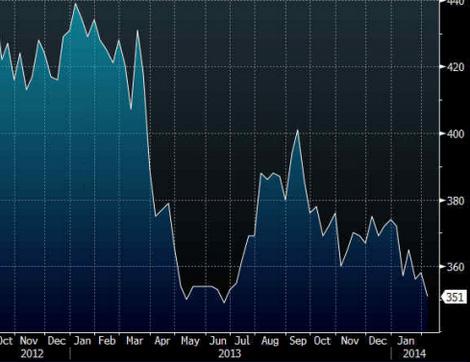 Natural Gas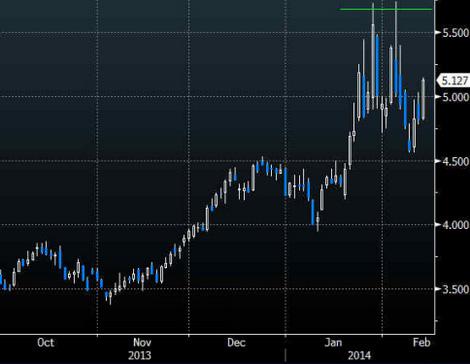 Bottom Line: The latest inventory data from the EIA were bullish, as the inventory deficit against the five-year average rose from 579 to 647 bcf.
The deficit is likely to reach a near-term peak in next week's report close to 700 bcf. By then, the effects of the warming trend across the country will begin to be felt. Depending on the extent of this warming, the deficit may either stay steady or decline. Look for more volatility in prices based on the ever-shifting weather patterns.
Our base case forecast assumes that inventories will trough between 1,000 and 1,100 bcf at the end of March, which should support prices of at least $5/mmbtu. Thus, we view any moves below $4.50 as a buying opportunity.
Assuming storage bottoms at the midpoint of our forecast at 1,050 bcf, injections must average 89 bcf per week over the 31 weeks of the injection season in order to refill inventories to above 3,800 bcf by November.
Last year, injections averaged 70 bcf per week, while the five-year average injection is 66 bcf per week. Essentially, we'll need to see natural gas production to average 19 bcf per week-or equivalently, nearly 3 bcf/d-above the year ago level.
Moreover, last summer was relatively mild. If we see a hot summer, that will necessitate even higher production levels to refill inventories. In any case, producers have their work cut out for them, and the risks for prices are biased to the upside.